You're Gonna Swoon Over These Cute Disney-Themed Makeup Products
by Amanda Davis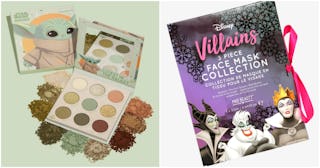 ColourPop / Hot Topic
Want to make your morning routine so, so much more bearable? Ditch your tired old makeup and beauty products for these super cute, super fun Disney-themed beauty products! You'll be a whole lot less cranky at the crack of dawn when you're using an Olaf lip smacker. Trust me.
To no surprise, Disney has ventured out a lot into the beauty world. Disney inspired makeup looks have swept YouTube and Disney themed makeup products have swept the beauty industry. Collaborations with some of the biggest brands like ColourPop, MAC, and Sephora are anticipated annually. With every Disney makeup collection release, it's most likely sold out within hours. Disney makeup is a huge deal! Especially for the fanatics that go to Disneyland every other weekend (whether the kiddos are in attendance or not).
So for all of the beauty, makeup, and Disney fanatics out there, we've rounded up the latest and greatest Disney beauty products and collaborations. No Disney makeup brushes, Disney makeup palettes, or Disney-themed face masks have been unturned. Your beauty drawer is about to become so much more fun. Magical fairytale living, here we come.
Disney Makeup Collections
Eyes
Lips
Disney Beauty Tools And Accessories
Disney Skincare
Disney Haircare