25 Knot Too Shabby Gift Ideas For Boaters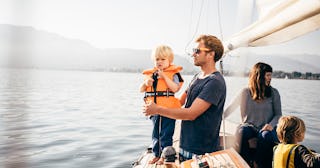 Getty Images/©JFCreatives
It's never a bad time to look for gifts for boaters, because true boat people are always thinking about their next trip out (whether it's in the ocean or lake). There is something freeing about driving out on the open water that creates a euphoric state that can't be tamed. We think of it as the same feeling as flying down a hill on a sled when we were kids or sailing through the air on a swing — but owning a boat is grown-up fun. Even the kids can get in on the action as long as they're wearing proper life jackets!
Boat owners are carefree and fun, while also being extremely intelligent about the environment and the world around them, and extremely responsible. A love of nature and the outdoors, science, and all things nautical embodies every boat captain. Tapping into any one of these character traits for gifting inspiration can yield plenty of options. We've compiled the ultimate boaters gift guide from the did-you-know-we-have-a-boat home decor to the must-have-on-deck gear and everything in between. We think each of these is a guaranteed invite aboard!
Best Gifts for Boaters
Gifts for New Boat Owner
Boat Warming Gifts
Boat Accessories Gifts
Gifts for Boat Captains
Fun Gifts for Boat Owners
Looking for more holiday gifting inspiration? Check out all of our gift guides to check everyone off your list!