19 Sports Gifts For Kids Who Are Obsessed With The Game
by Team Scary Mommy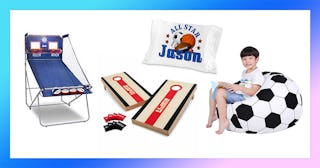 Amazon
If you're looking for sports gifts for a kid who's obsessed with sports or want activities the whole family can play together on Family Game Night, you've come to the right place. (There's nothing wrong with a little healthy competition, after all). And as it turns out, shopping for a sports fanatic kiddo can be pretty tough, but luckily, we have experience in that arena (get it?). Let's start from square one: Which sport do they like most? They probably already have, like, 11 footballs and a nice worn-in glove. But do they have cool toys like a pitching machine and sports-themed home decor like a soccer bean bag chair?! If the answer is no (or rather, not yet), stay tuned.
RELATED: The Best Kids Basketball Shoes, According To Pros — And Why It Matters, Anyway
It's 2021, Mama, and shopping for soccer balls and baseball gloves is so old school. It's time to get creative and help get the kids up and moving. Because what kid has played with an American Ninja Warrior-inspired obstacle course or has a kid's punching bag? We definitely didn't when we were kids! And for those days when the weather just won't cooperate, you have to find a way to bring the activities inside. And that's where a 10-in-1 arcade game table comes into play. Now kids won't get bored of playing the same game over and over again when they can choose between foosball, ping pong, and air hockey all at once!
We're here to make your shopping a little easier, Mama. These are the 18 best gifts for the kids that live and breathe sports.
Best Sports Gifts For Boys & Girls
Sports Decor Gifts
Games & Activities Sport Gifts