Hilarious Valentine's Day Cards For Your Besties
by Anjerika Wilmer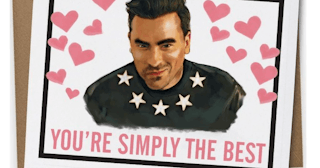 Always Fits
Ah, friends — they help make our lives so much easier, so why shouldn't the day of love include them too? Our best gal pals are always a text away when you're feeling sad and never complain when you need to vent about problems with our partner or #MomLife (and let's be honest, the venting is probably more often these days). So, even when you're so not excited by the thought of Valentine's Day (i.e. the crappiest holiday in history), you can still shower your fierce lady friends with affection. Who needs romance anyway—let alone, cliche flowers and chocolate—when you've got a tribe of strong females to lift you up? In honor of Leslie Knope, we declare Galentine's Day officially better than that other one, because "ovaries before brovaries," right?
RELATED: It's All About The Kids This Valentine's Day — 21 Gifts They'll L-O-V-E
The night of love is way more fun as a girl's night to celebrate your friendship. Bring in lots of wine, classic rom-coms, a tie dye kit for fun, and funny Valentine's Day cards to give each other when we start getting emotional. Keep scrolling for 10 hilarious Valentine's Day cards that are funny but still super heartfelt and sweet. From friendship puns and quotes from your favorite shows to messages of female empowerment, these cute greeting cards are guaranteed to hit the (hall)mark.
The next time you find yourself in a pickle, check out Scary Mommy's Spotted gift guide recs for all your last-minute shopping needs!
This article was originally published on