Pool Toys That Will Keep Your Water Babies (And Big Kids) Busy For Hours
by Rachel Aschenbrand-Robinson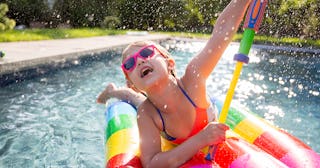 Getty Images/Sasha Gulish
Once upon a time, pool toys for kids consisted of inflatable beach balls, rafts or tubes, and not a whole lot else (maybe pool-friendly Disney characters because 90s cartoons were everything back then). These days, there are all sorts of fun pool toys for kids (and adults, let's be honest) that range from floating basketball hoops to diving sticks to wearable mermaid tails. We've come a long way from Marco Polo, baby.
No matter how old your kids are, there are pool toys available to keep them entertained, active, and improve their water skills. Little swimmers (guppies?) can get comfortable with toddler-friendly squirt toys and floating boats that can go from the bathtub to the pool and back again. Gem-filled treasure chests, scooping nets, and other dive-and-catch toys encourage bourgeoning swimmers, while options like a floating bean bag toss or inflatable water slide keep kids busy for hours. That's the goal, right?
Whether you're aiming to improve your little one's confidence in the water or engage a whole gaggle of novice swimmers, you'll find what you're looking for ahead. Scroll on to shop the best pool toys for kids of all age levels and interests.
Pool Toys for Toddlers
Best Pool Toys for Athletes
Cool Pool Toys
Underwater Toys
Swimming Toys