These Refillable Beauty Products Will Turn Your Vanity Into An Eco-Friendly Fortress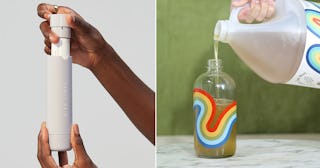 Fenty Skin / Bathing Culture
Refillable beauty products are becoming extremely popular these days as brands are shifting to be more eco-conscious. Because these products are more sustainable, they're also more likely to have clean, natural ingredients too — which does wonders for your skin! Gross ingredients like parabens, phthalates, microbeads, and artificial fragrances (among other things) are being thrown out the window for the vegan and cruelty-free label. The beauty industry has stepped up to limit waste and honestly, we love to see it!
Products like body wash, lipsticks, moisturizers, and even deodorants have become a part of the refillable beauty market. Subscriptions to our favorite products are now more common, and the packaging they come in is easily compostable. I think we can all agree that our skin glows a little brighter and our makeup applies a little smoother when we know it doesn't harm the planet, right?
From Dove to Fenty Skin to HERMÈS, sustainable beauty is here to stay, Mama. So to help you make your daily routine a little more eco-friendly, we've rounded up the best refillable beauty products!
Best Refillable Beauty Products
Skin & Body
Refillable Makeup Products