10 Spring Coloring Pages To Help Your Kiddo's Creativity Bloom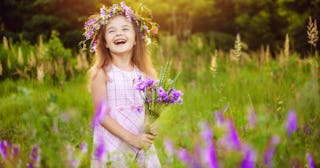 Jane Khomi/Getty Images
Can you feel that? Spring is in the air! The birds are chirping, the bees are buzzing, new life is springing up all around, and the heady scent of blossoms fills the breeze. Of course, that breeze isn't always super-warm — spring is a stopover on the way to the heat of summer, but it isn't quite there yet. Depending on where you live, the ground may still be frozen. Sure, the weather during this season is much more temperate than the winter, but that doesn't mean the temps won't occasionally dip. And that means you need fun (and preferably free!) indoor activities to do with your kids. Our solution? Spring coloring pages you can print out from the comfort of your cozy home.
Before you, ahem, spring into your art-filled afternoons, though, let's learn a few interesting facts about this season. For starters, did you know the first day of spring is called the vernal equinox? It, along with the fall equinox, is one of the only days of the year when the sun rises due east and sets due west. What you probably did realize, but is worth celebrating still, is just how many holidays spring contains. In North America alone, the spring calendar includes April Fool's Day, Earth Day, Easter (hooray for Easter egg season!), Arbor Day, Mother's Day, Cinco de Mayo, and more.
So, consider these coloring pages the official kickoff to a season chock-full of happiness.
RELATED: 10 Super-Fun Summer Crafts To Keep Kids Busy
Free Spring Coloring Pages
1. Spring Rabbit
Sing it with us: "Here comes Peter Cottontail, hoppin' down the bunny trail, hippity-hoppity, Easter's on its way!" We don't know if this rabbit's name is Peter or not, but it sure does seem to be carrying everything needed for a beautiful spring season. Fun fact: Rabbits are super social animals and love being around other bunnies. They also cannot vomit and have a blind spot right in front of their little furry faces!
2. Hello Spring
Spring comes in after winter and shakes things up, so why not take its cue? Shake up the typical coloring style by tackling this page — you'll be filling in the negative space. Then you really can say goodbye to the frosty few months prior and "hello spring!" In Japanese culture, the official start of spring is when a cherry blossom blooms.
3. Sun, Rain, and Flowers
In addition to being a beautiful coloring page, this printable lends itself well to a bonus activity. The sun, the rain, and flowers are three quintessential spring elements, right? As your kiddo colors them, ask what three things they think of when they picture spring. If allergies are part of your nugget's spring thoughts, the bright side of this season is its rainy days. After a downpour, the air has less pollen, which is a good day for kiddos with seasonal sensitivities.
4. Springtime Home
There's a good reason "spring cleaning" is a thing — this season heralds fresh starts, and there's nothing that feels fresher than dusting the staleness of winter right out the front door. Make this page even more precious by asking your child to add a few fuzzy animals to the yard. When we think of spring, birds are the first creatures that come to mind. There's usually more chirping during this season because they sing to attract mates and ward away unwanted birds.
5. Spring Showers
You know what they say: April showers bring May flowers. And to that, we say, "Bring on all the showers and the flowers!" Get your little lovebug to color in extra raindrops to ensure a particularly vibrant spring flower season. And get this: Spring fever is real! After winter, it gets warmer out, which causes dilation in your blood vessels. This pushes your blood up to the surface, gets rid of the heat, and fills you with energy.
6. Girl and Spring Flowers
This printable may be a bit too intricate for, say, toddlers, but your tween will love showing off their creativity. Plus, it'll be a great, calming way to pass the time until it's warm enough to head outdoors. When spring rolls around, you can expect longer days too. Did you know Benjamin Franklin first proposed daylight saving time in 1784? However, Arizona and Hawaii don't take part because they already get enough sunlight. It just wouldn't be fair (or necessary). Even the ancient Egyptians loved spring, so much so that when they built the Great Sphinx, they made it point directly toward the spring equinox's rising sun. (That's some grade-A craftsmanship!)
7. Springtime Bird
Birds are spring's happiest messengers. When you hear their chirping on a crisp morning, it reminds you that a new season is here, along with the chance for new beginnings. A beautiful bird you may see during the spring includes cardinals. And besides being beautiful, you may also see them cover their feathers with crushed or living ants. Strange, huh? Scientists believe they use ants' formic acid to get rid of parasites. And hey, if your kiddo wants to mimic birdsong (or play with a bug) while they color, that's even better.
8. Spring Hair
If you ask us, this is the kind of coloring page destined to be framed and hung on the wall once it's filled in. You can also use it as a springboard for encouraging your child's storytelling skills. Who is she? Does she possess magical powers? Make it a fun little imagination game by giving your little one prompts.
9. Snail and Flowers
What's happier than a snail sitting atop a patch of wildflowers? Judging by this cute little shelled gastropod, not much! In Pre-Columbia American culture, snails were considered a symbol of joy and rebirth, which we can see in this slugger's smile. So make sure you hand over the whole box of crayons to your kid for this page — those blossoms practically beg to be vibrantly shaded.
10. Baby Bunny
Straight out of the spring cabbage patch and onto your page, this precious bunny might just be our favorite of the whole bunch. Bonus fun fact: Bunnies are called kittens when they're babies, and we don't know which one is cuter — this fact or the bunny picture (it's the bunny picture). And if this image has inspired you to get a rabbit, remember you can't fill them up on carrots. They're actually really high in sugar and causes tooth decay in 11 percent of pet bunnies.
Click here to print all of the free spring coloring pages at once!
This article was originally published on