Need Staycation Ideas? We've Got You Covered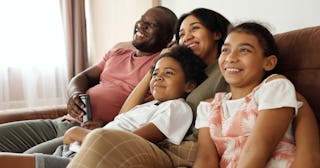 August de Richelieu/ Pexels
Prior to 2020, staycations — aka staying home for vacation — proved to be an excellent alternative to dropping tons of your hard-earned cash on a travel-oriented trip. And, don't get us wrong, staycations are still fantastic at-home options for budget-friendly R&R. But thanks to travel restrictions resulting from the novel coronavirus pandemic, staycations have never seemed more relevant for budget travelers and beyond.
Of course, COVID-19 won't be out here ruining our travel plans forever (it can't… right?!). However, now that we know what it's like to deal with a global health crisis, it's not a bad idea to plan ahead so we're better at it in the event we have to live through an extended quarantine again. That means finding fun and affordable ways to enjoy vacationing from the comfort (and safety) of home.
So, sit tight and save your money. The following staycation ideas don't require cracking open your financial nest egg for family fun.
Looking for more fun activities to do with the fam? Check out our idea pages for family projects that are fun for everyone: Game night, Family Feud, musical games, and more!
Staycation Ideas for Couples
Take a Hike
With apps like AllTrails, it's easy to find local hikes you and your partner can tackle together during your downtime. Whether you're ready to climb a mountain or just want to go chasin' waterfalls, you're sure to find a path that suits you. And since spending time exercising in the great outdoors will get your endorphins going, your hiking heyday could bring you and your boo even closer.
Try a Tasting Tour
Got a local brewery you've been dying to try? Want to splurge on a fancy-schmancy bottle of vino? Make sure you have your preferred ride-sharing app handy and arrange to do a little "tasting tour" of local libations. You might find a new favorite — in which case, you can buy extra for your next at-home date night.
"Attend" a Film Festival
There's something inherently romantic about sitting in the dark, staring up at a giant screen together. If you have a few days off with your partner, go to the movies. As in, yes, every day. Pretend you're at a high-brow film festival where you're screening the latest releases. The great thing about the movies is you don't have to go far for them to transport you to the far reaches of the world (and sometimes even beyond).
Enjoy a Spa Day
You deserve to be pampered, right? Grab your plus one and make a day of it at your local spa. You can almost always find some sort of special or deal. Or, if you'd prefer not to leave home, you could recreate the spa experience by giving each other massages.
Go on a Road Trip
If you've ever been on a road trip with your significant other, you know it can be a bonding experience. Windows down, radio cranked up, the world flying by in blurs of blue and green… road trips are so life-affirming. Why wouldn't you want to share that with your loved one? Make the experience even more special by creating a custom playlist through Spotify or Apple Music and have a handy list of roadside attractions ready to go.
Picnic
Grab a blanket, all of your favorite foodie snacks, and head to your favorite park. You and your boo can relax and enjoy a scenic view. Don't forget the wine, obvs. And after you both have eaten, walk around the park and observe nature.
Go to Your Local Beach
Even if you don't live in some of the more tropical states of the country, this doesn't mean you can't enjoy a day at the beach or lake. Heck, even the shores of a popular local watering hole will do! Before you go, load up the cooler with beer and sandwiches. Stretch out on a beach blanket with bae, bring your speakers, and zone out in the warm air together.
Volunteer
Before you glaze over this idea, it can be really fun to do something good for others with your partner by your side. You can build houses, plant gardens, or serve at a food kitchen. This can be a lot of fun, a great workout, and give you both the opportunity to experience something new and rewarding together.
Paint and Sip (in your PJs)
We're not talking about those paint and sips you see all over Instagram. We mean the one you're going to create in your home. Get your paint, a big canvas, and queue up a tutorial on how to draw the perfect mountain or waterfall. If you want, you can bring Bob Ross into your session. Play some soothing music or your favorite playlist in the background while you paint. And the best part about an at-home paint and sip is that you can take your time. You never have to worry about lagging behind because you can pause everything and go at a pace that suits you. And if you mess up, you can freestyle or start over without any dirty looks from the rest of the class. So enjoy the private session!
Staycation Ideas for Families
Hit Your Local Parks
If your family is looking for something fun and interesting to do for a few days, pull out your local parks guide. You can likely hit several parks each day of your "staycation" — which, bonus, will help your little ones burn some serious energy. Check with your town's parks and recreation department to see if they offer an annual pass for extra savings.
Be a Tourist in Your Own Town
Why go on vacation to explore another town or state when you can staycation in your own? After all, when was the last time you truly spent time getting to know your local surroundings? Get your kids pumped by pulling out a map and having them help you pick places you all want to visit together. A few ideas: watch a play at the local theatre, go to the opera (or other music hall performance), visit an aquarium, soak up history at the local museum, etc.
Host a Family-Friendly Movie Marathon
Break out the popcorn and Twizzlers, because it's movie time! There's no better way to spend staycation for a bunch of movie buffs than to binge-watch new titles. And thanks to streaming services with on-demand and still-in-theater options, you'll have no shorter of choices. Let each family member pick a movie to watch during your cinematic staycation, and then you can all discuss each pick after the final credits roll.
Sign Up for an Art Class
Sometimes the best vacations are the ones that push you outside of your comfort zone. So, if the idea of signing up for a family art class seems daunting, that may be even more reason to do it. Sure, you can do the same old things you always do. But how cool would it be to discover you have a budding Picasso in your own home? At the very least, it's something different to do.
Throw a Tournament
Don't just dust off one board game; dust them all off! Kick your family's competitive nature into high-drive by creating an official board game tournament chart, complete with brackets. Decide whether you're going to do single or double (or even triple??) elimination, and set a prize for the grand champion. If you really want to make things interesting, you could even get a sports tourney going during your board game downtime. When else are you going to use that badminton set?
Build a water park
During a pandemic, heading to a water park isn't the best idea. But that doesn't mean you can't still have the thrilling wet experience of an amusement park. Cut out the germs and typical price of several all-day passes and create the attraction your kids always wanted. This is your time to purchase all those elaborate slip and slide plastic playgrounds you've seen in commercials but never thought necessary to buy. Go crazy and put your water hose to work. The sky is the limit! Get your kiddos to put on their bathing suits and meet you in the backyard for different water activities. You want them to feel like they have options, so make sure there are multiple water slides and toys. Water guns and water balloons are also a great touch.
Laser tag
Who said you had to go out to play laser tag. Head over to your local toy store and buy a bunch of laser guns, goggles, and chest shields. You can turn the house into a glowing world of adventure by picking up some glow sticks, glow in the dark stickers, stuff animals, balls, and other toys. Sprinkle them around the house and then shut off the lights. You can also take the game outside if you want. Then the last family member standing gets to choose the pizza toppings. The whole night will feel better than the arcade!
Staycation Ideas During Quarantine
Go Camping
While we're hoping we don't have to quarantine again anytime in the near future, it's a possibility. But if you're lucky enough to live near some wide-open spaces or a national forest, you may be able to get out of the house for a socially distanced camping trip. Don't forget stuff to make s'mores!
Do a DIY Yoga Retreat
There's no time like quarantine time to center yourself. Whether you're a beginner or an advanced yogi, you should find no shortage of classes online. Find a quiet spot, roll out your yoga mat, and spend the next few days harnessing your inner chi.
Learn Something New
We're pretty fortunate to live in the digital age where, at any given time, there are roughly a bazillion books, guides, lessons, and seminars available at the click of a keyboard button. Dream of being a thespian? Take a drama class taught by a real-like actor. Fancy yourself a home chef? Learn to flambé like Bobby Flay. Think of something you'd like to be able to do, then Google until you're enrolled in at least one course.
Interview Your Loved Ones
Grab a recorder (or, you know, your smartphone) and step into the shoes of an investigative reporter or celebrity profiler. You might be tempted to read the biography of a famous figure or meet a stranger, but have you ever thought about the stories closer to home? With just a few phone calls to loved ones, you could have the makings of a best-seller — without ever having to crack open a book. C'mon, you know your grandma has some secrets to tell!
Plan Your Next Vacay
Let's not sugarcoat it; being stuck at home can be tough for extroverts, especially those of us who love to travel. So, if you wind up quarantined again, use the time to plan out your next great vacation. Research destinations. Make a list of tourist stops. Look up where the locals go. By the time you're given the green light to hop a flight, you'll have the most organized itinerary ever.
Staycation During The Holidays
Staying safe and healthy is paramount during COVID-19, but it doesn't mean that we won't be sad to miss out on beloved family traditions during the holidays. Between Halloween, Thanksgiving, Diwali, Hanukkah, Christmas, and Kwanzaa, autumnal holidays might look very different for millions. But that doesn't mean you can't bring that spark of joy and maybe start a new tradition.
You can donate your time as a family and volunteer with a charity or religious organization to safely hand out meals to those in need. You can drop off pre-packaged baked goods to your local hospital or nursing home to thank essential and frontline workers for their selfless dedication. You can treat yourself and the kids afterward and play tourist in your own town by checking out the holiday decorations in your area. All in all, new traditions can be a wonderful way to do something new with the family.
Go Hiking as a Family
You may have to nix long hikes when little ones are in tow, but if you're a pretty active family and have kids who love the outdoors, why not take in the fall foliage? Put on your favorite hiking outfit (the one that will also make for a kick-ass family photo at the end of the hike), memorize your favorite autumn quotes and jokes, and hit the road as a fam-bam. If the end of your trail leads to a cute resting area with hot chocolate and treats, even better.
This article was originally published on