30 Baby Names For Disney Lovers
by Rita Templeton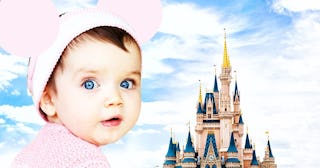 Scary Mommy, Pixabay/Pexels and Thomas Kelley/ Unsplash
Thanks to everybody's latest obsession, streaming their favorite movies and shows from the Disney+ service, (available for $6.99/month or $69.99/year) we've got Disney on the brain. And if you've not only got Disney on the brain, but a baby on the way, you might be looking for name inspiration.
Luckily, the Disney studios have released a lot of movies, and therefore a lot of possible Disney baby names. But this list isn't made up of the most obvious Disney baby names; you know the ones. Elsa, for example, rose a cool 240 spots on the Social Security Administration's baby name popularity charts the year after Frozen was released. Before that, Ariel made a 115-spot leap after The Little Mermaid swam onto the big screen.
RELATED: 90+ Disney-Inspired Boys' Names Perfect For Your Little Prince Charming
No, the Disney baby names on this list are the lesser-celebrated, the more obscure — but they, too, deserve their time in the spotlight.
You might never think to name your baby after a fish … but when the fish is as adorable as Cleo, Gepetto's pet goldfish in Pinocchio, why not? Besides, Cleo falls right into the short-and-sweet baby name trend.
Speaking of short and sweet — literally and figuratively — there's always Gus: one of the caged mice Cinderella rescues, along with his friend Jaq. Gus's "real" name is Octavius, but Gus is definitely easier to spell.
In Alice in Wonderland, Dinah is the name of Alice's sweet, blue-eyed kitten, the recipient of the flower crown Alice was dreamily weaving while she was supposed to be paying attention to her lessons.
Speaking of Alice, here's some Disney trivia you may not have known: the voice actress for Alice, named Kathryn Beaumont, was also the voice of Wendy Darling in Disney's Peter Pan.
Along with his cohort, Horace, Jasper was one of the thieves who stole the puppies in 101 Dalmations. But if it helps, he was the "brains" of the duo. And his name goes along with a couple of recent trends: vintage and gemstone baby names.
RELATED: Blinged-Out Baby Names Inspired By Jewelry
If your mind automatically goes to the title of one of Disney's most recent movies, Coco, you'd be right … sort of. But as it turns out, this name has been a longtime Disney favorite. There are characters named Coco in "Mickey Mouse Clubhouse," "Kim Possible," and 101 Dalmatians as well!
Sleeping Beauty's Princess Aurora is known by several names; among them, Briar Rose. And while in this case it's a princess name, Briar can definitely be unisex.
One of the most adorable of the 101 Dalmatians, Rolly is a roly-poly little pup who is always hungry, which is what makes him a favorite (we can totally identify with constantly wanting to snack). It's pronounced like Raleigh, as in the capital of North Carolina, which makes it on-trend since place names are hot right now.
RELATED: These Are The Latest Location Baby Names
The three kind and protective fairies in Sleeping Beauty were Flora, Fauna, and Merryweather — and of the three, Flora is the most "wearable" name these days, thanks to our recent love of vintage (and botanical!) names.
When you hear Chip, some may think of Chip and Joanna Gaines and their HGTV empire, but Disney fans think of the sweet little chipped teacup in Beauty and the Beast. Or perhaps one-half of Chip and Dale, the mischievous chipmunk brothers.
We all know Ariel, of course, but The Little Mermaid has sisters with equally pretty names … like Adella!
She was originally known as "The Girl" in Disney's version of The Jungle Book, but The Girl got a name: Shanti. Sweet and industrious, Shanti was known for her beautiful singing voice.
The funny and sassy Dalia was Princess Jasmine's handmaiden and closest confidante in Disney's Aladdin. But not the animated version; we're talking about the live-action film released in 2019.
Yes, Clayton was an antagonist in Tarzan, but we just love the name. In its long form, it sounds upscale and distinguished; and its diminutive, Clay, is down-to-earth and approachable.
RELATED: Earthy Elemental Names For Baby Boys
Of all the Disney characters to name a child after, the most popular are princesses. But we love monsters, as in Sulley — short for James P. Sullivan — from Monsters, Inc.!
Kind, perceptive, and imaginative, Madellaine is the love interest of Quasimodo in The Hunchback of Notre Dame.
Akela is the strong, alpha leader of the wolf pack that "adopts" Mowgli in The Jungle Book. Trivia tidbit: in Disney's 2016 version of the movie, Akela is voiced by Giancarlo Esposito, who fans of "Breaking Bad" will recognize as supervillain Gus Fring.
Dashiell Parr is known to his friends and family as Dash, which totally suits his superpower — running at top speed — in The Incredibles.
One of our favorite Disney characters is from Ratatouille: the driven, opinionated, and confident Colette Tatou, self-proclaimed "toughest cook in the kitchen."
RELATED: Très Jolie! French Girl Names For Your Belle Fille
Another strong Disney woman is Nani, the responsible and protective older sister of the more free-spirited Lilo in Lilo and Stitch. Her sister's sole caretaker and legal guardian at the age of 18, Nani holds it down in ways we never would've been able to at that age.
Tiana is another name that experienced a popularity surge after a movie was released (in this case, Disney's The Princess and the Frog), jumping 268 spots on the chart. But her mother's name, Eudora, is beautiful too. And if you're a die-hard Disney fan, you'll like that it gives you the option to pay homage to another character through its nickname: Dory.
Yes … Pascal is the pet chameleon in Rapunzel. But hear us out! The name Pascal itself is kind of a "chameleon" — more formal in its entirety, but charming and casual with the nickname Cal.
RELATED: Très Beau! French Names For Baby Boys
In Greek mythology, Hera is the Queen of the Gods and the wife of Zeus. In Disney's rendition of Hercules, she has the same role, but she's Hercules' mother; whereas in the actual mythological tales, she was jealous of Hercules, who was born of an affair between Zeus and a mortal woman named Alkmene. Still, despite the (obviously-necessary) plot variations, Hera is a gorgeous and simple name.
RELATED: Legendary Baby Names Inspired By Mythology
Felix is one of those names that just oozes with old-fashioned charm, putting it up there with the likes of Archie and Theo. It's also the name of Fix-It Felix, Jr., the "good guy" in the game he shares with Wreck-It Ralph.
The main character's mother in the movie Moana, Sina is loving and supportive. Runner-up for coolest Moana name: Tala, who is Moana's spirited, eccentric grandmother and the village's "keeper of the ancient stories."
RELATED: Beautiful Hawaiian Baby Names For Boys And Girls
The name of not one, but two Disney dogs: the lovable stray from Coco, and also one of the puppy siblings from 101 Dalmatians. But despite these associations, it doesn't really strike us as a "dog name."
RELATED: This Is What People Are Naming Their Dogs
He might be a scary alligator from the Louisiana Bayou in The Princess and the Frog, but his name is cool. Still, if naming your kid after a sadistic gator isn't your bag, change up the spelling to Marlin and you've got the name of a much more personable character: Nemo's doting dad in Finding Nemo.
Many people think that Ratatouille is the name of the main character in the movie — the rat/culinary genius who spends his days under Linguini's chef hat. But his name is actually Remy, which can be either a standalone name, or short for Jeremy or Remington.
She's a one-eyed, snake-haired receptionist from the movie Monsters, Inc., but her boyfriend, Mike, thinks she's beautiful — and we think the same about her name (which, in its entirety, is Celia Mae).
Merida might be the protagonist in Brave, but her mother, Queen Elinor, is a pillar of grace, strength, and dedication. And she literally fought a bear for her daughter, as any "mama bear" would do.
Anybody can name their baby after a Disney prince or princess, but it takes a true fan to dig deeper into the world of Disney baby names to find the hidden gem that's perfect for their baby. Whether it's a hero, a villain, or … an alligator.
For plenty of baby name inspiration, from a comprehensive name database to valuable naming advice, check out Scary Mommy's baby naming section!
This article was originally published on