Try These Costumes For Your Tiny (Or Toddler) Boo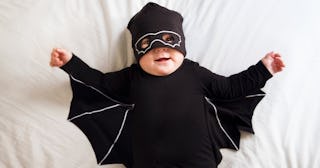 Mayte Torres/Getty Images
Ah, Halloween: A time for dress-up, revelry, spooky makeup, kitschy dark yard decor (skeleton flamingos FTW), and maybe a little bit of harmless and hilarious Halloween mayhem. And we all know that having a child in the family makes Halloween even more magical. Grown-up costumes are a blast, sure — but tiny humans in costume? The cutest! Considering 2021 finds us still in the midst of the novel coronavirus pandemic, you may feel a bit less, well, spirited this year. But we're here to tell you that you shouldn't stop thinking about baby and toddler Halloween costume ideas. Traditional festivities may be canceled, but October 31 is not.
Your little one deserves to have a little All Hallow's Eve fun. For that matter, so do you. We all do. 'Cause honey, it's been a rough couple of years. And while things on the pop culture front haven't been quite as busy as normal (except for maybe TikTok's Halloween fanatics), there's still plenty of inspiration you can apply when you pick out the perfect costume for your kiddo.
Even better? Most of these costumes can be whipped up with minimal effort sourcing items from around the house. So, if a no-muss-no-fuss costume is all you can muster this Halloween, don't fret. These cute baby and toddler Halloween costume ideas are a DIY'ers dream. And if all else fails, you could just slap a Halloween face mask on your little one in true pandemic style.
Baby Halloween Costume Ideas That'll Kill You With Cuteness
1. Ruth Bader Ginsburg
The world lost a true icon with the September passing of Supreme Court Justice Ruth Bader Ginsburg. You can give a nod to her lasting legacy by giving your little one a gavel and collar and letting them get into some good trouble.
2. Beetlejuice Baby
https://www.instagram.com/p/CExVa_cgtCa/
The long-awaited (and uncertain) sequel to Beetlejuice could be in the works as we speak — in 2019, Beetlejuice 2 got an update on IMDB. Perhaps if we all dress our little ones in black-and-white stripes and say, "Beetlejuice, Beetlejuice, Beetlejuice" in unison, Tim Burton will bring this beloved classic back for real.
3. UPS Worker
https://www.instagram.com/p/B_qxPi2HFW0/
If ever there was a time to pay tribute to UPS workers, the time is now. Since the pandemic has us all practically housebound, we've been making online orders in wild abandon. This costume could easily be pulled together with an all-brown ensemble and a bit of crafting supplies.
4. Oodles of Noodles
https://www.instagram.com/p/CEWt0EGMUms/
Say hello to one of the staple foods of the pandemic: Cup of Noodles! No judgment; it's comfort food at its most basic. And, as is made evident here, this microwave delight makes for a ridiculously adorable baby costume.
5. Mulan
Have you watched Disney's new live-action Mulan yet? What are you waiting for?! It's so good. Cue it up on Disney+ for all the inspo you need to outfit your loyal, brave, and true little one.
6. R2D2 (and Chewbacca, Too!)
Star Wars costumes never get old! There are obviously myriad timeless characters to choose from here, but we're pretty partial to this R2D2 and Chewy combo.
7. Jareth the Goblin King
https://www.instagram.com/p/CAuJ_fJlq5l/
Much like Beetlejuice, Labyrinth remains one of the most beloved movies of the '80s that hasn't yet received the reboot treatment. However, rumors picked up steam this summer that a remake is now actively being considered. Let's hope so! Until then, we'll swoon over this adorable Jareth the Goblin King costume.
8. Little Vulcan
Do we even need to say anything? Or can we just let this little Vulcan's eyebrows do the talking?
9. Bats
Sometimes the simplest ideas are the best! So, don't write off a baby bat costume as unoriginal. As blogger Kate Weilz proves, a bit of creativity can make the humble bat Insta-amazing.
10. Wednesday and Pubert
Addams Family Values will forever be one of the greatest Halloween movies of all time, so it's unsurprising it spawns countless costume ideas each year. But this?! Wednesday is joined by little Pubert, and we honestly can't even.
11. Woodland Animals
Whether you waited until the last minute to get costumes or you just don't want to spend a million bucks to stay at home, the Hello Wonderful blog has you covered. They'll walk you through how to make these precious woodland animals costumes using simple art supplies.
12. Chick-Fil-A Employee
https://www.instagram.com/p/B4TIpprB4uw/
Channel the chicken sandwich through your little one with this oh-so-easy Chick-Fil-A getup. Just grab a red shirt, black or khaki pants, something in a cow print, and a name tag. Your nugget will be ready to serve up smiles in no time!
13. Curious George
https://www.instagram.com/p/B3ujKPPA07H/
Want to coordinate with your cutie? Two Little Mamas has an excellent suggestion: Go as Curious George and The Man in the Yellow Hat. Bonus? This costume idea even fosters literacy.
14. Bob Ross
https://www.instagram.com/p/B4SUUOigO9_/
Thanks to young millennials and Generation X, The Joy of Painting host Bob Ross has seen quite a posthumous resurgence in recent years. Get in on the trend — and pay tribute — with this cute and easy costume.
15. Tired Mom
https://www.instagram.com/p/CFe7f_uHgK7/
Tired Mom? Lately, this feels less like a costume and more like a uniform — which is precisely why it's perfect. Use makeup to give your little one under-eye bags, dress them in something appropriately slouchy, and attach a baby doll to their leg. Voila.
16. Puppy
If you want to keep things simple yet chic, look no further than this sweet puppy dog costume. Dogs might be man's best friend, but your little one (in a pretty tone-on-tone ensemble, to boot) is obviously Mama's best friend.
17. The Roses
Schitt's Creek swept the Emmys in September, making this one of the most fitting costume ideas for 2020. We all love the Roses as is but, c'mon, are they even cuter in mini-form, or what? We can already hear mini-Alexis saying, "Ew, David!"
18. Baby Shark
Baby shark, do-do-do-do-do-do — you know how the song goes! And you'll undoubtedly be stuck in your head all night as you tote around your own tiny Great White. As you can see, this costume is made even better by Mom's fantastic sense of humor.
19. Colonel Sanders
You can never go wrong with Colonel Sanders. Why is it that babies look so cute in a western bow tie? The only thing that could make this costume cuter is the addition of a tasty drumstick (a toy, for safety and sanitation's sake).
20. Koala
Your little one is going to cling to you all night anyway, so why not lean into that with a koala costume? You could make this even more adorable by dressing up as a member of the Irwin family.
21. Chucky
Raise your hand if you felt personally victimized by this demonic doll growing up! (We definitely did.) And while the OG films in this franchise were terrifying, the 2019 remake may be even scarier. This costume captures its horrifying vibe perfectly.
This article was originally published on