Simple One-Syllable Boy Names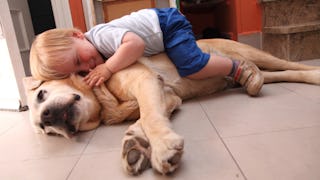 Aitar Diago/Getty Images
Dominick! Jefferson! Forester! They're all great boy names, but they're long. And on this list, long just doesn't cut it. Because this list is all about one syllable boy names: perfect for middle names, or when you just want to give your little guy a simple, streamlined moniker.
Maybe you have a long last name and need to balance things out. Maybe you need a short middle name to go with that lengthy first name you love. Or you want something to rhyme with your last name. Or maybe you just like to keep things as pared-down as possible. Whatever it is, you're not alone in that search of yours. According to the most recent search data available, one-syllable boy names are searched for nearly 12,100 times per month. We've rounded up classic, cool, and even unique one-syllable names for your tot that will grow well from the playground to the boardroom. More importantly, it's not a name you'll tire of saying or even yelling across the room. "Knox, put that down! Kit, stop poking your sister! Ben, we don't pee there!" all have such a good ring to them.
While the names share the one-syllable bit, their origins are as diverse as the United Nations. Greek, Hebrew, African, Chinese, Indian, and Irish just to name a few. Some are even dueling for the most popular boy names in preschools across the country. Whether you want to honor your family's heritage or pick the coolest, in vogue name right now, Scary Mommy has you covered on the baby naming front. (And the baby gear, pregnancy, and parenting journey you're about to embark on.)
Either way, these cute, uncomplicated one-syllable boy names have you covered. Whether it's a classic like Ben, Abe, or Chang, or cooler names like Reign or Slade, this is the list to keep mulling over as you lock down your baby boy's name.
Quotes to Consider
If you're looking for even more inspiration to give your baby boy one of these monikers, check out wise words by a few famous figures with one-syllable names.
"Being brave isn't the absence of fear. Being brave is having that fear but finding a way through it." — Bear Grylls
"To speak and to speak well are two things. A fool may talk, but a wise man speaks." — Ben Jonson
"For small creatures such as we, the vastness is bearable only through love." — Carl Sagan
"I have a hard time with morals. All I know is what feels right, what's more, important to me is being honest about who you are. Morals I get a little hung up on." — Brad Pitt
"Write down five things you love to do. Next, write down five things that you're really good at. Then just try to match them up! Revisit your list once a year to make sure you're on the right track." — Hugh Jackman
"You must never underestimate the power of the eyebrow." — Jack Black "Never let success get to your head and never let failure get to your heart." — Drake
Need more baby name ideas for your little tot? We've got comprehensive lists for middle names for girls, last names as first names, nicknames as first names for your little Ace, and so much more!
Curious to know more about your family name and the last names and meanings of other countries, check out our package on last names from around the world. See how many you recognize: Irish, French, Russian, Spanish, Mexican, Brazilian, Portuguese, Italian, and African last names, among others.
Abe
Ace
Arch
Art
Ash
Axe
Banks
Bay
Bear
Beau
Beck
Ben
Blade
Blaine
Blair
Blaise
Blake
Blake-unisex
Blaze
Blue
Bo
Bob
Boone
Bram
Breeze
Brent
Brett
Briggs
Brock
Bronx
Brooks
Bruce
Bryce
Bryn
Buck
Burke
Burr
Butch
Cache
Cade
Cael
Cain
Carl
Carr
Case
Cash
Caz
Chad
Chance
Chang
Charles
Chase
Chet
Chi
Chip
Chord
Chris
Chuck
Clark
Clay
Cliff
Clyde
Cole
Colt
Cove
Craig
Cree
Creed
Crew
Cruz
Dale
Dane
Dash
Dax
Dean
Dell
Deuce
Dom
Dove
Drake
Drew
Duke
Earl
Finn
Fitch
Fjord
Flint
Flynn
Ford
Fox
Frank
Fritz
Frost
Gage
Gates
Gene
Glen
Grant
Gray
Greer
Grey
Gus
Hank
Hans
Hart
Hawk
Hayes
Heath
Herb
Huck
Hugh
Jace
Jack
Jad
Jake
James
Jase
Jax
Jay
Jayce
Jazz
Jem
Jens
Jess
Jett
Joe
Joel
John
Jon
Joules
Juan
Jude
Kace
Kade
Kai
Kale
Kamp
Kane
Karter
Kase
Kash
Kaz
Keats
Keel
Keith
Kent
King
Kit
Knox
Kurt
Kye
Kyle
Laith
Lake
Lance
Lane
Lark
Leaf
Lee
Leif
Lev
Lex
Li
Lin
Lind
Link
Lou
Luke
Lux
Lynx
Mac
Mack
Marc
Mark
Mars
Marsh
Max
Mick
Mike
Miles
Moss
Nash
Ned
Neil
Ngan
Noel
Noon
Park
Paul
Penn
Pierce
Piers
Pike
Pip
Poe
Prince
Psalm
Puck
Quill
Quinn
Rafe
Ralph
Ray
Read
Reece
Reed
Reef
Reese-unisex
Reeve
Reid
Reign
Ren
Rex
Rey
Rhett
Rhodes
Rhys
Rick
Ridge
Riggs
Rogue
Rome
Rowe
Roy
Royce
Ryn
Sage
Saint
Sam
Saul
Scott
Scout
Sean
Seth
Shane
Shawn
Shay
Shea
Shel
Shell
Shore
Sky
Slade
Slate
Sloan
Smith
Stark
Steel
Stone
Tag
Tai
Taj
Tal
Tate
Tau
Teal
Thane
Thom
Thor
Trace
Trent
Trey
Tripp
Troy
True
Ty
Van
Vance
Vin
Vlad
Von
Voss
Wade
Wayne
Wells
Will
Wolf
Worth
Wynn
Yan
Yu
Zaid
Zane
Zayn
Zeb
Zeke
Zeus
Zev
Zip
Zvi
This article was originally published on