50 Baby Shower Invitation Wording Ideas Perfect For Celebrating A Little One (Or Two!)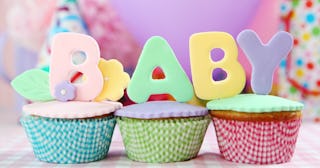 kirin_photo/Getty
Throwing a baby shower is an exciting time for mama! Basically, it's party time for you and your baby (without the wine). Hosting a memorable baby shower starts with the perfect baby shower invitation wording. You could play it dry with a simple "who, what, where, and when" RSVP, but where's the fun in that? This is a special occasion that you'll remember forever. So spruce up those cutesy mailers and make them personal by adding fitting — and, in some cases, funny — baby quotes, poems, or baby jokes. If you're stuck on what type of wording to use, you might want to consider the theme of your shower. Is it quirky or elegant? Is it a big gathering, or a small get-together with just close friends and family?
RELATED: Comfortable And Cute Baby Shower Dresses You Can Wear More Than Once
Above all, a baby shower is a celebration of your baby and the new journey you're about to embark upon. There are enough things to worry about when you have a bun in the oven, and finding the right words to put in an invitation shouldn't be one of them. We got you, Mama. So if you're still unsure what to use, don't worry. From inspirational to hilarious baby shower invitation wording, we found the best examples from all over the internet for your one-of-a-kind baby shower invitation!
Sugar and spice and everything nice — it's a girl!
Hickory, Dickory, Dock, there's about to be a new baby boy on the block.
Twice the fun is on the way!
A cute little nose and a sweet little smile,
We have someone special coming in just a short while!
It's raining, it's pouring,
Your presence, we're imploring, For games and cakes and girlfriend-power At [Mama's name]'s Baby Shower!
A sweet baby girl is on the way, so let's shower the mommy before the delivery day!
Did you hear the forecast?
The baby shower is here, and it's raining boys!
It takes two to make a thing go right…
You're invited to a double baby shower celebration!
First came love,
Then marriage, Now look who's gracing the baby carriage! Please join us for a baby shower to honor [baby or mama's name, or both].
Pregnant belly, big bump gain,
Swollen ankles, labor pain, Then the miracle of birth Welcomes new life to this earth; Tiny fingers, tiny toes, Years of joy as baby grows, You'll make a memory every day To send your child along his way.
We're firing up the grill…
There is a bun in the oven! Join us for a BBQ as we celebrate the baby-to-be.
Trucks, tractors, and trains, oh my!
It's almost time to meet [mama's name]'s little guy.
Once upon a time…
There lived a couple so cool, They had a wish To be covered in baby drool. Let's party as their wish came true — It's a baby shower!
Tulips and carnations white as pearls,
[mama's name] is going to have a girl. A baby as precious as a flower, You're invited to a garden baby shower!
Cradle rocking, not much sleep,
You'll want to lie down in a heap; Feeding baby, wide awake, How much more can one mom take? And then a magic baby smile Makes every moment so worthwhile; Your heart will burst with joy and soar, You'll be a parent forevermore!
Double the diapers and double the toys,
Let's help [mother's name] prepare for twin boys — It's a baby shower!
It's tough to say when is the delivery day,
But a special gift is definitely on the way; Let's celebrate and be merry, For there will be prizes to carry. It's a baby shower in honor of dear [baby name]!
Twenty teeny fingers, and so the tiny toes,
Four cute ears, and two little noses. Let's join hands and welcome one little angel and one sweet boy… We're having twin babies, come to the party and do nothing but enjoy.
It was a joint effort, so it's a joint shower!
Come join us for a couples' shower honoring [couple's names] and their sweet new baby!
You have joined us for travels.
You have joined us for our wedding. Now it's time to join us for our baby shower.
A beautiful little girl to love and adore,
We truly could not ask for more!
We're absolutely tickled pink that it's a girl!
Dresses, dolls, and curls
Guess what! It's a girl!
Let's celebrate this new mommy with all things blue!
Come celebrate our newest bundle of joy, a bouncing baby boy!
Bottles, bibs, and more.
Let's shower this baby with gifts galore!
Twice the love, twice the grins — we're having twins!
Twinkle, twinkle, tiny light
Little eyes that shine so bright. A precious baby from heaven above To fill our hearts with so much love. Please join us for a baby shower honoring.
Blankets, bibs, bottle, and bows
Tea parties, dolls, and dress-up clothes Bonnets, ribbon, and hair to curl Mama is expecting a baby girl
A new little girl to cuddle and love
To spoil just a little and think the world of A bundle from heaven to simply adore Now, who in the world could ever ask for more! Please join us for a Baby Shower honoring [mama and/or baby's name].
Boy, oh boy! Guess what she's having? Now it's time to party — and we need you!
Skip the snakes and snails and puppy dog tails! This little guy needs bottles, blankets, and burp cloths!
Who run the world? Girls! Calling all my ladies to come celebrate the little queen in waiting.
A baby's brewing, so we're throwing a bash. And it wouldn't be a party without you there, so come raise a glass to our new addition!
We've traveled all around the world and back again, but our real adventure begins when baby is born. Come help us kick off our new amazing journey.
Little babies are filled with so much fun! We've decided to have another one.
With another sweet baby along on the way, we hope you'll join us to brighten the day.
Come celebrate the soon-to-be parents! This couple's shower will welcome baby [baby's name].
Hear ye, hear ye! Join us in celebrating the arrival of our new little princess.
Mr. and Mrs. would like to invite you in welcoming their child into the world.
More precious than diamonds, even rarer than a pearl. Our bundle of joy is a sweet baby girl!
Our family is growing, the adventure's begun. We're proud to announce we're having a son!
Double the trouble and double the joys. Come celebrate our new baby boys!
We may be living far apart, but you're still close within our hearts. Come celebrate at our virtual baby shower!
Why should moms have all the fun? Everyone is invited to our baby shower!
Let's shower both mom and dad before the big day.
Sailboats and rubber ducks, surfboards and dump trucks,
A little boy is on the way, let's celebrate this special day.
A basket full of sunshine, a house full of joy,
What could be sweeter than a bouncing baby boy!
Chubby cheeks and stubby toes.
With baby boys, that's how it goes. And that's what [baby's name] looking forward to. Come to the shower so we can celebrate with you.
Baby [baby's name] is almost here, and we're proud to say we're showering his mommy in our own special way.
Diapers, clothes, and sweet baby toys, anything she would want for her new baby boy.
This article was originally published on