30+ Cher Quotes That Prove She's A Feminist Icon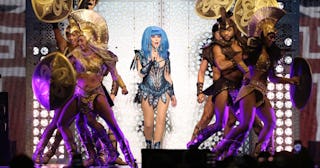 Taylor Hill/Getty Images
Of all the iconic women in the music world, Cher is one of the most open and vocal. But before we explore some of the most enduring Cher quotes ever, let's take a look at how Cher came to be… well, Cher. Known as the Goddess of Pop now, she was born in 1947 and named Cherilyn Sarkisian. Unlike her blue-eyed and blonde-haired mother and sister, Cher's looks favored her Armenian father's. She was stunning with her olive skin, dark hair, and dark eyes — although she has spoken openly about how much she hated her looks growing up. As an adult, though, she seemed to learn to love her looks and her body. On her variety show with ex-husband, Sonny Bono, Cher often performed in clothes cut out to accentuate her body. And if you could have broken MTV and VH1 in the '90s, her "If I Could Turn Back Time" video would have done it. Clad in a thong and dancing around on a battleship surrounded by seamen, she was quite the sight to see.
Cher's life has been anything but easy, though. From marriages that ended in divorce to strained parental relationships, she's faced plenty of adversity. She's even battled debilitating health issues that left her exhausted and seeking seclusion. Viewing the old episode of VH1's 'Behind The Music: Cher' really puts her life into perspective. It's those struggles that have kept her grounded. Despite having been famous since her young-adulthood, she still seems in touch with the struggles of others. She's even spent a giant chunk of money to rescue a depressed and lonely elephant from a declining zoo!
And somewhere along the way, Cher became an icon to the LGBTQ+ community. TBH, it's easy to see why: She's an inspiration, to say the least. These quotes from throughout her life — some sad quotes, some happy, and all fierce — make that very case.
Best Cher Quotes
"A girl can wait for the right man to come along but, in the meantime, that still doesn't mean she can't have a wonderful time with all the wrong ones."
"Cause I've had time to think it through, and maybe I'm too good for you."
"The trouble with some women is that they get all excited about nothing — and then marry him."
"It's not necessary, in order to be a complete person, that I have a man. It's not the end-all, be-all of my life."
"Men aren't necessities. They're luxuries."
"Women have to harness their power — it's absolutely true. It's just learning not to take the first no. And if you can't go straight ahead, you go around the corner."
"If you don't take it, no one is going to give it to you."
"My mom said to me, 'One day you should settle down and marry a rich man.' I said, 'Mom, I am a rich man.'"
"This has nothing to do with men, I love men, but until women get paid the same, have control over their bodies, a number of things thought of as equal, then you can't stop."
"Yes, it's a man's world, but that's all right because they're making a total mess of it. We're chipping away at their control, taking the parts we want. Some women think it's a difficult task, but it's not."
"I can trust my friends. These people force me to examine myself, encourage me to grow."
"I admire anybody for standing up for what they believe — man or woman, I don't care. Having beliefs — especially if other people don't agree with you — it's difficult in this day and age."
"I don't think that we are born with a finite number of dreams. One thing about dreams is that they can be whatever you want them to be, you don't have to put a limit on them, you don't even have to know them."
"Until you're ready to look foolish, you'll never have the possibility of being great."
"All of us invent ourselves. Some of us just have more imagination than others."
"Men should be like Kleenex: Soft, strong, and disposable."
"Women are the real architects of society."
"My passion lies with whatever I'm doing at the time. I only see what is in front of me."
"I wish that I did the things that I really believe in, because when I do, my life goes much smoother."
"I know I'm not supposed to have any opinions about politics, because I'm famous."
"My mother was the most creative, fantastic person, and would come up with great things for us to do. She'd buy art supplies and all of us would sit around painting. I was lucky."
"Husbands are like fires – they go out when they're left unattended."
"I can't do coffee, but I can do Dr. Pepper."
Most Iconic Cher Twitter Moments
"Breaking news — I'm being buried in my fishnets!"
2. "iPad freezing up! Maybe it's overwhelmed because it just realized a fabulous diva was touching it! Can't really blame it, 'Snap out of it!'"
3. "What's going on with my career?"
4. "If I was running 4 Pres, I'd put 2gether team of smart millennials, as advisory board. Young ppl w/ great ideas & energy helping me, help them."
5. "I blocked someone's dad!?! Who was it?"
6. "Stacey Abrams is a goddess."
7. "Another [bright] person who thinks emoji r stupid, has never seen a hieroglyph. Believe emoji r in infancy. In future, new gen will add drama, humor."
8. "Have a great day. I'm off to make sauce, once again! We had kitchen calamity yesterday."
9. "I'm eating the biggest piece of cake in the evil empire…. a long time ago in a galaxy far far."
10. "I'm going 2 have 2 give the f-word a time out. I'm starting w/ a month! F-word, go sit in that corner & think about all the bad things you've done."
This article was originally published on