26 Chinese Boy Names That Are A Mix Of Modern And Traditional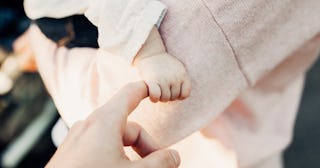 Joshua Reddekopp/Unsplash
If you're looking for inspiration in your search for baby names, check out our list of the top baby names for boys, girls, as well as unisex options. Perhaps you're on the search for short one-syllable names for girls and boys, or maybe nicknames as first names for your little Ace — we got those too.
Naming your baby is one of the biggest decisions you make as a parent. So many other decisions have limited choices. Naming, though, feels almost limitless. Even if you choose to stick to names from your family heritage, that's often not as easy as just one heritage. More times than not, each parent has family from multiple countries and cultures. How do you mix an Irish background with a Mexican heritage? And what if you're looking for a more traditional Chinese name while also incorporating your more contemporary tastes? The fun aspect of naming your precious baby boy can suddenly become overwhelming.
Luckily, we're here to make it just a tiny bit easier. After all, choosing the right name for your child is taken very seriously in Chinese culture. As one well-known Chinese saying translates, "Instead of giving your child gold, teach him a skill. Even better than that, bestow a good name upon your child." Did you know that Facebook founder Mark Zuckerberg reached out to Chinese President Xi for help naming his soon-to-be-born daughter. And arguably even more telling, that President Xi refused on the grounds that it was too big of a responsibility?
Whether you choose to follow Chinese naming customs or not is up to you. We're just here to offer some popular names with meaningful Chinese roots. These names are a mix of the most popular names as well as ones we thought just had really cool meanings. We bet you'll find something here to love.
Your baby is your treasure, right? Going with "An" says exactly that.
Similar to An, Bao means "gem." It's a bold choice, but we're sure your little buddy will grow into it perfectly.
Looking for a name that symbolizes just how extraordinary you think your little boy will be? Chao means "excellent" and we think it's an excellent choice.
Hey world travelers! Cheng means "journey" and is a great option if you're hoping your baby boy follows in your footsteps.
You expect your son to accomplish great things. Why not start him off on the right foot with a name that suggests just that?
Feng is another solid option for boys with adventurous parents. With a name that means "summit," your boy named Feng will climb and conquer plenty of mountains.
Coincidentally, your travels might have also taken you across oceans and to many gorgeous, exotic beaches. Hai means "coming from the sea."
While many parents give birth not just to babies but to lofty dreams for said tiny humans, others are a bit more realistic. If all you want for your son is to know he'll grow up to be a kind person, Jia is an excellent name for him. It means, simply, "Good."
Of course, if you're hoping your son has a stronger personality, the similar-sounding Jian means "Man of strength."
Can babies look like dragons? While we've never seen a dragon-esque baby before, we still love that there's a name to imply such a phenomenon.
The very popular name "Huang" means yellow. If there's a Huang in your family already, you could one up them with Jin, which means "Gold." And, of course, the color gold holds tons of meaning in Chinese culture.
If you had a rough pregnancy, you're probably just hoping for a healthy son. If so, Kang means "healthy" and might just be the push your baby needs to stay just that: healthy.
Channel your inner Buzz Lightyear with Kuo's "limitless" meaning. Teach your little one that nothing can stop him. To infinity and beyond!
If you name your children using characteristics you hope they mimic or inherit, Ping might be a great choice for a child born into a family in need of some quiet. It means, "peace."
Looking to encourage a kiddo to appreciate your religion like you do? "Shen" might be the way to go, as it means "extremely spiritual."
And if you're raising a little wolf of Wall Street? The similar-sounding "sheng" will encourage success.
Meanwhile, "song" can also encourage that "alpha male" type of personality thanks to it's "strong and powerful" meaning.
If you're set on raising a "thriving" or "successful" baby boy and want a name that says as much, this one is another excellent option.
Babies are typically pretty happy creatures, anyway. You can, however, try to coax that temperament on into the teenage years and adulthood with Xing-fu which means "joyful" and "happy."
A new addition to the family is reason to celebrate! Keep the party alive by naming your son Yat-sen, which can mean "festival" or "celebration."
Remind your little boy how wonderful he is every single day by naming him Zhao, which translates to "excellent."
22. Jiang
Let your sweet boy be the babbling brook in your life as the name Jiang means "a flowing river at constant speed."
Are you a person who prides themselves on being both right-brained and left-brained? If so, you're going to love the popular Chinese boy name Li Jie. On the one hand, it means "reason" and "logic." On the other, it means "beautiful" and "heroic."
Music-loving parents couldn't ask for a better name for their little one than the Chinese moniker Barde. It means "someone who sings ballads." Bonus: It just sounds cool.
We all want to choose a name for our son that stands for something, which makes Dishi an excellent option. This Chinese name means "someone with a high virtue."
Your son is obviously going to be the shining light in your life — which is precisely why the name Liang is such a perfect fit. It means "someone who is brilliant and bright in nature."
This article was originally published on