Try These Easy Last-Minute Halloween Costumes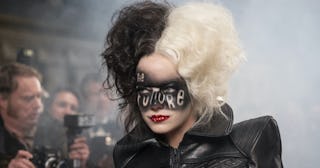 Walt Disney Studios Motion Pictures
Let's be real: The last few years have been a doozy! We're all still reeling from the nightmare that was 2020. And 2021, well, let's just say we could all use a few laughs this Halloween. So, we don't need to deal with the sheer terror that is spending hours (or maybe months, if you have a tween in need of a costume) planning out the perfect Halloween costume. The way this year is rolling, there may not even be a Halloween — which is precisely why cheap, easy Halloween costumes are the way to go. Why waste a small fortune (and your sanity) when you can whip up a killer DIY Halloween ensemble at the last minute?
Don't get us wrong; we love the satisfaction of rocking an elaborate Halloween costume. We're not even against dropping a pretty penny on one if it brings you joy. But no one is going to blame you if 2021 is the year you decide to phone it in. If you've been struggling to come up with an idea for your costume this year, well, that's understandable. You've had things like a pandemic (yep, still), a riot on the U.S. Capitol, and a slew of other shocking-slash-heartbreaking stuff blocking the flow of your creative juices. Fortunately, plenty of Halloween costume ideas exist for those of us who can't seem to muster up our typical enthusiasm for this delightfully dark October holiday.
You may have to source a few minor supplies from your local craft store for these easy DIY Halloween costumes. But most of them just require a trip to your closet. And, c'mon, that's a level of effort we can all manage… even in 2021. Best of all, they're fresh, fun, and affordable.
Easy Halloween Costumes 2021
1. TikTok Influencer
https://www.tiktok.com/@dunkin/video/6868308072692043014?is_copy_url=0&is_from_webapp=v1&sender_device=pc&sender_web_id=7015579488039224837
Put together the TikToker Halloween costume of your dreams by copying the uniform of the platform's most famous personas Charli D'Amelio (87 million followers and counting!): a tie-dye sweatshirt, a large ice coffee with a sticker that reads #ad, and a prepared TikTok dance with your bestie. So… basically your everyday attire but on October 31. Et voila!
2. Moira Rose
Scour your closet for the most ostentatious clothes you own! The only thing more outrageous than Moira Rose's accent is her wardrobe. This costume can be made even more fun by gathering some friends to round out the Schitt's Creek gang. You should also definitely yell out random Moira-isms all night, like, "David, stop acting like a disgruntled pelican!"
3. Sandy From Grease
https://www.tiktok.com/@haribeavis/video/6982942869728283910?is_from_webapp=1&sender_device=pc&web_id7015579488039224837
Channel your inner Sandy Olsson in the easiest DIY costume this side of Rydell High. Grab your favorite leather jacket, faux leather leggings, strappy heels, black off-the-shoulder tank, and favorite shade of red lipstick and walk around the house lilting, "Tell me about it, stud." Truly the easiest (read: cheapest) last-minute Halloween costume you can put together. Complete the look with some bouncy curls and a dirty wink in bae's direction.
4. Beetlejuice's Barbara Maitland
https://www.instagram.com/p/CC_g4K1DXTa/
Whether you've been, ahem, dying for an excuse to re-use your wedding dress or just want to hit up a thrift store, you'll get your chance with this costume. Beetlejuice's Barbara Maitland is classic, and this is also one of those costumes that is both Halloween-y and pretty.
5. Little Red Riding Hood (or the Big Bad Wolf)
https://www.instagram.com/p/B4V3sC5FZ4k/
The Little Red Riding Hood fable can be mined for all sorts of inspiration. You can break out a fuzzy fest and channel your best Big Bad Wolf. If you can find a red capelet, you're destined to be the title character. Only have an old robe? Toss some rollers in your hair and go as the Big Bad Wolf in disguise.
6. A Monster Mask
https://www.instagram.com/p/CDMeukohrAy/
Calling all budding artists! You can't get much easier in these pandemic times than simply painting a plain black face mask to look like some terrifying creature.
7. Sabrina from Chilling Adventures of Sabrina
https://www.instagram.com/p/CCejMXdjPYh/
With the memory of Netflix's Chilling Adventures of Sabrina still fresh in our hearts, there's no time like the present to transform into Keirnan Shipka's beloved half-witch.
8. Mystique
Would it help if you have cosmetics skills like makeup artist Vaida Ruginyte? Yes, of course. But what makes this costume so brilliant is all you really need to be able to do is paint yourself blue.
9. Winnie the Pooh
How adorable is this?! Bring the Hundred Acre Wood to your neighborhood this Halloween with a sophisticated spin on Christopher Robin's best friend.
10. A "S.W.A.T." Team
https://www.instagram.com/p/CDrfglElQNB/
If you're feeling a little cheeky this year, pick a partner to pair up with for this funny couples' costume. One person just needs an all-black ensemble they can adorn with the "S.W.A.T." acronym. The other has to get a little crafty to come up with the makings of a housefly. Oh, and you can't forget the giant fly-swatter!
11. Instagram Filter
https://www.tiktok.com/@takato11/video/6749695836671839493?is_from_webapp=1&sender_device=pc&web_id7015579488039224837
There are always going to be those who wait until the last possible second to come up with a costume. And for us, Instagram might be the answer. Simply pick an easily recognizable IG face filter, grab your makeup case, and get to work. If you're going out in a group, you can all rock different filter styles. A group of nine could even spell out "Instagram" on their shirts to make the costume inspo clear.
12. Color Goddess
https://www.tiktok.com/@happy…mistakes/video/6990202610577902853?is_from_webapp=1&sender_device=pc&web_id7015579488039224837
We're not 100 percent sure what you'd call this, so we're going with "Color Goddess." No matter what you call it, though, it's gorgeous! And since you just need a big box of crayons and some colorful makeup, it's also super-duper easy.
13. Zenon: Girl of the 21st Century's Nebula
https://www.instagram.com/p/B8CbiqhHB1U/
Late-'90s-and-early-'00s girls will recognize this costume in a split-second since, hello, who didn't love Zenon: Girl of the 21st Century? We especially love how quickly you can recreate Nebula (as long as you have some pink and purple in your wardrobe).
14. An Inverted Ice Cream Cone
This costume is as simple as it is sweet. All you need is a few crafting supplies (namely felt) and a dress in the color of whatever ice cream flavor speaks to your soul. Or, you know, stomach.
15. Paper Doll
Um, why did we never think of this before? It's a total conversation-starter, chock-full of vintage appeal. For those with an artistic streak, whipping up a paper doll costume will be a breeze. However, you can always purchase a kit from RO2 if you really want to keep things as no-fuss as possible.
16. Joaquin Phoenix's Joker
https://www.instagram.com/p/B34x7Rdgi7f/
Joaquin Phoenix's Joker came out just before Halloween in 2019, so this costume made a strong debut that year. But the film went on to win all sorts of awards and has reached icon status, so it's still a timely (and visually interesting) pick.
17. Crysta from Fern Gully
https://www.instagram.com/p/CCm0CWejbnB/
We live firmly in the camp of people who believe Fern Gully is one of the most underrated animated movies ever. So, it goes without saying we're obsessed with Jen the Anime Bunny's take on Crysta. Bonus? All you've got to do is doctor a red dress.
18. NYC Taxi
Who says you can't knock your Halloween costume out of the park in this masked day and age? This clever spin on a New York City taxi cab incorporates a face covering with a classic checked cab pattern. Plus, if this doesn't give you license to flip people off at random, we don't know what does. Bonus points if you carry a horn and honk at everything.
19. Ruby Roundhouse
The new Jumanji movies have become just as beloved as the 1995 cult classic, and Ruby Roundhouse is one of our favorite new feminist characters. You can slip into Karen Gillan's badass shoes by pulling from clothes and accessories you already own.
20. "The Child"
You had to know The Child (aka Baby Yoda) from Disney's Mandalorian would make the cut, right? One Target run will get you everything you need for this costume. And win Halloween, you will.
21. Pixelated Nude
https://www.instagram.com/p/CDXg8spg8s0/
Sometimes the best costumes are the ones that require the most minimal effort but are big on wit. This nude-pixel-blur is the perfect example! Some poster board and various shades of skin-toned paint, and you've got yourself a showstopper.
22. Anime Girl
https://www.instagram.com/p/CBoiVlVDbtY/
If you're having trouble getting your creative juices flowing, follow makeup artist Stephanie Lomeli's lead. She looked to the world of anime — and specifically the artwork of ZERO — to come up with a fierce manga costume.
23. Powerline from The Goofy Movie
No. 1, The Goofy Movie will always be one of our favorite animated films. No. 2, TikToker @femmesloth kills it with this easy-to-recreate Powerline costume. Get ready to electrify in yellow this year!
24. A Rainbow
What's sweeter than a literal rainbow? There are tons of ways you could pull off this precious look, and all of them should be delightfully inexpensive. Don't be afraid to go bold with the makeup, either!
25. Princess Peach
https://www.instagram.com/p/CBYfYuonJZ3/
Raise your hand if you always pick Princess Peach when you play Super Mario Brothers games! (*raises hand*) As actor-slash-writer Jasmine Arden-Brown proves, you can pull off this iconic character by repurposing basic home items like cereal boxes.
26. The White Rabbit
Are you ready to take a trip through the looking glass? If you have a red blazer and yellow shirt handy, you can go as everyone's favorite fictional white rabbit. Go all-in by carrying around a pocket watch and yelling, "No time to say hello, goodbye — I'm late, I'm late, I'm late!"
27. Peg Bundy
There are few women in TV history as memorable as Katey Sagal in Married With Children. You're going to need a little leopard print and a whole lotta hairspray if you want to master this sitcom mistress.
28. A Baker
https://www.instagram.com/p/B4TY9sKBK8V/
A new cooking show comes out seemingly every day, making it the perfect time to play up society's culinary fascination. Go as a baker! We particularly love the addition of flour on the face here.
29. Cruella de Vil
Have you watched Emma Stone as the new Cruella de Vil in Disney's new live-action adaptation? She's amazing! So, do your best dalmatian-fur-wearing villain. The rest of us mere mortals may not compare to Stone, but it's sure fun trying.
30. Ross Geller
Need to, ahem, pivot away from the same old costume ideas? We're low-key obsessed with the idea of going as Friends' fave Ross Geller. There are so many scenes to choose from! Like, for example, this version of Ross after his infamous leather pants debacle. Another classic choice would be his teeth whitening mishap.
31. A Disco Ball
Glitter, an old mirror, shiny shirts — if you've got anything that sparkles, you can use it to turn yourself into a disco ball. This costume will make a statement in every Halloween photo you take.
32. Aaliyah
https://www.instagram.com/p/B8EIAoDjGhi/
There will never be another like Aaliyah! Still, how amazing is cosplayer Aja Hamilton's recreation of one of Aaliyah's most recognizable style moments? This look only requires two articles of clothing (and Aaliyah's trademark swagger).
33. Brunch
I mean, who doesn't appreciate a good brunch?! Gather up all the felt you can find — along with your appetite — and create a Halloween-style smorgasbord. Our favorite touch has to be the mimosa on top.
34. Morticia Addams
You can never go wrong with Morticia Addams! Or any member of the Addams Family for that matter. But Morticia is our favorite because it means you can break out your slinkiest black dress and indulge your inner gothic.
35. Minnie Mouse
https://www.instagram.com/p/B4TdEQggDFJ/
When in doubt, pull mouse ears out! Minnie Mouse is one of those costumes that is instantly recognizable pretty much any way you put it together. Not to mention, it lends itself well to coordinating as a couple.
36. A Fine Wine
https://www.instagram.com/p/B4TbBZTHju-/
If fall doesn't make you want to break out cozy sweaters and makeup in every shade of burgundy out there, you're not doing fall right, friends. Which is why we adore the idea of actually being a "burgundy" — wine, that is! Picking a dress and makeup in the perfect deep red will be key for this outfit, as will crafting up a cute cork and label.
37. The Marvelous Mrs. Maisel
What should you watch tonight? Who should you be for Halloween? The Marvelous Mrs. Maisel is obviously the right answer to both of these questions. Since Rachel Brosnahan's Midge Maisel has one of the best circa-'50s wardrobes ever to grace TV, you have tons of inspiration to guide you.
38. Carole Baskin
https://www.instagram.com/p/B_YSt4fFaWb/
Hey, all you cool cats and kittens! Jump on the pop culture mania bandwagon with a costume inspired by big-cat-crazed Carole Baskin from Netflix's Tiger King: Murder, Mayhem and Madness. Must-haves include animal print everything and a faux vat of sardine oil. With another installment of this wild ride having been announced, there's no time like the present to revive this costume idea.
39. Rachel Green
Not just any version of Rachel Green, though. If you really want to go low-key while still paying homage to Friends, you choose something true fans will go gaga over: Rach from the Thanksgiving football game episode.
40. "American Gothic" IRL
There's so much to be said for a clever costume, and this one is very clever. You might have to raid your grandparents' closet and/or a thrift shop, but once you've got some old-fashioned duds you just have to add an empty photo frame and a garden tool to hold. We'd advise against a pitchfork in lieu of something less… stabby.
41. Poison Ivy
https://www.tiktok.com/@charjonesw/video/7008935356858993926?is_from_webapp=1&sender_device=pc&web_id7015579488039224837
Some costumes are truly iconic and never go out of style. Case in point? Uma Thurman's version of the Marvel villain Poison Ivy. You're going to need lots o' green (and greenery?) for this ensemb.