Barbie Is The Bubbly, Bright Pink Version Of Don't Worry Darling
Despite having very different receptions, their similarities send a strong message.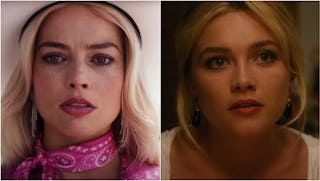 Warner Bros
The following article contains spoilers for Barbie and Don't Worry Darling.
A beautiful blonde is driving through the arid desert in a 1950s convertible in the blockbuster Warner Bros. movie of its year, escaping an idyllic existence that is not what it seems. This is certainly the plot of the brand new blockbuster Barbie, in which the perfect Barbie (Margot Robbie) has her reality shaken when she starts experiencing "irrepressible thoughts of death" and has to travel to the real world to fix the human who's playing with her too hard and transferring her negative feelings onto the doll.
ICYMI, it's also the plot of last year's Don't Worry Darling, which follows Florence Pugh's Alice as she comes to the realization that something's off in her uncannily Barbieland-like valley 1950s experimental community.
Box Office Barbie
You'd have to be living under a rock — or at least at the fringes of society like ostracized Weird Barbie (Kate McKinnon) — not to have been privy to the extreme Barbiecore makeover pop culture has had this summer. It seems like every other brand has a partnership with Mattel. Director Greta Gerwig, Robbie, and Ryan Gosling, who plays one of many Kens, were on red carpets and press junkets all over the world in the lead-up to the film in a promo tour that seemed to go on slightly too long (owing to the actors' strike which began last month). This has paid off. Barbie raked in $162 million on opening weekend and is set to line the pockets of both Mattel and Warner Bros. Discovery for years to come.
Don't Worry Darling was supposed to be the Barbie of 2022. One of only two theatrical releases from the studio (the other was the equally ill-fated Black Adam), the fanfare around it signaled the return of Hollywood — or, more to the point, Hollywood gossip — thanks to the upheaval on set. Director Olivia Wilde left her long-term partner Jason Sudeikis and began dating her employee, Styles, who replaced the abusive Shia LaBeouf. A video of Wilde trying to placate LaBeouf by throwing "Miss Flo" under the bus and claiming Pugh didn't want to work with him went viral, after which Pugh eschewed interviews for the movie. She barely made it to the Venice premiere, swanning in at the eleventh hour in a purple two-piece playsuit, Aperol spritz in hand and not a care in the world. A thousand memes were launched. And then Styles spit on Pine. Hollywood was back, baby!
Contrast that with the Barbie set, on which the most controversial thing to happen was Robbie fining crewmembers for not wearing pink on Wednesdays and giving the money to charity.
That's where the differences between Barbie and Don't Worry Darling end, though.
The Kenergy Is Off
Both movies are helmed by actress-turned-directors, with Barbie being the third film from Gerwig and exploring themes of feminism, womanhood, and how the generations interact, though not as smartly as it thinks it's being. Wilde, who also stars in Don't Worry Darling, saw success in 2019 with her directorial debut Booksmart being heralded as a feminist coming-of-age flick, which I also don't think was that deep. So, it makes sense that for Wilde's sophomore effort, she would latch onto a script that tries, though ultimately fails, to deal with similar feminist concepts as Barbie (if you know, you know), doing the rounds in the press saying that women's orgasms were the only priority of the movie.
But when you find out the plot of Don't Worry Darling — that the oasis in which Alice, her husband Jack (Styles), and their friends live is a virtual reality forced upon the women by their modern incel partners and lorded over by their men's rights activist master (Pine) — this is just gross.
Despite Barbie ostensibly being about the titular doll, there is a very strong men's rights activist subplot that rivals Barbie's journey to find existential equilibrium. Ken tags along on Barbie's trip to the real world, where he becomes red-pilled by patriarchy (and horses). Getting his Andrew Tate on, he returns to Barbieland on his own to teach the other Kens of his newfound discovery. When Barbie rocks up later in the movie, the Supreme Court are now cheerleaders, and the president is getting "brewski beers" for interchangeable Ken #17.
The Future of Film Is Female
Who would have thought there'd be so many parallels between the internet's boyfriend, Styles' Jack in Don't Worry Darling, and the internet's boyfriend circa 2011, Gosling's Ken? The former is indoctrinated into kidnapping his doctor (Doctor Barbie?) girlfriend and forcing her into a mind-numbing (literally) existence of 1950s housewifery because he's sad she doesn't have time to cook him dinner, while the latter just wants Barbie to reciprocate his feelings... but in the most toxic way possible. "He stole your house, brainwashed your friends, and took over the government," America Ferrera's character Gloria tells Barbie in one of several feminist pep talks when Barbie expresses "himpathy" for Ken.
In both movies, the women spend time in mid-century, "ticky-tacky" houses. In Don't Worry Darling, the wives wonder what the men do all day working at the top-secret Victory Project headquarters. Barbie's Dreamhouse is hers alone; multiple references are made to that throughout the film. "Where do the Kens stay?" Gloria asks Barbie. "I actually don't know," Barbie shrugs.
There are also dream ballets, original songs performed by the male leads, car chases, corporate goons, and bright jumpsuit uniforms for the final showdown that make Don't Worry Darling and Barbie almost the same movie. When the strikes are over — or, indeed, if the studios go ahead with AI, which Warner Bros. has already done — maybe we'll get a crossover sequel: Don't Worry Barbie.
Unfortunately, it appears that the message Hollywood has received instead is that Barbie's success calls for *checks notes* Uno and Hot Wheels blockbusters instead of movies by, for, and about women. To quote Reese Witherspoon, and despite Don't Worry Darling's poor effort, "Women's stories matter. They just matter."
Scarlett Harris is a culture critic and author of the book A Diva Was a Female Version of a Wrestler: An Abbreviated Herstory of World Wrestling Entertainment. You can follow her on Twitter @ScarlettEHarris and read her previously published work at her website, The Scarlett Woman.