Jessie J Doesn't Want Her Pre-Baby Body Back, Thank You Very Much
'I don't want to go back. That body is gone."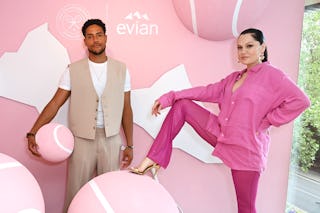 David M. Benett/Getty Images Entertainment/Getty Images
There isn't anything much more toxic than the pressure that new moms feel to get their pre-baby body back after having a kid. Celebrities and models who "bounce back" in just a few weeks or months are praised and photographed, while everyday moms without celeb-level support are left feeling terrible and judged.
The worst part? Everyone assumes bodies should go back to what they looked like before you carried and birthed a human. And everyone assumes that you want to go back to your old body, too.
Well, now star Jessie J is speaking up loud and clear about what she thinks about bouncing back after birth, and it comes after she was reading a lot of comments about it on her social media posts.
"Couple of people have said to me 'I bet you can't wait to get your body back,'" Jessie wrote in a post on her Instagram Stories.
Her reply couldn't be clearer.
"I don't want to go back," she wrote. "That body is gone. I want my body to go forward. I'm getting my body forward."
And she didn't say it in an overly sober or serious way — she sounds downright joyful about the evolution of her body as she embraces motherhood.
"That's the vibe ladies. Embrace that bowdddddy!" she added.
The singer, 35, welcomed her first baby, son Sky Safir Cornish Colman, three months ago. She shares Sky with her partner, NBA star Chanan Colman.
While Jessie J is new to parenting, it seems like she's going to be an outspoken voice for moms and motherhood, for telling it like it is and being really real about her experience. After Sky's birth, the "Bang Bang" singer shared publicly that while she wanted to have an unmedicated birth, her baby's position meant that she required an unplanned C-section.
"I guess I'm sharing this because so many people have said, 'Do you feel like you missed out on the birth you wanted?' I had a birth and it was everything I wanted because I got him at the end of it, that's all that matters," she wrote on Instagram stories at the time.
The response was large and immediate, and Jessie shared her feelings even more strongly.
"I don't think I realized the impact my post would have on so many women who have felt ashamed or guilt from having a C-section," Jessie J wrote. "Planned or emergency. If no one has told you I will. It is by no means the easy way out. It is a birth. Politely f*ck anyone who makes you feel anything different."
And to be fair? Doctors completely agree Jessie both about cesarean sections and about "bouncing back" after having a baby.
Dr. Sarah de la Torre, a Board Certified OBGYN at Joylux, previously told Scary Mommy that while a huge number of moms struggle with body image and societal pressure after giving birth, all bodies are different — and it can be hard to change them to look a certain way.
"It's easy to compare yourself to other new mothers or celebrities who seem to have bounced back quickly after pregnancy," she said. "However, it's important to remember that everyone's body is different and that there is no one 'right' way to look after having a baby."
Here's to more acceptance and confidence when it comes to postpartum bodies. Or as Jessie J put it, Embrace that bowdddddy!