Watch The 'Mean Girls' Cast Reunite For A Nostalgia-Filled Walmart Commercial
However, one major character was missing from the ad.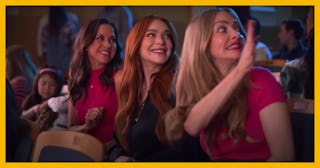 Walmart / YouTube
On Wednesdays, we watch a nostaglia-filled Walmart ad featuring several cast members from the cult classic, 2004 film Mean Girls.
Actors Lindsay Lohan, Amanda Seyfried, Lacey Chabert, Daniel Franzese and Rajiv Surendra reunited after almost ten years to film Walmart's new campaign in support of their upcoming holiday sales, and it was totally fetch. Seriously, I couldn't stop smiling the entire time.
The commercial, which premiered on Nov. 1, shows guidance counselor Cady Heron (Lohan), weather reporter Karen Smith (Seyfried), mom Gretchen Wieners (Chabert), dad Kevin Gnapoor (Surendra) and school employee Damian (Franzese) all returning to North Shore High School.
"Some things never change. On Wednesdays we wear pink, but now we shop Walmart Black Friday deals," Cady says as Gretchen pulls up in a convertible filled with Walmart shopping bags.
"Get in, sweetie!" Gretchen says to her daughter who is now the queen bee of the mean girls at North Shore. "We're going deals shopping!"
The ad then revisits some of the movie's most iconic scenes, including Karen's ditzy weather reporting and the famous "Jingle Bell Rock" performance.
Rapper Missy Elliot —who performs the iconic song, "Pass That Dutch," from the original film that also happens to be featured in the advertisement — portrays the role of Coach Carr who gives the kids some advice about shopping for deals as opposed to the infamous Sex Ed scene from the original film.
"It was so nice being back together after all these years. It was great catching up with everyone," Lohan told People of being back on set with her former cast mates.
"It was wonderful to spend the day with Amanda and Lindsay and it was so much fun getting to reminisce and be together again," added Chabert.
Franzese agreed. "It was great working with old friends again for this new Walmart commercial. Being reunited around this campaign feels really special."
"What better time to get together than right before the holidays," he added. "I know we are excited for everyone to see what we've all been up to. Walmart made it so special by allowing us to have fun together while getting to do a new project that spreads excitement. There's something here for everyone (except for Gretchen Wieners)," he joked.
The actress, who played resident North Shore High mean girl, Regina George, in the film was noticeably absent from the new commercial.
"Rachel McAdams didn't want to do it," an insider told Page Six after the commercial dropped "They had a great time talking about being moms, and it was definitely a loss not having Rachel there."
Though she wasn't seen in the ad, McAdams has said previously that she'd be open to making a cameo in the new Mean Girls movie based on the hit Broadway Musical.
"I don't see a way to shoehorn us in," McAdams told Bustle, but she added, "If Tina can figure it out, I'm there, for sure."