27 Movies To Watch If You Loved The Barbie Movie
You won't be able to get Kenough of these films.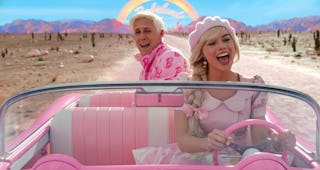 Warner Bros.
Summer may be coming to a close, but Barbie-mania is still in full swing. The Margot Robbie-led film is still making a killing at the box office several weeks after its highly anticipated July debut. Basically, the Barbie movie is bringing out the nostalgia in everyone, throughout multiple generations, proving just how powerful of an impact this iconic doll has made on the world (and now cinema). But whether you've treated yourself to one, two, or even 10 viewings, there are only so many times your checking account will allow you to watch this film on the big screen. Luckily, there are a lot of other great movies like Barbie you can watch from the comfort of your very own home.
As of now, there's no word on whether a Barbie sequel could potentially be in the works. However, Warner Brothers Discovery CEO David Zaslav recently told The Wrap that the blockbuster hit will hit the streaming circuit sometime this fall. "We really believe in the motion picture window. Let this movie go to the motion picture window, play it up, build up that brand, then have it go into PVOD," Zaslav told the outlet. "Take it through these windows of economics that have worked forever, and we think work extremely well. And then put it on Max. And when it goes on Max, we think it'll have a very good impact, and that'll be in the fall."
Yet with no official release date to speak of, there are sure to be plenty of fans in the coming weeks looking to fill a Ken-shaped hole in their hearts. So, if you're looking for some new content to watch that still gives off that fun, Barbie-loving feel, these options are more than Kenough to keep you entertained.
1. La La Land (2016)
If one of the main highlights for you was watching Ryan Gosling sing and dance as Ken, then get ready to once again be wowed by his swoon-worthy talents in this critically acclaimed film. And unlike Ken, who was never able to capture the heart of Robbie's Barbie, his character Sebastian Wilder actually finds his love reciprocated in Emma Stone's Mia Dolan. So, basically, there's singing, dancing, and romance. Talk about a triple threat!
2. Little Women (2019)
Then again, if your interest in Barbie had more to do with the creative mind behind it all, feast your eyes on the latest film adaptation of Little Women, which was written and directed by the one and only Greta Gerwig. And much like Barbie, the story revolves mostly around its female characters and explores the interesting dynamics that can be found in love, family, and sisterhood.
3. Mamma Mia (2008)
When it comes to stunning locations, there isn't much that can beat the epic, fluorescent pink landscape of Barbieland, but the Greece island of Kalokairi in Mamma Mia comes pretty darn close. Not only is this film visually stunning, but the soundtrack is so joyous you'll want to jump up and start dancing almost immediately. And who is at the forefront of all this fun? Legendary actress Meryl Streep. It doesn't get much better than that.
4. Clueless (1995)
Of course, Barbie has always had impeccable style and fabulous accessories, good enough to rival Cher Horowitz herself. So, if fashion is your love language, look no further than this classic '90s masterpiece that has everything you could possibly want in a film. Humor? Yup! Heart? Totally! Style? Obviously. Dorky catchphrases? As if!
5. Legally Blonde (2001)
Let's be real: Elle Woods walked so Barbie could run! Charismatic and creative, fun and kind-hearted, intelligent and confident in her capabilities: this iconic blonde is essentially Barbie in human form. She's a true role model for the ages with ambition as big as her closet of clothes. When a healthy dose of female empowerment is what you're looking for, feast your eyes on this gem. It's guaranteed to give you all the endorphins you'll ever need.
More Movies Barbie Fans Will Love
The Stepford Wives (2004)
Don't Worry Darling (2022)
Greatest Showman (2017)
Lady Bird (2017)
Hairspray (2007)
The Notebook (2004)
Moulin Rouge (2001)
10 Things I Hate About You (1999)
Bohemian Rhapsody (2018)
Grease (1978)
The Devil Wears Prada (2006)
A Star Is Born (2018)
Miss Congeniality (2000)
Miss Congeniality 2: Armed & Fabulous (2005)
Rocketman (2019)
13 Going on 30 (2004)
I Feel Pretty (2018)
Pitch Perfect (2012)
Pitch Perfect 2 (2015)
Pitch Perfect 3 (2017)
Mamma Mia! Here We Go Again (2018)
She's the Man (2006)