Watch Travis Kelce Turn Into "Uncle Travvy" During Adorable Interaction With His Nieces
As if we needed another reason to love him...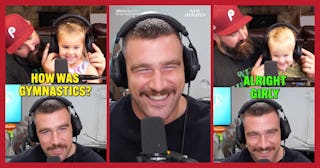 New Heights Podcast / TikTok
NFL player Travis Kelce is making headlines again, and this time, for the first time in weeks, it has absolutely nothing to do with Taylor Swift. Although, I'm sure, as a Swiftie, I could make the reach if necessary.
Instead, the adorably sharable moment surrounds Kelce's two nieces, Wyatt and Elliotte, who belong to his brother and sister-in-law, Jason and Kylie Kelce.
On the latest episode of New Heights with Jason and Travis Kelce, the Kansas City Chiefs tight end, 33, is all smiles when Jason's oldest daughter requested to chat with "Uncle Travvy."
"Wyatt asked if she could say hi," he says before bringing the 4-year-old onto his lap and into view of the webcam.
Travis gasps happily and says, "Look at you!" as she says, "Hi Uncle Trav!"
"What's up girly? How are you doing?" he asks. "How was gymnastics?"
"What are you wearing? Tell Uncle Trav what you're wearing," Jason says.
"A leotard!" she shares, excitedly.
He also was graced with the presence of his two-year-old niece, Elliotte, who was grinning ear to ear as she appeared on screen. Kelce asks her how she's doing and she just offers him a big smile.
"You're smiling big," Travis says. "You're making my day."
Before getting ready for a bath, Elliotte turns back into frame to show off her new sunglasses to Uncle Travvy.
"Movie star!" her dad declares as he picks up the toddler, who dons daisy-framed white sunglasses.
"I love it!" Kelce says. "Do you tell her when she puts on the sunglasses that she's invisible like they do in Big Daddy?"
"I don't think we've done that yet," Jason laughs. "Usually we just say, 'Oooh, look at the movie star.'"
This sweet interaction is just one in a long list of adorable Kelce family moments that seem to tug on the heart strings of pretty much everyone.
In a scene from the Amazon Prime Video documentary Kelce, Jason introduces Travis to his newborn daughter, Bennett Llewellyn, and offers to pass her to him.
"Good ball security," the older brother instructs as he passes the baby, who settles into her uncle's lap.
"Hey girlie," he says. "How we doin'?"
"Just like a football," Jason reminds him as Travis immediately changes positions, getting her comfortable. Both brothers smile at the infant, who is now 6 months old. It's literally the cutest moment ever. There is something so tender about big, burly football players softening in the presence of a little baby girl.
Despite all this warm and fuzzy content from the Kelce brothers, we still can't forget about Jason Kelce eating bagels and sleeping while his wife was in labor. There has to be balance in the universe, after all!