Tristan Thompson Shares His Concerns About How His Past Infidelity Will Affect His Kids
He worries how they will perceive him when they get older.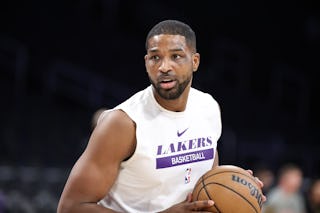 Icon Sportswire/Icon Sportswire/Getty Images
Every parent has fears when it comes to their children — their overall safety, their first heartbreak, and what "thing" will send them into therapy because of something we said or did.
I know that when my kid is grown, I hope she remembers her childhood fondly. I want her to look back and recall a (mostly) happy mom who did the best she could for the family.
Celebrities (who are just like us!) also have these kinds of concerns, and sometimes, they're pretty damn heavy. However, for professional NBA player, Tristan Thompson, his worries are all stemming from the consequences of his own damn actions.
In early 2022, the Cleveland Cavaliers power forward admitted to fathering a child outside of his serious relationship with reality star and entrepreneur, Khloé Kardashian. At the time, Kardashian and Thompson shared 3-year-old daughter, True. (The former couple now share two children.)
This was after Thompson was caught on video cheating on Kardashian — with multiple women — while she was pregnant with True. Then, everyone lost their sh*t when it came out that Thompson cheated again, with Kylie Jenner's longtime best friend, Jordyn Woods.
In a recent episode of the Hulu reality TV series, The Kardashians, the 32-year-old shared an update on his home reno with Kardashian as he continues staying at her house.
"I can't wait for you to see the finished product," he says, to which the Good American co-founder, 39, jokes, "Trust me, I can't wait to see the finished product either."
"Nah, I get it. I know, there's nothing like your own space to a degree," he says.
"Not to a degree, just period. I still need my space. I love being alone," she replies, leading Thompson to point out he "was a great house guest."
"You are. You're super helpful and you're great with the kids. Trust me, I appreciate it."
The scene then cuts to a confessional where Kardashian says she's "adamant" about making sure Thompson doesn't feel "misled" by her generosity, as the two are not currently together.
"Seriously though, thank you for letting me crash here while my roof crashed to the floor," he says.
Thompson goes on to talk about how is working to unlearn toxic behaviors that he says have been ingrained in him as part of being a professional athlete, noting that he wants to change for his kids.
"It wasn't until I really had to look at myself. I never had to hold myself accountable. We're taught, 'Be the man, do what you please, bros before hoes ...'" he says.
"You gotta just be your own man and don't care what people think and don't feel like you have to get validation from others."
Thompson shares valid concerns about what his kids will learn about his shortcomings once they're old enough to do some research on their dad or go to school with other kids who know Thompson's backstory.
"True is understanding stuff and Prince understands things where they go to school and they have classmates. The last thing I ever want them to do is feel embarrassed that I'm their father," he says.
"I think going down this journey that I've been on, especially with losing my mom, I always ask myself, 'Why do certain things to hurt certain people?'"
Though the damage has been done, Kardashian confessed that they've come a long way in co-parenting.
"What happened between Tristan and I was not some small little incident. It was some massive situation that really was a very traumatic experience for me in my life, so I'm not going to forget it," she said in her confessional.
"But I'm so proud that I'm able to be kind and mature and show my children that mommy and daddy can coexist and be co-parents. I'm able to be here for him when he's in his time of need."
And that's on maturity and growth!