For Your To-Be-Watched "Pile"
40+ Shows Every Bit As Engrossing As Your Favorite Beach Read
Because you've always got a book tucked into your beach bag — but not enough time to read it.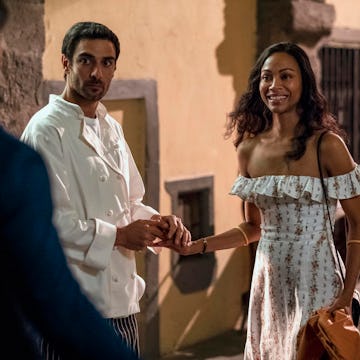 Philippe Antonello/Netflix © 2022
Are you the type of mom who always optimistically tosses a book into your beach bag even though you know you'll be too busy watching the kids splash in the ocean, applying sunscreen, and building sandcastles with your littles to actually read? Well, good news — this is the list for you. While you should totally keep bringing that thriller you've been dying to read with you just in case, there are plenty of TV shows like beach reads out there just waiting to pull you in this summer. Heck, some of them are even based on the books you've been attempting to read between naptimes for the past two years.
The best beach reads are fast-paced, engrossing, and easy to speed through. Sometimes that means losing yourself in a twisty thriller or falling hard for a frothy rom-com. Other times, the best books to read in the sun are weepies about strong female friendships or haunting crime stories that allow you to play detective. The one thing they all have in common is that they're so good they make you forget about ticking items off your to-do list for a little while.
Even if you don't have time to read this summer, you can still get your beach read fix via TV. From book adaptations to original series that are so fun and fast-paced that they feel like they could be bestsellers, the shows on this list are perfect for anyone who wishes they had time to read a water-stained paperback by the pool — but who can only manage an hour or so of TV before falling asleep after tucking the kids in bed.
Getting Lost In These Shows Is Like Losing Yourself In A Good Book
Daisy Jones & the Six (2023)
Based on Taylor Jenkins Reid's bestselling novel of the same name, Daisy Jones and the Six is like the most in-depth episode of Behind the Music you've ever seen. Framed by talking heads featuring the titular band a couple of decades after their mysterious breakup, the series is set in the '70s, when a Fleetwood Mac-style group becomes the hottest band around. But while they rocket to fame, the bandmembers' personal lives become impossibly complicated (especially Daisy and frontman Billy Dunne's). Add in a rocking soundtrack of original songs, and this Prime Video miniseries becomes a can't-miss for anyone who loves nostalgia and messy interpersonal dramas.
Saint X (2023)
Nothing screams beach read quite like a taut thriller. Enter Saint X, a Hulu series based on a book by Alexis Schaitkin that follows a young woman's quest to discover who murdered her sister 20 years earlier during their family vacation. Set against the scenic backdrop of the Bahamas, this psychological drama is full of twists designed to challenge viewers to unravel the mystery right along with the main character.
Starstruck (2021- )
Are you more of a romantic comedy reader? Then prepare to be enchanted by Starstruck, a hilarious British comedy about an ordinary woman who has a one-night stand with a famous movie star. The unlikely duo attempts to go their separate ways, but it doesn't take long for them to embark on a very real (and messy) romance.
The Tourist (2022)
Starring Jamie Dornan as a character known simply as "The Man," The Tourist is TV's answer to a page-turner. Season 1 has just six episodes, and each one is so intense you might find yourself moving up the kids' bedtime so you can squeeze in one more. The series kicks off with the central man waking up in the Australian outback with no memory of who he is or how he got there. And then things get scary, fast.
From Scratch (2022)
Sometimes, the best books leave you sobbing. The same goes for TV shows, including Netflix's miniseries From Scratch, an emotional love story inspired by Tembi Locke's memoir of the same name. The series follows an American student, Amy, who falls in love with Lino, a Sicilian chef. As their romance progresses, Lino faces an illness that challenges the couple in ways they never expected.
The Last Thing He Told Me (2023)
Domestic thrillers are popular on bookshelves and TV, which explains why Apple TV+ adapted Laura Dave's bestselling book The Last Thing He Told Me into a limited series. The show stars Jennifer Garner as Hannah, who not only has to find a way to connect with her stepdaughter in the wake of her husband's disappearance but also uncover the dangerous secrets he's been keeping from her since they exchanged vows.
More Shows To Watch If You Love Beach Reads
Little Fires Everywhere (2020)
Nine Perfect Strangers (2021)
Big Little Lies (2017-2019)
Firefly Lane (2021-2023)
The Undoing (2020)
The Summer I Turned Pretty (2022- )
And Then There Were None (2015)
The White Lotus (2021- )
Tiny Beautiful Things (2023)
The Flight Attendant (2020-2022)
Pieces of Her (2022)
Killing Eve (2018-2022)
Behind Her Eyes (2021)
Revenge (2011-2015)
Sweet Magnolias (2020- )
Fleishman is in Trouble (2022)
Reasonable Doubt (2022- )
With Love (2021- )
Good Girls (2018-2021)
Riches (2022)
Wellmania (2023)
Wedding Season (2022)
Savage Beauty (2022)
Younger (2015-2021)
Normal People (2020)
Sex/Life (2021-2023)
Emily in Paris (2020- )
The Cook of Castamer (2021)
Will Trent (2023- )
The Resort (2022)
Vigil (2021)
The Stranger (2020)
You (2018- )
The Night Agent (2023- )
Surviving Summer (2022- )
Here's hoping your summer is filled with lots of sun, sand, and *channel* surfing.