this barbie is watching on repeat
You Have To Watch This High School Dance Team Nail The Viral Barbie Movie Dance
Los Osos High School's version of "Dance the Night" will put a huge smile on your face.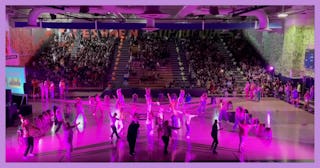 YouTube/Los Osos High School Dance Team
It continues to be the Summer of Barbie, and I, for one, am here for it. If you've dressed up to see the Barbie movie, brought your kids to see it, and pulled out your old dolls for your children, you might also be way into this.
The dance team at California's Los Osos High School decided to pull out all of the stops and create a kickoff pep rally dance inspired by the viral one from the movie — in which all of the Babies and Kens party together while listening to Dua Lipa's "Dance the Night."
It is so, so much better than when I try to recreate the scene in my kitchen while Alexa plays me the Barbie soundtrack on demand.
The dance, which begins with the now-universal, "Hi Barbie!" "Hi Ken!" was choreographed by coach Rachel Muego, who obviously needs a raise. And besides both the JV and varsity dance teams rocking the floor, several administrators joined in on the fun, including Principal Eric Cypher and Assistant Principals Julia Castillo-Watkins, Jerome Rucker, Jessica Holbrook, Dawud Akram, and Jennifer McNatt.
After nailing the sequence from the movie with seriously professional-looking moves, the team moves on to dance to the famed remix, "Barbie World (With Aqua)" by Nicki Minaj and Ice Spice, picking up the energy and the tempo before transitioning to some more traditional dance team moves to close out their part of the rally.
Did they practice this all summer? If this is just the kickoff rally, what's to come during the school year?
This is not the first time the dance team has turned one viral phenomenon into another one. Earlier this year, the group recreated Rihanna's Super Bowl halftime show, complete with costumes and they absolutely killed it.
What a group of talented, hardworking, creative teens! We can't wait to see what they dance to next.