10 Magically Sweet Fairy Coloring Pages For Your Little Pixie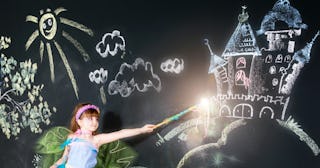 Mordolff/Getty Images
Who doesn't love fairies, right? They're dainty, fun, ethereal, and steeped in mischievous lore. Plus, ya know, they fly. Who hasn't wished of flying o'er the land? If your kid is obsessed with fairies, there's a pretty good chance you spend part of each day wrapped up in a happy, magical make-believe world built by your little ones. Nothing could be better. But, what do you do when you need your fairy to stop fluttering about and sit still while you yawn your way through a Zoom call? Girl, we gotchu. Fairy coloring pages are the clear answer here.
No need to throw together a ClickList or brave the crowds at Target, though. ScaryMommy has our very own, created-just-for-us coloring sheets. All you have to do is make sure there's paper in the printer. From unicorns to Valentine's Day, we have coloring sheets for literally any interest and occasion. It just so happens, Mama, that these coloring pages are specifically for your pretty little flower fairy. Print one coloring page or print twelve of each and let their imagination go wild while you enjoy the quiet.
Free Fairy Coloring Pages
1. Ballet Fairy
With her dainty bun and flower petal tutu, this ballet fairy is ready to plie all day. Whether on stage or in the woodland, music follows her everywhere she goes.
2. Twinkle Fairy
Doesn't she just look like she fluttering through the night sky? This girl requires the sparkly and metallic crayons. And you might want to help your lil' bit practice filling the background with star shapes.
3. Fairy on a Flower
Ever read Thumbelina? It's believed that fairies are born inside flowers and often live inside them, too. This little flower fairy seems to be perched on a chipper daisy… but the petals can be any color your fairy princess wants them to be. She also gives Tinkerbell vibes, one of the most popular fairies of all time. Fun fact: Originally Tinkerbell was a fairy who "tinkered" and fixed pots and kettles. She used to communicate with a bell sound.
4. Happy Fairy No. 1
This fairy is seriously channeling Abby Cadabby. The wand and crown really seal the deal, along with the flower decorations on her sweet little dress. Why do you think this fairy seems oh-so-happy? But not all fairies look as jolly as this one. The bannik was a grumpy old fairy who liked to bathe. Very strange…
5. Happy Fairy No. 2
Here she is, again, smiling bigger than ever. We love the motion in her hair like it's full of as much magic as her wand. We think she's a fairy princess. What a charmed life to live! Did you know the earliest fairy sighting was recorded in 1907? A blind man and his wife claimed they caught and kept a fairy for two weeks. Fun fact: Disney created the concept of pixie dust. In the original Peter Pan, it was just called fairy dust.
6. Sitting Fairy
This fairy is everything. First and foremost, we love her pointy little ears. We also think her hair gives her a chance to be different from the typical blonde Tinkerbell-like fairy. Will she be dark-skinned? Or will those curls be colored a bold red, like Fancy Nancy's hair? We know one thing, she would definitely be one of Tinkerbell's friends. Fun fact: Tinkerbell was originally part of the Disney princess group, but she was eventually removed and given her own posse, which included other fairies. This includes Silvermist, Rosetta, Fawn, and Iridessa.
7. Magic Fairy
What kind of magic do you suppose this fairy possesses? Our guess is that she can help flowers grow. Why else would that wildflower in her hand have so many strong, perky petals? This might be a great time to work on your storytelling skills and dive into your kiddo's imagination by asking them what kind of magic they think fairies can do.
8. Flying Fairy
Off she goes! Our little fairy princess is on her way to have some fun with her little fairy friends. Ope — don't forget to duck under that giant sunflower.
9. Fairy With Pigtails
Something about this pigtailed fairy makes her look like she's one of those mischievous fae folk the Irish talk about. With her swooping skirt and no-nonsense pigtails, she's ready to get to work stirring up a bit of trouble. We love her for it, too. Ask your little artist what kind of trouble she thinks fairies get up to each day.
10. Fairy
Is this the pig-tailed fairy's partner in crime? Possibly! Not all fairies (or little fairy-lovers) have long, swishy hair. This fairy has a legit pixie cut. Seems rather fitting. And don't forget to check out those tiny heart-shaped earrings.
Click here to print all of the fairy coloring pages at once!
This article was originally published on