10 Fun Fall Date Ideas That'll Have You Feeling Cozy And Smitten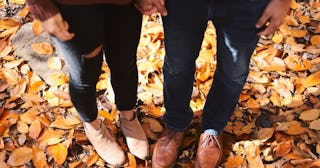 Amy Humphries/Unsplash
Ahhh, fall. The air is crisp, you can finally break out those boots you've been dying to wear all summer, and you can get pumpkin-spiced anything. Although spring gets all the credit for being the season for new beginnings, fall is all about transformation, too. It's a time for shedding the past. Bonus: It's also a pretty romantic season. There's a reason why so many classic and romance movies are set in the fall — think When Harry Met Sally, Autumn In New York, You've Got Mail, and countless others. Fall is the coziest season, which is very conducive to romantic things like cuddling and sitting in front of crackling fires together. Is it any wonder fall date ideas are so much fun?
Of course, given the fact we're now living in pandemic times, you might feel a little overwhelmed at the idea of figuring out what to do and where to go with your autumn romance. But don't worry; we've got you covered. If you're feeling the impending draw of cuffing season and have a sweetheart in mind, here are 10 fall date ideas perfect for the apple of your eye.
1. Go Apple Picking
Is an apple picking fall date cliché? Yes. But is it fun? Absolutely. Enjoy the scenic drive to your favorite apple farm and then spend a few hours hunting for the perfect apples. Take breaks for cider and doughnuts, or even a picnic lunch. Bonus: Since apple-picking is an outdoor activity, it lends itself well to social distancing.
2. Make Something With Those Apples
After you pick apples, you're going to want to do something with them. If you have a slow cooker, use it to make some apple butter. Not only is it delicious, but it'll make your house smell amazing while it's cooking. You can also spend time together baking a delicious apple pie, cake, or crumble. If nothing else, cut up some apples and throw them on a salad.
3. Have Hot Adult Beverages
If you can't wait to start sipping warm winter beverages, but also want to drink some alcohol on your date, it's possible to combine both activities. Go shopping for the ingredients and then make drinks like hot buttered rum, spiked hot chocolate, or Irish coffee. Snuggle up and enjoy.
4. Visit a Haunted House
Want an excuse to get (physically) closer to your date? Bring them to a local haunted house and make your way through the spooky hallways. Whether or not you're legitimately scared, you can take advantage of the opportunity to hold their hand or get close to them. Bonus points if the haunted house is held somewhere historic or abandoned, like a former hospital or jail. Many of these types of attractions offer private tours, too, so you can stress less about being crammed in a small space with a bunch of strangers.
5. Go Leaf Peeping
As weird as the term "leaf peeping" is, it's actually a great fall date activity. Check fall foliage maps in your area to find out when the peak colors will be out and plan your route accordingly. Make sure to scope out places for lunch or dinner — it's a great excuse to try new places.
Related: 50+ Rainy Day Date Ideas That Will Leave You Feeling Warm Inside
6. Pumpkin Spice Scavenger Hunt
Whether or not you and your boo are fans of pumpkin-spiced foods, you probably have noticed how many products out there feature the flavor and scent. Spend a day out shopping (you can even run errands in the process) and challenge each other to find the weirdest pumpkin spice products. The strangest one wins.
7. Go on a Romantic Stroll
Going for a walk together is a great date idea in (almost) every season, but there's something extra special about doing it in the fall. Maybe it's because you're no longer covered in sweat after walking 10 feet like you are in the summer, or maybe it's the brisk wind or crisp smell of the air. Either way, hit up a park or explore a new neighborhood in your city on foot and enjoy each other's company.
8. Volunteer Together
Do you both like animals? Schedule a fall date volunteering at a local animal shelter. Or if food is more your speed, find a homeless shelter or soup kitchen and spend an afternoon working there. It's not only something new to do, but you're also helping other people in the process.
9. Visit a Winery, Distillery or Brewery
Let's face it: Alcohol-related activities are fun during any season, but they're especially fun in the fall. Many wineries, distilleries, or breweries will hold harvest festivals with food trucks, music, and other activities so you can make a full day or evening out of it. Order a flight of whatever beverage the place makes, compare flavors, and vote on your favorites.
10. Go Antiquing
Hit up nearby antique shops or flea markets and sift through the treasures. Maybe you're on a mission to find something (like the perfect coffee table), or maybe you just want to dig through boxes of old photos of someone else's family, then frame them, hang them on your wall, and come up with elaborate stories about your "relatives." Either way, going through antiques is a great way to spark conversation — even if it's just asking "what is this?" repeatedly.
This article was originally published on