70 Funny Team Names To Make Trivia Night And Sports Even More Fun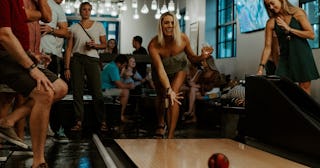 Brittani Burns/Unsplash
So, you've joined the office softball league or ended up on a 3-on-3 basketball team for the league at the Y. Maybe you're just playing fantasy football for the first time. Whatever the occasion, throughout your life you'll find yourself tasked with coming up with a funny team name. Combining initials or naming yourself after the local sports team? Lame. You want something fun and semi-original, right?
The names below are pretty funny and most are inspired by pop culture. However, did you know that there are some pretty weird team names already licensed? One wildly inappropriate (and super immature) option? Idaho's own Butte Pirates. In Michigan, there is a team called the Watersmeet Nimrods. Sure, one could argue that in Biblical times a "nimrod" was a hunter. Except, ya know, we don't live in Biblical times anymore. It is almost as odd as the Flint Tropics. ("Everybody love everybody!") Our absolute favorite odd team name, though, is the Dunbar Poets. Will they win? Probably not. Will they lose valiantly? Also, probably not. But, will they write enthralling epics about their athletic misadventures? Duh. There is a whole world of wildly weird and inappropriate names out there. From the "Purple Pounders" (huh?!) to the "Beaver Dusters." While we do not recommend you use any of those names, we do have some other equally hilarious suggestions.
These are some of the funniest and best team names out there. But, warning: Most of these aren't kid-appropriate or adults only so they'll just go over their heads.
Basketball
1. Hoops! I Did It, Again
2. 99 Problems But A Swish Ain't One 3. Block It Like It's Hot 4. Nothin' But Networking 5. Drilling Me Softly 6. Alley-Oops
Baseball/Softball/T-Ball
7. Sons of Pitches
8. Bat Attitudes 9. Between A Walk And A Hard Place 10. No Hit Sherlock 11. Here Comes The Run 12. Pitch Please 13. Brokebat Mountain 14. Life's A Pitch 15. No harm, probably fouls
16. Pin Pals
17. Free Range Chick-pins 18. Pinheads 19. Spare Me 20. Obviously Not Golfers 21. Can't Believe It's Not Gutter 22. Nacho Average Bowling Team 23. Straight Off The Couch 24. Balls of Thunder
Flag/Touch Football/Soccer/Volleyball
25. Untouchables
26. Ball of Duty
27. Back That Pass Up
28. Mission Unblockable
29. Goal Diggers
30. Loose Ends
31. No Punt Intended
32. How I Set Your Mother
33. Abusement Park
34. First And Download
35. Pop-up Blockers
Funny Team Names For Running Groups
36. Run Like The Winded
37. Baby Got Track
38. Agony of De Feet
39. Chafing The Dream
40. Gone With The Win
41. Get 'Er Run
42. We Got The Runs
43. Your Pace Or Mine?
44. Twisted Blisters
45. Running On Empty
46. Are We There Yet?
Perfect For Any Sport or Team
47. We Who Shall Not Be Named
48. Blood Bath and Beyond
49. Gentlemen Prefer Eagles (For Golf)
50. Ability Meets No Effort
51. Mediocrity At It's Best
52. Won Directions
53. Sweep The Leg
54. We're No Ladies, We're Ducks
55. It's An Inception
56. Blue Steel
57. Win Diesel
58. Savage And Average
59. This One's For Rudy
60. Small Potatoes Make The Meat Look Bigger
61. Run Forest Run
62. Quiz In My Pants
63. Trivia Team Assemble
64. Hi, We're Here For The Speed Dating
65. Are You Smarter Than A Fifth Grader?
66. I'm Just Here For The Beers
67. Alex Trebek Was Here
68. I'd Like To Phone A Friend
69. Are You Smarter Than A Preschooler?
70. I Am Trivia Man
This article was originally published on