120+ "I Love You" Quotes When Those Three Little Words Just Aren't Enough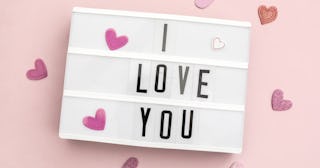 Carol Yepes/ Getty Images
There come times in every relationship when you want to express your innermost feelings. But, somehow, simply saying "I love you" doesn't seem like enough. Maybe it's an extra-special milestone anniversary. Perhaps this is your first Valentine's Day together, so you want to make it memorable. Whatever the reason, you want to add a bit more depth to your sentiments. Enter, "I love you" quotes.
RELATED: 20+ Signs You're In Love For Real According To Some Science
Just think about your favorite sitcom and how it felt to wait for your favorite couple to finally express their love for one another. Like Ross and Rachel from Friends, Pam and Jim from The Office, or Jess and Nick from New Girl? These love stories are almost Nicholas Sparks level beautiful. Didn't your heart just melt when Jack told Allie, "I want all of you, forever, you and me, every day"? We know Sparks knows how to deliver a line, so if you need more than the classic, "I love you," we have fun quotes below along with words from author, John Green, the Queen of Soul, Aretha Franklin, and Queen Bey.
On any occasion, you can enhance the romance by finding the perfect quote to sum up all the love in your big mushy heart (hey, no judgment). And since you clearly have a lot on your mind — and heart — we took it upon ourselves to round up a collection of quotes that convey passion. If you're looking for something even more light-hearted, we also have a page filled with some fantastically funny love jokes. But for the rest of us saps, the following "I love you" quotes should tug on all the right heartstrings.
"I love you not only for what you are, but for what I am when I am with you. I love you not only for what you have made of yourself but for what you are making of me. I love you for the part of me that you bring out." – Elizabeth Barrett Browning
"Before the day I met you, life was so unkind. But you're the key to my peace of mind." – Aretha Franklin, "Natural Woman"
"It was a million tiny little things that, when you added them all up, meant we were supposed to be together and I knew it. – Sleepless in Seattle (1994)
"In all the world, there is no heart for me like yours. In all the world, there is no love for you like mine." – Maya Angelou
"I'm beginning to think that maybe it's not just how much you love someone. Maybe what matters is who you are when you're with them." – The Accidental Tourist (1988)
"Baby it's you. You're the one I love, You're the one I need, You're the only one I see." – Beyonce, "Love on Top"
"Whatever our souls are made of, his and mine are the same." – Emily Brontë
"I wanted it to be you, I wanted it to be you so badly." – You've Got Mail (1998)
"There's no substitute for a great love who says, 'No matter what's wrong with you, you're welcome at this table.'" – Tom Hanks
"It was always you." – Maroon 5, "It Was Always You"
"The greatest thing you'll ever learn is to love and be loved in return." – Nat King Cole, "Nature Boy"
"Every time I see you baby I get lost. If I'm dreaming, baby, please don't wake me up." – Shawn Mendes, "Fallin All in You"
"Baby, you're all that I want when you're lying here in my arms, I'm finding it hard to believe we're in heaven." – Bryan Adams, "Heaven"
"I love you more than coffee, but please don't make me prove it." – Elizabeth Evans
"I love you without knowing how, or when, or from where. I love you simply, without problems or pride: I love you in this way because I do not know any other way of loving but this, in which there is no I or you, so intimate that your hand upon my chest is my hand, so intimate that when I fall asleep your eyes close." – Pablo Neruda
"Until tonight I only dreamed about you. I can't believe I ever breathed without you. Baby, you make me feel alive and brand new." – Kelly Clarkson, "Heartbeat Song"
"I'll be better when I'm older. I'll be the greatest fan of your life." – Edwin McCain, "I'll Be"
"I'm also just a girl, standing in front of a boy, asking him to love her." – Notting Hill (1999)
"I saw that you were perfect, and so I loved you. Then I saw that you were not perfect and I loved you even more." – Angelita Lim
"All that you are is all that I'll ever need." – Ed Sheeran, "Tenerife Sea"
"Don't say we aren't right for each other, the way I see it is. We aren't right for anyone else." – The Cutting Edge (1992)
"Love is composed of a single soul inhabiting two bodies." – Aristotle
"I could make you happy, make your dreams come true. Nothing that I wouldn't do. Go to the ends of the earth for you to make you feel my love." – Bob Dylan, "Make You Feel My Love"
"Cause all of me loves all of you. Love your curves and all your edges, all your perfect imperfections." – John Legend, "All Of Me"
"I'm scared of walking out of this room and never feeling the rest of my whole life the way I feel when I'm with you." – Dirty Dancing (1987)
"If I know what love is, it is because of you." – Hermann Hesse
"God gave me you for the ups and downs. God gave me you for the days of doubt." – Blake Shelton, "God Gave Me You"
"You know you're in love when you can't fall asleep because reality is finally better than your dreams." – Dr. Seuss
You don't love someone for their looks, or their clothes, or for their fancy car, but because they sing a song only you can hear." – Oscar Wilde
"You meet thousands of people and none of them really touch you. And then you meet one person and your life is changed. Forever." – Love & Other Drugs (2010)
"When you need some shelter from the rain, when you need a healer for your pain, I will be there time and time again." – Leona Lewis, "Here I Am"
"I love that you are my person and I am yours, that whatever door we come to, we will open it together." – A.R. Asher
"Love does not begin and end the way we seem to think it does. Love is a battle, love is a war; love is a growing up." – James Baldwin
"You're still the one I run to, the one that I belong to, you're still the one I want for life." – Shania Twain, "You're Still The One"
"She's your lobster." – Friends (1994-2004)
"Love is friendship that has caught fire." – Ann Landers
"Cause after all these years. I still feel everything when you are near." – Camila Cabello, "All These Years"
"You have bewitched me, body and soul, and…I love you." – Jane Austen, "Pride & Prejudice"
"You make me want to be a better man." – As Good As It Gets (1997)
"I still haven't figured out how to sit across from you, and not be madly in love with everything you do." — William C. Hannan
"What do you want? You want the moon? Just say the word and I'll throw a lasso around it and pull it down." – It's a Wonderful Life (1946)
"For whatever my man is. I am his forevermore." – Barbra Streisand, "My Man"
"Choose me. Marry me. Let me make you happy." – My Best Friend's Wedding (1997)
"Maybe I don't know that much but I know this much is true, I was blessed because I was loved by you." – Celine Dion, "Because You Loved Me"
"The best love is the kind that awakens the soul; that makes us reach for more, that plants the fire in our hearts and brings peace to our minds. That's what I hope to give you forever. – The Notebook (2004)
"We're all a little weird. And life is a little weird. And when we find someone whose weirdness is compatible with ours, we join up with them and fall into mutually satisfying weirdness—and call it love—true love." – Robert Fulghum
"Hold me, love me, hold me, love me. Ain't got nothin' but love babe, Eight days a week." – The Beatles, "Eight Days a Week"
"Yes, to the untrained eye, I'm eating an orange. But to the eye that has brains, I'm making a point about marriage. For you see, marriage is a lot like an orange. First, you have the skin. Then the sweet, sweet innards." – The Simpsons (1989-present)
"You had me at Hello. – Jerry Maguire (1996)
"I'm here. I love you. I don't care if you need to stay up crying all night long, I will stay with you. There's nothing you can ever do to lose my love. I will protect you until you die, and after your death, I will still protect you. I am stronger than depression and I am braver than loneliness and nothing will ever exhaust me." – Elizabeth Gilbert
"I hope you don't mind that I put down in words how wonderful life is while you're in the world." – Elton John, "Your Song"
"I came here tonight because when you realize you want to spend the rest of your life with somebody, you want the rest of your life to start as soon as possible." – When Harry Met Sally (1989)
"She makes the bass drop in my heart." – The Good Place (2016-present)
"Take me to your heart. For it's there that I belong. And will never part." – Elvis Presley, "Love Me Tender"
"It would be a privilege to have my heart broken by you." – John Green, The Fault in Our Stars
"Make sure you marry someone who laughs at the same things you do." – J.D. Salinger
"I've come here with no expectations, only to profess, now that I am at liberty to do so, that my heart is, and always will be, yours." – Jane Austen, Sense & Sensibility
"It seems right now that all I've ever done in my life is making my way here to you." – The Bridges of Madison County (1995)
"I love her and that's the beginning and the end of everything." – F. Scott Fitzgerald, The Great Gatsby
"How do I love thee? Let me count the ways. I love thee to the depth and breadth and height My soul can reach." – Elizabeth Barrett Browning
"I may not be a smart man, but I know what love is." – Forrest Gump (1994)
"Everything I have ever done, I've done for you." – Charles Dickens, Great Expectations
"I never want to stop making memories with you." — Pierre Jeanty
"Well I found a woman, stronger than anyone I know. She shares my dreams, I hope that someday I'll share her home." – Ed Sheeran, Perfect
"I'm happiest when I'm being myself, and myself when I'm with you. – What's Your Number? (2011)
"I may not have the softest touch. I may not say the words as such. And though I may not look like much….I'm yours." – The Script, "I'm Yours"
"To me, you are perfect." – Love Actually (2003)
"True love stories never have endings." – Richard Bach
"Some just want everything. But everything means nothing. If I ain't got you, yeah." – Alicia Keys, "If I Ain't Got You"
"If you're a bird, I'm a bird." – The Notebook (2004)
"I love being married. It's so great to find one special person you want to annoy for the rest of your life." – Rita Rudner
"And when you smile. The whole world stops and stares for a while. 'Cause girl you're amazing. Just the way you are." – Bruno Mars, "Just the Way You Are"
"The best thing to hold onto in life is each other." – Audrey Hepburn
You don't love someone because they're perfect, you love them in spite of the fact that they're not." ― Jodi Picoult, My Sister's Keeper
"I vow to fiercely love you in all your forms, now and forever. I promise to never forget that this is a once in a lifetime love." – The Vow (2012)
"I knew I loved you before I met you. I have been waiting all my life." – Savage Garden, "I Knew I Loved You"
"If you find someone you love in your life, then hang on to that love." – Princess Diana
"Maybe the only vow we ever need to offer the one we love is this: I will never, not for a sliver of a second, make you feel alone." – Tyler Knott Gregson
"I like you very much. Just as you are." – Bridget Jones' Diary (2001)
"They say when you meet the love of your life, time stops, and that's true." – Big Fish (2003)
"Lights will guide you home. And ignite your bones. And I will try to fix you." Coldplay, "Fix You"
"If you live to be a hundred, I want to live to be a hundred minus one day, so I never have to live without you." – A.A. Milne
"I think I'd miss you even if we never met." – The Wedding Date (2004)
"We are shaped and fashioned by those we love." – Geothe
"You should be kissed and often, and by someone who knows how." – Gone With the Wind (1939)
"I fell in love the way you fall asleep: slowly, and then all at once." – John Green, The Fault in Our Stars
"I swear I couldn't love you more than I do right now, and yet I know I will tomorrow." – Leo Christopher
"Everything I do, I do it for you." – Bryan Adams, "Everything I Do, I Do it For You"
"In all the world, there is no love for you like mine." – Maya Angelou
"I want all of you, forever, you and me, every day." – The Notebook (2004)
"Love was made for me and you." – Nat King Cole, "L-O-V-E"
"I'd never lived before your love." – Kelly Clarkson, "Before Your Love"
"I would rather spend one lifetime with you, than face all the ages of this world alone." – J.R.R. Tolkien, Lord of The Rings
"I love you, idiot." – Gilmore Girls (2000-2007)
"I choose you. And I'll choose you over and over and over. Without pause, without a doubt, in a heartbeat. I'll keep choosing you." — Unknown
"Love is too weak a word for what I feel. I luuurve you, you know, I loave you, I luff you, two F's, yes I have to invent, of course I do, don't you think I do?" – Annie Hall (1977)
"She knew she loved him when 'home' went from being a place to being a person." – E. Leventhal
"I love you past the moon and miss you beyond the stars." – J.M. Storm
"I love you more than I have ever found a way to say to you." – Ben Folds, "The Luckiest"
"So, I love you because the entire universe conspired to help me find you." — Pablo Coelho, The Alchemist
"I love you without knowing how, or when, or from where. I love you straightforwardly, without complexities or pride; so I love you because I know no other way." – Pablo Neruda
"My love for you is past the mind, beyond my heart, and into my soul." — Boris Kodjoe
"You are the last thought in my mind before I drift off to sleep and the first thought when I wake up each morning." — Unknown
"I love you begins by I, but it ends up by you." — Charles de Leusse
"I love you with every beat of my heart." — Armaan
"I love you because you join me in my weirdness." — Unknown
"And when I loved you, I realized, I have never truly loved anyone I realized, I never will truly love anyone the way I love you." — Unknown
"You've gotta dance like there's nobody watching, Love like you'll never be hurt, Sing like there's nobody listening, And live like its heaven on earth." — William W. Purkey
"Love is never lost. If not reciprocated, it will flow back and soften and purify the heart." — Washington Irving
"I am who I am because of you. You are every reason, every hope, and every dream I've ever had." — The Notebook
"If I had a flower for every time I thought of you… I could walk through my garden forever." — Alfred Tennyson
"You're the closest to heaven, that I'll ever be." — Goo Goo Dolls
"It's always better when we're together." — Jack Johnson
"To the world you may be one person, but to one person you are the world." —Unknown
"I've tried so many times to think of a new way to say it, and it's still I love you." — Zelda Fitzgerald
"I love you and that's the beginning and end of everything." — F. Scott Fitzgerald
"I have found the one whom my soul loves." — Song of Solomon 3:4
"If you remember me, then I don't care if everyone else forgets." — Haruki Murakami
"You are, and always have been, my dream." — Nicholas Sparks
"I need you like a heart needs a beat." — One Republic
"Loving you never was an option. It was a necessity." — Truth Devour
"We loved with a love that was more than love." — Edgar Allen Poe
This article was originally published on