Modern Songs To Sing To Your Infant When The Classics Feel So... Tired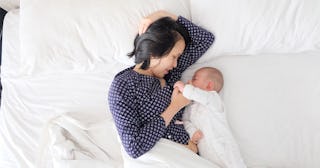 Kevin Liang/Unsplash
Here's the thing: "Rock-a-Bye Baby" first appeared in a printed Mother Goose book in 1765. That's 260-ish years ago, Mamas. It's a tired song. It's certainly easy to sing since there aren't any challenging key changes — and, you know, you've probably heard it roughly a million times in your life. But it's played out, right? If you're here, you're looking for something new, fun, and "modern" to sing to your sweet baby. We get it. But, what constitutes "modern" and what would Emily Post deem appropriate to sing to your little one? Both of those answers are up for debate. What we went for here are infant songs that are easy to sing, as well as plenty of popular options that you probably already know the words to.
Ultimately, what makes a good "infant song" is simply a song you can sing to your infant! Maybe you're a dad singing Justin Bieber's "Baby" to your newborn who's crying through their first restaurant outing. You could be a folkster Mama who still loves "Look At Miss Ohio." You may even be a Beaches and Dumbo-obsessed Mimi who cries every time she sings "Baby Mine" to her grandbaby. Whatever music you're singing, the infant in your arms will love it because you're singing it.
These, though, just happen to be some of our most favorite (slightly more modern than "Rock-a-Bye Baby") options for serenading little ones.
Ideas for Infant Songs
1. "Rainbow Connection" — Kermit the Frog
Actually, there are about a million versions of this song. You may even be familiar with the new commercial featuring Willie Nelson's take. This song is a weird mix of sad and whimsical. It's easy to sing and talks about rainbows, which makes it a home run in our book.
2. "Lullaby" — The Chicks (FKA The Dixie Chicks)
The Chicks have actually written two different songs dedicated to their various kids, but this one is our favorite. Of course, there are a few parts they belt out. You can do that at your own risk.
3. "Halo" — Beyonce
Oh-so-perfect for singing to your little angel baby and introducing them to Queen Bey.
4. "Three Little Birds" — Bob Marley
What could be more kid or baby-appropriate than a song about birds? Nothing about this song is challenging to sing. Its simple, repetitive lyrics are calming and reassuring, making it the exact thing you both need to hear after a long, colicky bedtime battle.
5. "Never Grow Up" — Taylor Swift
Raise your hand if you cried the first time you heard this song on T-Swizzle's album! Now, keep your hand up if you weren't even a mama yet. Why not introduce your baby to our girl, Taylor? "Start 'em young."
6. "Ring of Fire" — Johnny Cash
Here's our word of advice for this jam: Don't try to sing as low as Johnny Cash. Just sing in your natural range and everything will be beautiful for baby.
7. "We're Going To Be Friends" — The White Stripes
The White Stripes turned out a lot of good jams in their time together. This, however, is the most kid-friendly and is seemingly perfect for your babe.
8. "Can't Take My Eyes Off Of You" — Lauryn Hill
This bopping spin on the classic is our absolute favorite. Is it a love song? Sure. But, do the lyrics ring true to your obsession with that squirming infant in your arms? Definitely.
9. "Surfer Girl" — Beach Boys
Much like our issues with singing Johnny Cash, Brian Wilson has a range (this time high!) that we just can't match. Still, this sweet little tune is perfect for all those future beach babes in the making. If you're dreaming of the day you get to take your little girl on her first trip to the ocean, this song will set the mood.
10. "Top of The World" — The Carpenters
This song is the epitome of an innocent, happy-go-lucky love song. Because it's The Carpenters, it's super easy to sing along to, even if your voice isn't exactly as beautiful as Karen's was.
11. "Dream A Little Dream Of Me" — The Mamas And The Papas
When you're sending your infant off to dreamland, do you ever wonder what they dream of? Most psychologists believe your dreams are your brain's way of playing through the day or week's events and committing them to memory. If that's the case, your baby is no doubt dreaming a little dream of you.
12. "A Bushel & A Peck" — Doris Day
This is another song that a million people have covered, but Doris Day's version is our favorite. You most likely heard this little ditty from your mom or grandma. That doesn't make it any less perfect, does it? In fact, it might make it more perfect.
13. "Look At Miss Ohio" — Gillian Welch And Dave Rawlings
This is neither of a love song nor a lullaby. However, we love the tale of the wayward but well-meaning girl. It's old-timey in its folksy sound and lyrics, but so easy to sing. We just love it. The end.
Oh me oh my oh look at Miss Ohio
She's a-running around with her ragtop down She says "I wanna do right, but not right now" drive to Atlanta and live out this fantasy Running around with the ragtop down Yeah, I wanna do right, but not right now Continue…
14. "You Really Gotta Hold On Me" — She & Him
Does anyone have a hold on you more than your new baby? We surmise the answer is a solid no. No one has a more soothing voice than Zooey Deschanel, so if you don't feel like singing just queue this up.
I don't like you
But I love you Seems that I'm always Thinking of you Oh, oh, oh, You treat me badly I love you madly You've really got a hold on me (You really got a hold on me) You really got a hold on me (You really got a hold on me) Continue…
15. "Love Me Tender" — Elvis
We'd be remiss to leave off Elvis. While "Pocketful of Rainbows" was the obvious choice, we went with "Love Me Tender" instead. It's a little less snappy and a bit slower (and quieter), making it a perfect fit at bedtime.
Love me tender,
Love me sweet, Never let me go. You have made my life complete, And I love you so.
Love me tender,
Love me true, All my dreams fulfilled. For my darlin I love you, And I always will. Continue…
16. "Teach Your Children Well" — Crosby, Stills, And Nash
Can you tell, yet, how old our parents are? While this song's message is geared toward parents, it's easy to sing and clap along to, making it a solid choice to sing to your baby.
You, who are on the road
Must have a code that you can live by And so, become yourself Because the past is just a goodbye
Teach your children well
Their father's hell did slowly go by And feed them on your dreams The one they pick's the one you'll know by Continue…
17. "Baby" — Justin Bieber
Why not? The song literally has the word "baby" in it and is super innocent and soft.
Oh, woah
Oh, woah Oh, woah You know you love me, I know you care Just shout whenever and I'll be there You want my love, you want my heart And we will never, ever, ever be apart Are we an item? Girl, quit playing We're just friends, what are you saying? Said "There's another," and looked right in my eyes My first love broke my heart for the first time, and I was like… Continue…
18. "Dear Theodosia" — Leslie Odom Jr.
The Hamilton soundtrack is honestly a solid choice all around. The songs are so dang inspiring. "Dear Theodosia," however, is a particularly obvious choice because it's sung directly to Burr and Hamilton's children. It's full of hope for their future and pride for that itty bitty thing they've created. NOTE: "Wait For It" is a solid second option if you're hoping to raise your own little thoughtful, deep-feeling kiddo. It has an "emergency word" in it, though.
Dear Theodosia, what to say to you?
You have my eyes, you have your mother's name When you came into the world, you cried And it broke my heart
I'm dedicating every day to you
Domestic life was never quite my style When you smile, you knock me out, I fall apart And I thought I was so smart Continue…
Disney Infant Songs
If you have a kid in your family (or if you're just a Disney fan), you're probably already singing a lot of these Disney bops. These are our favorite for infants, though.
1. "How Far I'll Go" — Moana
Why? Because Moana is strong and capable and she dreams big. REAL BIG.
I've been staring at the edge of the water
'Long as I can remember Never really knowing why I wish I could be the perfect daughter But I come back to the water No matter how hard I try Every turn I take Every trail I track Every path I make Every road leads back To the place I know where I cannot go Where I long to be Continue…
2. "When She Loved Me" — Toy Story 2
This song is unbearably sad, but it's preparing you for a very real moment: When your little bird leaves the nest. She'll always love you, though… just like Andy always loved Woody and we'll always love our bunny, Mr. Hobbs.
When somebody loved me, everything was beautiful
Every hour we spent together, lives within my heart And when she was sad, I was there to dry her tears And when she was happy, so was I, when she loved me Through the summer and the fall, we had each other, that was all Just she and I together, like it was meant to be And when she was lonely, I was there to comfort her And I knew that she loved me Continue…
3. "Hakuna Matata" — The Lion King
Sometimes we sing to our infant when it's not bedtime. "Hakuna Matata" is just so silly and upbeat, it's hard not to include it. No matter which version you listen to, the voices are just so fun to imitate and the sass is contagious. This song works particularly well at getting your baby's attention when they're having a tough time.
Hakuna Matata!
What a wonderful phrase Hakuna Matata! Ain't no passing craze It means no worries For the rest of your days It's our problem-free philosophy Hakuna Matata! Continue…
4. "So This Is Love" — Cinderella
Classic Disney was full of soft but deep love songs. "So This Is Love" perfectly encapsulates not just the love some of us wait to find in a partner, but also the love we've waited to feel while waiting for a baby. We're not crying. You're crying.
So this is love, MmmmmmSo this is loveSo this is what makes life divineI'm all aglow, MmmmmmAnd now I knowThe key to all heaven is mineMy heart has wings, MmmmmmAnd I can flyContinue…
5. "Baby Mine" — Dumbo
Yes, this song was also in Beaches. Pick your favorite version, sing it to that baby of yours, and we dare you not to be overwhelmed with emotion. It's slow enough that it's perfect for bedtime, too.
Baby mine, don't you cryBaby mine, dry your eyesRest your head close to my heartNever to part, baby of mineContinue…
6. "You'll Be in My Heart" — Tarzan
Kala sings this song to baby Tarzan as he begins to cry. This song is a promise that rings in the heart of every mother. It's the perfect lullaby that reminds your baby you will always be there for them.
Come stop your crying
It will be alright Just take my hand And hold it tight I will protect you From all around you I will be here Don't you cry For one so small, You seem so strong Continue…
7. "All is Found" — Frozen 2
This song whistles about the beauty of nature in perfect pitch. It's a quiet melody that's filled with a promise of adventure and mystery. You don't have to be a Frozen fan to love this ballad.
Where the north wind meets the sea
There's a river full of memory Sleep, my darling, safe and sound For in this river all is found In her waters, deep and true Lay the answers and a path for you Dive down deep into her sound But not too far or you'll be drowned Continue…
What's on your list?
This article was originally published on