Jennifer Aniston & David Schwimmer Had IRL Crushes On Each Other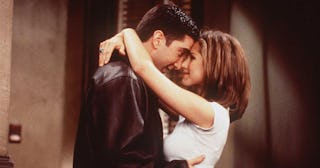 Getty
Jennifer Aniston and David Schwimmer apparently crushed on each other during the early seasons of Friends, and were bummed that their first kiss was on camera
At long last, the highly-anticipated Friends reunion has dropped on HBO Max, bringing everyone's favorite fictional pals back together on screen for the first time since the series came to a close in 2004. Along with plenty of nostalgia and laughs to satisfy fans of the iconic sitcom came one bombshell revelation all thanks to host James Corden — when he asked if any of the show's stars had hooked up in real life, David Schwimmer and Jennifer Aniston admitted to "crushing hard on each other" during the early days of the series.
When Corden asked the six cast members if they'd ever had any real-life romances, Aniston got a little bit flustered before replying, "David?"
"I mean, the first season, I had a major crush on Jen. At some point, we were crushing hard on each other," Schwimmer admitted. "But it was like two ships passing, because one of us was always in a relationship and we never crossed that boundary. We respected that."
Matt LeBlanc then retorted, "bullshit," before adding, "I'm kidding!"
It seems the pair were hoping to take their real-life relationship to the next level before their characters, Ross and Rachel, did on the show, and even wanted to kiss IRL before their characters did during the iconic first smooch they shared after hours in Central Perk. "Honestly, I remember saying one time to David, 'It's going to be such a bummer if the first time you and I actually kiss is going to be on national television,'" Aniston said. "Sure enough, first time we kissed was in that coffee shop. So we just channeled all of our adoration and love for each other into Ross and Rachel."
Turns out things got cuddly behind the scenes during filming, too. "When we had breaks from rehearsal, there were moments where we would cuddle on the couch," Schwimmer said, with Aniston adding, "We would spoon and fall asleep on the couch."
Of the flirtatious vibe between the actors, Schwimmer said, "I'm thinking, 'How did everyone not know we were crushing on each other?'" Matthew Perry and Courteney Cox agreed that everyone did know.
Though they never did link up off-screen, Schwimmer noted that it "was a situation we couldn't do anything about," and Cox replied, "How great though, ultimately. Because if you had [acted on it] and it didn't work out, it would have not probably been as great [on the show]."
Of course, Aniston would famously go on to marry Brad Pitt in 2000 before the couple split in 2005. Schwimmer married artist Zoë Buckman in 2010 and split in 2017. Though Ross and Rachel did end up together on-screen, the two actors both appear to be single these days. We're just saying. No pressure or anything, guys.