This Small Unstaffed Amusement Park In Denmark Is Basically Heaven For Kids
Yes, that's a do-it-yourself-rollercoaster.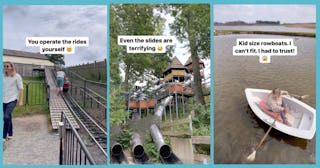 https://www.instagram.com/brookeblackjust/?hl=en
Can we even handle more news about the magic of raising children in Denmark? In the past, we've seen glimpses of their beer-adjacent, staffed playgrounds and their amazingly safe streets, not to mention their incredible family benefits. Now, we have to deal with the fact that they have wondrously whimsical tiny amusement parks for children, which are almost completely self-run.
Meet Brooke Black, an American who moved to Denmark with her kids, and who currently lives in a revamped 1772 thatched-roof farmhouse in the Danish countryside while we all browse bullet-proof backpacks for our kids.
She regularly posts about the differences between living in the U.S. and living in Denmark, but recently she really took us over the edge with her tour of a small amusement park where kids are truly just allowed to be kids (even if some of the rides look a bit scary at times).
"Safety regulations are a bit more 'loosey goosey' in Denmark than in the US," she captions the video. "It takes some getting used to and the key word is 'trust.' I've been to more than one place now where the rides are self-operated and there's one person staffing the entire thing…at the ice cream butik🍦(priorities). Even at major amusement parks like Tivoli people get up out of the roller coaster cars before they stop and no one seems to notice or mind."
In the video itself, we see Black's family enjoying the park. First up, a small rollercoaster that fits two kids, and that's operated by the families visiting the park. It looks super-fun. Then we see several other-self-operating rides, rowboat swings, a zip line, a huge treehouse with enormous metal slides, and a rowboat ride that only fits kids.
"I couldn't fit, I had to trust," the mom says of the boats. "But she learned to do it. Maybe there's something to this..."
And in the background, "Danger Zone" by Kenny Loggins is playing. Perfection.
A quick Google search reveals that the park is called Brændesgårdshaven, an amusement park that contains, among other things, swimming pools, bouncy castles, a mini-zoo, a rock climbing wall, mini-golf, multiple carousels, playgrounds, and a rowing pond. If you get hungry, there are several food shacks and ice cream stalls — or you can order a ready-made family picnic. What is this magic?? And when can we go?