The Best Diaper Bags For Two Kids — So You Can Stash Diapers AND Snacks
We only recommend products we love and that we think you will, too. We may receive a portion of sales from products purchased from this article, which was written by our Commerce team.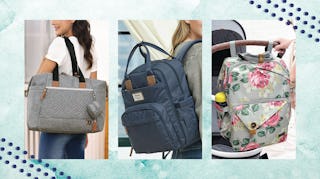 It's one of the quickest lessons you learn as a parent: The pure amount of stuff that comes with caring for a child is severely disproportional. And when you add another kid to the mix? A proper bag to carry All The Stuff becomes an instant necessity. The best diaper bags for two kids are thoughtfully designed with dedicated storage and quick-access compartments to bring a little ease into what can often feel like loading a small circus on your back. And because you know a mama loves herself a hands-free solution — this list is full of options that can be worn as backpacks or crossbody bags.
What to look for when shopping for the best diaper bags for two kids
Diaper bags for two kids will generally fall under three different categories. First up, if you're having twins, you'll need a bag that's primed to carry double all of the infant supplies. Secondly, perhaps you find yourself in a two-under-two stage of life. You need a bag that holds the baby stuff and the toddler stuff (aka snacks for days). Finally, diaper bags for two kids can certainly speak to the unique needs of parenting a baby and a bigger kid. It's very likely you've got one in diapers (cloth or disposable) and one nearly or out of diapers. You'll need a changing pad and a change of clothes, and maybe even a potty seat.
Even though the needs vary for each scenario, the common denominator is pockets, and lots of 'em. You'll also appreciate extra features like stroller straps, so you can hang it from the handle if you need to load up the stroller basket with other stuff — say when you're shopping or headed to the park. Prioritize a bag with an insulated pocket for taking bottles on the go.
To make it easy on you, we found the most-loved, highest-rated, absolute rock-star diaper bags for two kids. From the most affordable to the most stylish, the best for travel and the best for everyday use — it's all here. Go forth and pack your pockets — because you'll always be glad you packed that extra snack.
In a hurry? Here are the top picks for the best diaper bags for two kids:
1. This Budget-Friendly Backpack For Any Parent: Mancro Large Diaper Bag with Portable Changing Pad
2. The Fan Favorite: RUVALINO Multifunction Large Diaper Backpack
3. The Chic One That Doesn't Look Like A Diaper Bag: Mominside Leather Diaper Bag Backpack and Tote