40+ Gifts For Dudes Because There's No Way Socks And Underwear Are All He Wants
by Julia Guerra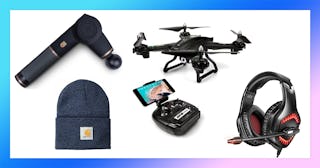 Arriste / Amazon
We're just going to say the thing everyone's thinking: Men are impossible to shop for. Particularly men that claim they don't want or need anything for their birthdays, Christmas, Hanukkah, Kwanzaa, etc. That's just a flat out lie, guys, and we would know. We're better at it than you. Everyone wants something, even if it's just a new pair of socks or a pack of boxer briefs. And yet, there's one major perk to shopping for a dude who allegedly doesn't know what he wants: you get to choose every single one of the gifts for him under the tree.
RELATED: 10 Best Bourbon Glasses That Truly Bring Out The Flavor In Your Drink
Ergo, if you love how his eyes pop when he wears the color red, wrap up a red sweater. Can't stand the cologne your brother wears to every family gathering? Find him a scent that doesn't reek. No matter the type of guy you're buying for, there's a gift for him — and we've got it all right here.
RELATED: Forget Manual Cranks — It's Time To Upgrade To One Of These Electric Can Openers
Gifts For Him: The Homebody
Gifts For Him: The Chef
Gifts For Him: The Techie
Fashion Gifts For Him
Grooming Gifts For Him
Gifts For Him: Games
Gifts For Him: Outdoorsy Gifts
Gifts For The Curious Guy
Gifts For The Music Lover
Gifts For The Beer Lover
RELATED: The Best Patio Coolers & Carts To Keep Your Rosé Extra Chilled This Summer
Gifts For The Baseball Lover
Related: The Ultimate Holiday Gift Guide 2019