18 Best Kiddie Pools, Inflatable Pools, & Bounce Houses For Summer F*U*N
We only recommend products we love and that we think you will, too. We may receive a portion of sales from products purchased from this article, which was written by our Commerce team.
by Anna Baboval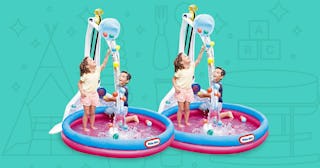 An inflatable or hard plastic kiddie pool could be the key to your sanity this summer because it can entertain your kiddos for hours. On a sweaty and sticky day there is nothing better than jumping into a cold pool on an inflatable water slide, then drying off and lounging poolside while casually working on a tie dye kit. If that isn't a great summer day for a kid, then what is? Kids don't care if it's 100 degrees or 10, they want to swim, and as moms, we don't always want to get in with them. (Think cold water hitting the midriff — it's the worst!) For the best of both worlds — the ability to swim when you want or just supervise when you want — is the backyard kiddie pool. Luckily, there are options from Amazon, Walmart, and more, but they're selling out fast!
RELATED: 9 Best Infant & Toddler Pool Floats With Built-In Sun Canopy For Chillin' By The Water
The reason kiddie pools and inflatables are so great is because they're simple and fun. Kiddie pools aren't so much about learning to swim as they are for cooling off and making everyone a little less irritable. For babies, splash pads and little pools can get them used to the water in an approachable way. For bigger kids, they can feel like they're in a real above ground pool— making for an awesome staycation. As a bonus, kiddie pools also have so many alternate uses when our LOs outgrow them (Pet pool? Hey, a bride even dyed her dress green in one!).
RELATED: There's No Avoiding It: Your Baby Wants A Bouncer. Give 'Em One Of Our 12 Best Activity Centers
At this time of the year when the "oh sh*t the kids need new bathing suits" panic is starting to hit, the competition for backyard pools and inflatables is fierce. Think too hard about committing and poof it's gone out of your cart! We've taken the pressure off by collecting some no-brainer options for kids of all ages (and adults too) to help beat the heat this summer. Mamas who are pregnant AF, these are as much for you as they are for the littles! And don't forget: You may want to grab a universal air pump to save yourself lots of huffing and puffing.
Best Pools & Inflatables for Babies & Toddlers
Best Splash Pads for Toddlers
Best Pools for Preschoolers
RELATED: Pool Toys That Will Keep Your Water Babies (And Big Kids) Busy For Hours
Best Pools for Bigger Kids
Other Fun Options For Kids
Looking for more ways to entertain the littles? Check out all of our mom-approved kids gear for more summer fun.