A Mom Living In Denmark Revealed That Baby Names Must Be From A Pre-Approved List
The rule works to ensure kids are not negatively affected by their parent's choice in name.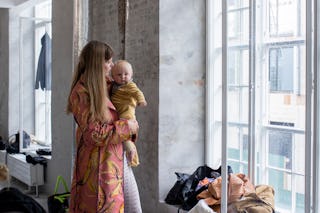 Yuliya Christensen/Getty Images Entertainment/Getty Images
Sometimes parents name their kids some unconventional names. Apple, Malibu Barbie, and of course, X Æ A-12 being just a few.
In America, you can pretty much name your kid anything you want. The federal and state governments cannot interfere in your name selection — in most cases with the exception of the name being a clear example of child abuse.
However, that is not the case in other countries like Denmark. All babies born in Denmark must be given a name from a pre-approved list.
Annie Samples — an American mom living in Copenhagen — elaborated on this naming rule in her Instagram series entitled "Things That Are Normal In Denmark That I'm Scared To Tell My American Friends."
"In Denmark, you can't name your baby whatever you want. In fact, there's a pre-approved list you can choose from," she says in the video.
Let's say the name you've always dreamt of naming your kid is not on that pre-approved list, Samples says you'll need to plead your case to the church. These measures are put into place to help ensure the well-being of a child and help them not have names bestowed upon them that couple negatively impact them for their entire life.
She then explains that while out-of-pocket names are definitely a no-no for Danish parents, there are even some common ones that do not make the pre-approved list — which has about 22,000 approved girls' names, 18,000 approved boys' names, and 1,000 approved unisex names, according to 2022 records.
"We can't name our kids something like Malibu Barbie here," she explains, referencing YouTube star Trisha Paytas' baby girl. "But there are even some more common-seeming names that have been blacklisted as well."
Common male names in Denmark include: Peter, Jens, Michael, Lars, and Henrik.
Typical female names are Anne/Anna, Kirsten, Mette, Hanne, and Helle.
New parents are tending to choose different names, as Statistics Denmark shows.
The most popular boys names in 2021 are Oscar, Karl, William and Oliver while Alma, Ida, Clara or Ella rounded out the girl's side.
When it comes to naming a Danish baby, parents need to make sure the name has a couple of other qualities before it may be approved.
According to Your Danish Life, you must give your child a gender-specific name (there are unisex names as well) that will not adversely affect them in the future, using only the letters from the Danish alphabet.
Also, timing matters. All children born in Denmark must be given a name before they are six months old. Parents who fail to do this will be fined. If the child has not been given a surname within the deadline, then it will be given its mother's surname.
Samples' post soon went viral, inviting other Danes to comment on her Reel with their opinions and thoughts on the strict naming rule.
One commenter wanted to clarify that "The Church" has not had a hand in approval of names for quite some time.
"It's not 'The Church' who decides on a whim what names get approved and what don't; today it is Familieretshuset (Agency of Family Law) who handle applications from parents who want to have a new name approved," they wrote.
"Back in the day they were very strict about what names were approved (the name Sofus ,which is common today, was deemed so ugly that it was considered almost abusive to name a child that) but the law was changed in 2006."
While the pre-approved list still stands, the process to get a name not on the list approved seems pretty simple and lax these days, with another commenter noting that names like "Awesome, Musling (Mussel) and Gandalf" all being approved as of late.
One user commented on the video with her own experience when getting a name approved.
"I live in Denmark (originally from hungary) and we named our kid 'Isli', which is a name my (Danish) husband came up with. It was super easy to get it approved, and they literally approve any names as long as it's not something outrageous (like Pokemon or Spiderman or what do I know 😅)"
Another mom commented that she went through the approval process as well to get a unique name approved and since then, other children have been given that same name. "I applied to name my daughter Verde. It was pretty easy 😊 Now I can see that two girls and one boy has been named Verde in Denmark."