The 12 Best Loft Beds To Maximize Space & Make Bedtime — Dare We Say? — More Fun
More space, better sleep.
by Jessica Booth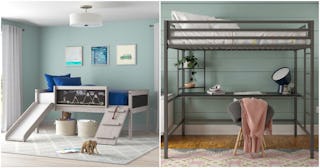 Wayfair/Amazon
A kids loft bed is an excellent way to make the most of the space in your child's room. Like bunkbeds, loft beds sit raised off the floor, leaving plenty of room underneath for a variety of objects. Loft beds for slightly older kids, like middle schoolers or teens, can be high enough to sit over a desk, a dresser, or even another bed if your children are sharing a room.
In the market for a toddler bed? Certain loft beds are even suitable for recent crib graduates. If you're buying for a little one, be sure to opt for a lower version that doesn't sit too high off the floor (the last thing you want is a rolling accident in the middle of the night), and something with bed rails to add some extra security. Low loft beds still offers storage space as well, and it's usually a great spot for toy bins — it can even make a great play area. (Blanket forts, anyone?) Some adorable toddler loft bed options double as indoor jungle gyms and include slides and small ladders that are easy for tiny feet to climb. Now, all you need is some cute bedding, a comfy pillow, and a kid-friendly rug to make your kiddo's room a place of their very own.
RELATED: What To Know About Sharing For Kids — And Encouraging It
Overall, loft beds are a great way to keep your child comfortable while maximizing space in a small bedroom. Sound like a brilliant idea? We think so, too. Check out the options below if you're thinking about purchasing one.
Best Low Loft Beds
This Junior Loft Bed With 5,000 Perfect Ratings
This classic junior loft bed comes in a low height but still offers plenty of room underneath for a play space or storage area. There's a built-in ladder so kids can easily get up and down and a full-length guardrail to prevent any falling accidents. No box spring is needed, and the construction is sturdy and durable. It's also super affordable for a loft bed, which is always a plus.
Helpful review: "This is perfect for my kiddo who wanted a loft bed but our ceilings are only 8ft. I wanted a bed that he could sit up on without hitting his head on the ceiling. It has a nice amount of space underneath for sleepovers, hiding spots or playtime. [...]"
Recommended age: 6 years old & up | Material: Solid pine wood | Variations: 5
This Loft Bed With A Side Staircase & Guardrail
If the idea of your child going up and down a ladder on their own makes you nervous, then this Max & Lily loft bed is a great option. It features a super sturdy staircase instead of a ladder, which makes it really easy for little ones to move around. The staircase can be put on either the left or right side, depending on your preference. The only downside is that the staircase makes this slightly bulkier than a loft bed with a ladder, but if safety's a concern, it's worth it.
Helpful review: "This was a time consuming project to put together, but it went smoothly and I was glad to have someone helping me. If I had tried by myself it would have been quite difficult. Bed seems pretty sturdy and my daughter loves it."
Recommended age: Unavailable | Material: New Zealand pine wood | Variations: 3
A Loft Bed For Younger Kids With A Fun Slide
Perfect for younger children, this DONCO loft bed is super low to the ground, which makes it feel extra safe. While there isn't a ton of space underneath, it's a great place to stash lesser-used or bigger items, like ride-on toys or even their off-season wardrobe. Here's what makes it an extra cute choice: there's a slide and a sturdy ladder that is ideal for kids just learning to climb. It also has a chalkboard on the side that makes it double as a toy for more versatility.
Helpful review: "Got this for my 4-year-old, he is absolutely obsessed with the slide. He LOVES IT. It came with 13 slats so it's plenty sturdy. [...] It's been great, the wood is all strong, I have no worries at all about the structure. I added a strip of LED lights under it, and he has had a ton of fun with it overall."
Recommended age: 4 years old & up | Material: Pine wood | Variations: 1
This Antique-Style Loft Bed With Built-In Storage
What makes this sturdy loft bed stand out is the versatile attachments that come with it: a three- drawer cabinet and two bookshelves, neither of which are are built into the bed frame. That means you can easily tuck them underneath the frame, or you can move them around the room as needed. There's also a low ladder and a partial guardrail.
Helpful review: "I wish I knew about this bed sooner. It's an amazing space saver. I ordered an extra dresser to go under just for extra clothes storage. It took an afternoon to assemble the entire bed, bookcase, and dressers. Definitely recommend!"
Recommended age: Unavailable | Material: Pine wood | Variations: 1
This Stackable Loft Bed That Can Convert To A Bunk Bed
This Walker loft bed is an excellent no-frills option. It sits very low to the ground, so while it doesn't have a ton of space underneath, it still offers a small storage space. And this stackable loft bed can easily convert to a bunk bed or even a triple bunk bed. The ladder only has two rungs, making it really easy to climb. There are full-length guardrails for safety and it comes in a variety of different colors; you can also get this in a bunk bed or triple bunk bed version.
Helpful review: "Very nice bed for the buck!!! These were for children under 8 and it fits them just great! Assembling was a bit frivolous but the instructions were spot on!! It was a great project for my daughter and I. We assembled the bed within 4 hours (with kid breaks). Need reliable kids beds? This is it!!!"
Recommended age: Unavailable | Material: Pine wood | Variations: 4
Best Loft Beds For Teens
A Tall Stainless Steel Loft Bed
For older kids, a taller loft bed is a great option: they're better able to get up there safely and less likely to fall, and it leaves tons of room below. This Walker loft bed is a basic, simple style that is super affordable and perfect if you're not looking for any additional features. It's high enough to put a full-size desk and more underneath, which is nice. It also has ladders on either side to make getting up and down even easier. It's a fave with over 7,000 perfect ratings.
Helpful review: "We love the look of it. It is well made, and holds up to 2 older teens. Did not take long for my oldest adult Son to put together. We will be buying another one here soon. We have 10 inch mattresses on them."
Recommended age: Unavailable | Material: Stainless steel | Variations: 6
A Loft Bed With Built-In Bookcase & Desk
This higher loft bed is really three items in one: a bed, a desk, and a bookcase. The metal frame features a desk that is ideal for homework, as well as four sturdy and wide shelves to hold books, school supplies, toys, or really anything you want to put there. There's a full-length guardrail for safety, and the metal frame makes it incredibly sturdy.
Helpful review: "This bed is AWESOME for small spaces. It has added so much usable space to my son's room! The bookshelf holds all of his books with a shelf to spare, the desk is a good size for typical k-12 homework which is what we wanted."
Recommended age: Unavailable | Material: Metal | Variations: 2
A Loft Bed With A Large Desk
This loft bed is like a slightly simpler version of the one above. It features a larger desk area that is the perfect space for doing homework or reading, along with two small shelves to store essentials (although, there is a lot of space on the desk, as well). The openness can be a perk, though: it gives you more room to add your own storage boxes or items as you see fit. With a sturdy metal frame and a full guardrail, this is both safe and durable. It also comes in both twin and full sizes.
Helpful review: "A+ all around. My 15 year old son assembled with a little help providing physical support. Easy to follow instructions. All parts arrived in package and sturdy. Did not disappoint. Has held up great for the 6 months we've had it with a 150 pound boy climbing up and down and sleeping on it every night. High quality thick desk material and durable hardware"
Recommended age: Unavailable | Material: Metal | Variations: 6
This Chic Loft Bed With A Pop Of Gold
Stylish and sleek, this loft bed comes in two versatile shades: white and navy. It's a simple, no-frills design, but the gold guardrail is a nice touch that makes this look a little extra luxe and glamorous. It sits pretty high as well, giving your child plenty of room for a full desk setup. This set is also available in black and there's a junior version  if you want the same style for a younger child.
Helpful review: "The box came damage free. All of the pieces were well wrapped and well insulated to prevent damage! This took us 2 hours to build! It came with very easy instructions and looks incredible in the room! The gold rail is a dark 'gold' more on the brown side, but it looks more gold when the sunlight is hitting it! I would highly recommend this product!"
Recommended age: Unavailable | Material: Metal | Variations: 3
Best Toddler Loft Beds
This Toddler Loft Bed With A Fun Tent
The more enticing you make a kid's bed, the more likely they are to sleep in it … right? Right. This Donco bed is adorable, fun and functional. There's space underneath for storage, but the blue tent makes it the cutest little hidden play area – it's like a bed and a fort all in one. It's not super high off the ground and it's made of a sturdy and durable material. The tent can also be removed to make it more grown up as your child gets older.
Helpful review: "Very pleased with this bed, and my son (4 yrs old) LOVES it. Good quality for the price, feels solid and looks great. Very cute and fun with the tent panels installed. Seems sturdy enough."
Recommended age: Unavailable, but reviewers recommend 3 to 4 years old & up | Material: Pine wood | Variations: 2
A Popular Junior Loft Bed With A Slide
A simple and fun option, this low loft bed has a large slide to make bedtime a little more exciting. The ladder is easy to climb up, and it's not so low that there isn't any space underneath. The frame is a durable metal and it's easy to assemble. Wheee!
Helpful review: "Got this for my 5yr son who loves anything that has to do with slides lol. He really enjoys his new bed and also his new fort. ALL in all happy with purchase and don't have to worry if he's going to get hurt from it coming apart etc."
Recommended age: 4 years old & up | Material: Metal | Variations: 3
This Toddler Low Loft Bed That Looks Like A House
Quite possibly the cutest item on this list, this Donco loft bed looks like a tiny house and could not be cozier. The walls and roof around the bed make it feel like a secret hideout and offer plenty of privacy (which makes this nice if your kids share a room), but the windows still allow you to get a good view of what's going on in there. It's very low to the ground, which is great for small toddlers, and there's still a little space underneath for some flat bins. As a cute starter loft, it's pretty perfect.
Helpful review: "Love the bed makes me want to have one of my own :) my son and his dog loves it to. Easy to put together and seems very sturdy."
Recommended age: Unavailable | Material: Pine wood | Variations: 1
This article was originally published on