Attention, 'Star Wars' Parents!
Hasbro's New Young Jedi Adventures Toys Are So Cute, You'll Wish You Were A Young Padawan Again
The Force is strong with this collection.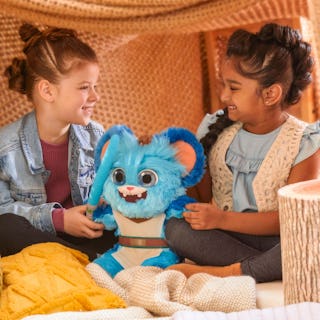 Hasbro
I love a baby dressed as Yoda as much as the next person — and there's nothing cuter than a toddler losing their cool over a pair of Darth Vader shoes. But that's always been where the Star Wars merchandise has ended for the youngest set of fans. When Disney+ unveiled Young Jedi Adventures, an animated series geared towards toddlers and preschoolers, parents of tales from a galaxy far, far away were pumped. They could finally share their favorite world, beloved characters, and lure with their youngest kids. The show did not disappoint, and neither has the near onslaught of new, little kid-friendly merchandise inspired by Young Jedi Adventures.
If you haven't introduced your youngest kiddos to Star Wars: Young Jedi Adventures, now is the time. The animated series follows a small group of younglings living in the High Republic era, which is centuries before any of the events of the main Star Wars films. Along the way, they meet interesting new friends and foes and, yes, wield training lightsabers. But, perhaps most important for parents, the main characters also train to be Jedis.
As such, they're learning the ways of the Force: self-discipline, compassion, teamwork, and patience. Those aren't just qualities you want to see from your kids; they're also vital elements needed to become a Jedi Knight. In other words, the bright and engaging series teaches kids how to be decent humans. Thank Yoda. While the series revolves around a core group of human-like characters (Kai Brightstar, Lys Solay & Nash Durango), it also features cute creatures and a droid (Yoda, Nubs, and RJ-83).
With any good, obsession-worthy series, you need equally good and obsession-worthy merch. And that, dear friends, is exactly what Hasbro is offering up. On the heels of the release of various plastic playsets that kids would no doubt love and parents would hate to step on comes a summer release bound to bring both cuddles and imaginative play.
Star Wars: Young Jedi Adventures Fuzzy Force Nubs
Everyone knows the way to your kid's heart is with a huggable stuffy. Nubs ($34.99) comes in his undeniable bright blue fuzziness and stands a considerable 16.5 inches tall. He even comes with his own plush lightsaber.
Star Wars: Young Jedi Adventures Master Yoda Plush
Meanwhile, the Young Jedi Adventures version of Yoda ($29.99) is just over 13 inches and boasts both his unmistakable robe and, yes, a plush lightsaber. This is the way.
Young Jedi Adventures Training Lightsabers, $9.99
Perhaps most exciting for the young Padawans in your life is the release of the training lightsabers used by the young Jedis themselves. With brighter, more neon colors, they're tailor-made to attract the attention of younger adventurers. They also extend in that oh-so-satisfying flick of the wrist. They come in three colors: Kai Brightstar's yellow-green, Lys Solay's purple-pink, and Nubs' turquoise. Yes, there is an entire canon related to what the various colors of lightsabers mean — but let's just let our kids pick their favorite colors or characters for now. We can worry about steering them towards various ambitions once they make it to second grade.
Welp. It's only June, and you've already got the holidays just about sorted. Now... how about some Young Jedi Adventures underwear for the stocking?!