65+ Fresh-Picked Names For Spring Babies
Looks like spring is bringing new life to your fam.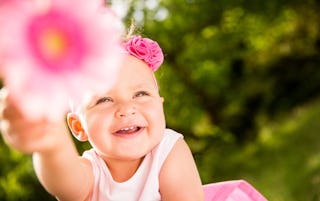 Wundervisuals/Getty Images
There are many reasons to love springtime. From the fresh rain to the budding flowers, the season signifies new life... which is exactly what you just brought into the world, too! Aside from your obvious excitement over the new little family member, you might be excited about getting back outdoors after a long winter. If your favorite season is spring, nothing feels quite as refreshing as this fresh stretch of months — spring ushers in a change in scenery (and serenity) to shake you out of any slump. So, why wouldn't you want to give your baby a spring-inspired name?
If you're particularly outdoorsy, a nature name or flower name might be in order. For instance, a name like Birdie is cute on its own and calls on all the springtime twittering of baby birds in nests. Or it could be a spring-y nickname for a little Beatrice, which means "she who brings happiness." That seems absolutely and utterly fitting for a spring baby. Spring is also so magical that even magical names don't seem out of the question. The name Faye means "fairy," a mythical creature as magical as they come. If you're in the South, you've no doubt met an April Faye, June Faye, Savannah Faye, or something along those lines. It's been a popular middle name for decades and immediately sounds warm and sunny.
It totally makes sense for your brand-new addition to have a name inspired by this time of year. After all, from spring jokes to spring captions, there's inspiration to be found no matter where you look.
Alder — "alder tree; older."
Apple — the fruit "apple."
April — "to open."
Archer — "bowman."
Aries — "a ram."
Azalea — a brightly colored flower.
Birdie — "bird."
Breeze — "gentle wind."
Brooke — "small stream."
Brooks — "of the brook."
Bunny — "she who brings victory."
Cedar — "cedar tree."
Chloe — "young green shoot."
Clay — "place with good clay."
Clover — "key."
Colt — "young horse."
Dahlia — "Dahl's flower."
Daisy — "day's eye."
Dawn — "dawn, sunrise."
Dew — tiny drops of water that form on cool surfaces at night.
Dove — "dove, a bird."
Faye — "fairy."
Fleur — "flower."
Forrest — "dweller near the woods."
Honey — a sticky fluid made by bees.
Hunter — "one who hunts."
Hyacinth — "blue larkspur; precious stone."
Iris — "rainbow."
Ivy — a woody evergreen.
June — the sixth month of the year, named after the goddess Juno.
Lark — a small ground-dwelling songbird.
Laurel — "laurel or bay tree."
Lavender — "purple flower."
Leaf — a flattened structure of a higher plant, typically green and blade-like.
Lilac — "a pale pinkish-violet color."
Lily — English flower name.
Mae — "bitter or pearl."
Magnolia — "Magnol's flower."
Meadow — nature name for a piece of grassland.
Moss — "descendant of Moses."
Pansy — English flower name from the French for "thought."
Park — nature name for a large public green area in a town.
Pascal — "of the Passover; Easter."
Peach — fruit name.
Peony — "healing."
Petal — "leaf."
Poppy — "red flower."
Posy — "a bunch of flowers."
Prairie — "nature name."
Primrose — "first rose."
Rain — nature name for moisture condensed from the atmosphere that falls in drops.
Rainbow — "an arch of colors in the sky."
Reed — "red-haired."
River — nature name for a large natural stream of water flowing to the sea.
Robin — "bright fame."
Rose — English flower name.
Sky/Skye — nature name for the region of the atmosphere seen from the earth.
Solstice — "when the sun stands still."
Sparrow — nature name for small Old World bird.
Spring — word name meaning "to move or jump suddenly" or for the season.
Stormi — nature name for turbulent weather.
Sunny — "son."
Tulip — flower name for the Persian for "turban."
Violet — "purple."
Willow — "willow tree."
Wren — "small bird."
Zinnia — "Zinn's flower."
Naming a baby can be scary. We can help! Check out our baby name database here.
This article was originally published on