The Dreamiest Baby Mobiles For Your Little's Nursery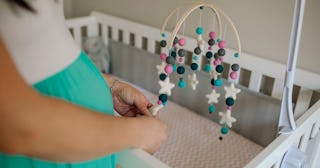 Getty Images/Cavan Images
A baby mobile might be one of the last things on your baby essentials list, but trust us — you'll need it. Not only is it a cute addition to the nursery, it helps keep Baby entertained and soothed. And we get it — the list of things needed for BB's arrival can be completely overwhelming, especially when it comes to designing the nursery. Transforming what was once the WFH office space into a tranquil sleep haven takes both interior decor skills and knowhow. One of the most undervalued nursery must-have items (aside from a non-toxic crib mattress — BB needs quality too!), is a baby crib mobile. We all know about the big sexies for the nursery: the crib, the glider, the changing table, and the baby bouncer, but the baby crib mobile is a must-have for both fashion and function.
RELATED: Easy Wall Art Ideas For An Instagram-Worthy Nursery
Best Baby Mobiles
Babies, and especially newborns may seem like they're just laying around doing a whole lot of nothing, but really those little eyes and little brains are taking it all in. Baby mobiles are beautifully simplistic (or extremely high tech) but encourage BB to reach and stretch those limbs trying to grab what's just out of reach. Their little eyes work really hard to focus on the colors and shapes on display. At first newborns can see just bold patterns in contrasting colors, but eventually the comforting sounds and familiar faces of their animal friends will bring them comfort in their own bed.
There are so many baby crib mobiles on the market today from the super high tech to the beautifully handmade wooden craft to the classic music box. We've curated our list of our favorites from the desired decor to best picks for baby's brain and something in between, (like most likely to let mama get some sleep!) Go ahead and lay BB down in her crib (it's good for her) and make another cup of coffee!
Best Crib Mobiles
Best Nursery Mobiles
Best Musical Crib Mobiles
Best Bassinet Mobiles
Looking for baby must haves before the arrival of BB? Check out all of our mom approved baby gear!