25 Bat- And Bar Mitzvah Gifts To Give Instead of Money
by Rachel Aschenbrand-Robinson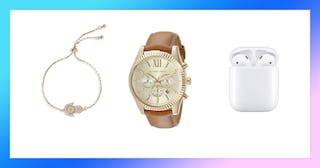 Nordstrom/Amazon
A bar- or bat mitzvah is a Jewish rite of passage, celebrating a boy or girl's official entry into (religious/spiritual) adulthood—it's a milestone moment in the life of a Jewish child. But it's important to remember, the newly-designated "adult" is still very much 13 years old, and you'll definitely want to keep that in mind when you're choosing bar and bat mitzvah gifts. Money is a pretty traditional option, and certainly a great way to start saving for later adult stuff (hi, college), but as far as bar/bat mitzvah presents go, that's likely more exciting for the parents—at least for now.
RELATED: The Best Electric Riding Scooters For Everyone (Yes, Even You)
So whether you're not into the monetary gifting thing (too impersonal?) or you just want to score extra cool points with your niece or nephew, we've come up with a slew of suggestions for bar and bat mitzvah presents at a variety of price points. From tech-y stuff like headphones, speakers, and karaoke machines to games of all kinds to keepsake jewelry and watches, there's for sure something—or several somethings—among these picks to inspire your next purchase. Depending on the kid you're shopping for, any of these can be considered either bat mitzvah gift ideas or bar mitzvah gift ideas. We'll let you decide.
Best Bar and Bat Mitzvah Gifts