A Trip To Lake Como or A Diamond Pendant— What's Your Dream Gift For V Day This Year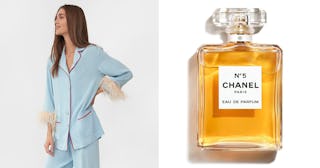 SLEEPER / ULTA
Ahh Valentine's Day — that yearly opportunity to wear head-to-toe pink like a toddler and pretend that you can, in fact, pull off a bold red lip to the office (even if you work at home). In the "old days" we'd make the reservations and book the babysitter, but this year it's looking like we have to prepare ourselves for a chocolate-induced cavity from being at home all day. Even though February 14th is coming up quickly, staying home doesn't mean you've got to limit yourself in celebrating love and giving the most romantic gifts.
RELATED: It's All About The Kids This Valentine's Day — 21 Gifts They'll L-O-V-E
Whether you're boo'd up, riding solo, or in some sort of a thruple situation (no judgment — just be sure to look up the best sex positions for three), there are some seriously covetable gifts to be had. Gifts so good, in fact, that you don't need no man, woman, or child (like they have the dough, anyway) to spend the bucks — because, honey, it's time to treat 'yo self. Valentine's day 2021 is the perfect chance to go big or go home (literally) and while you're at it, you might as well be decked out in cashmere, wearing your diamonds, mid-CBD-infused beauty treatment, while sniffing your pricey scented candle, dreaming of that dream trip (sans kids). If the list for Valentine's Day gifts for boyfriend and husbands can include brand new high-tech grills, ladies deserve a list of luxury too.
Check out the 20 best luxury gifts for Valentine's Day. Only the best for the best (aka you).
Luxury Valentine's Day Gifts
Best Heart-Shaped Jewelry
Best Expensive Pajamas
Best Valentine's Day Fragrance
Best Valentine's Day Jewelry for Minimalists
Best Sensible and Sexy Lingerie
Best Luxury Adventure
Best Practical Valentine's Day Outfit
Best Practical Jewelry Gift
Best Overall Valentine's Day Gifts
Now that you've pampered you and your S.O in truly lavish fashion, check out our gifts to keep the extravagance going.