The Best Furniture Anchors For Babies Or Toddlers Who Think They're American Ninja Warriors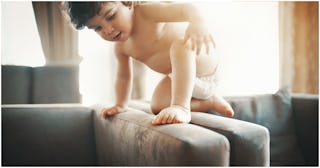 Getty Images/gilaxia
The best furniture anchors will give you peace of mind, but most importantly, keep Baby safe. But first off: I know the baby books might tell you to start babyproofing your house with furniture anchors, baby gates, sturdy playpens, and fiddly little safety locks the day after you find out you're pregnant, but not every aspect of babyproofing is quite so urgent. First of all, ain't nobody got time for that when you're spending all morning barfing. Second of all, you really don't want to spend a solid year struggling to get into your own pantry and fighting with the child safety locks. Especially while your kid is still in utero, or is out but moves less than a sloth. Once your child has learned to roll and is almost ready to start cruising, however, it's officially time to spend a weekend with your toolbox and lock everything down.
All that said, it's not a bad idea to stock up on childproofing supplies to have them on hand, just in case. One babyproofing precaution you can (and should) take early on — that won't impact the ease of daily life before your LO is mobile — is anchoring down your furniture. I'm talking, all the sofas, dressers, bookshelves (including the one in the nursery), the baby's crib, TVs, hutches, and anything else that's top-heavy and could injure your mini-monkey.
When should you babyproof your home?
Rick Leviton, founder of Precious Baby Protectors and Childproofing Advisor at YouthfulHome.com, advises locking down early on. "You should anchor your furniture before bringing your baby home from the hospital," he confirms. "And do this in every room in your house, not just the baby's room. A toddler can go out of your sight in an instant and be in trouble before you can react."
What are the best kinds of furniture anchors?
As far as the most durable materials, Levitonm says, "Make sure that the straps are made of vinyl webbing or braided metal cable. The screws used to attach to the wall should be 2-inch long wood screws. If the kit you have uses smaller generic screws, replace them with long wood screws. You should locate the closest stud in the wall and screw into that instead of using toggles or drywall anchors." While there are some popular plastic versions out there (they look and work almost like zip ties), the pro advises against using plastic straps or screws.
How do you anchor furniture to a wall?
While your best bet is using a kit that comes with instructions (below) or even enlisting the help of an expert, Levitonm shares a few general installation tips: "Use the thickest part of the furniture as high up as possible," he says. "Don't place heavy items on upper furniture shelves or on top of furniture. If you've put a heavy appliance such as a TV on top of furniture, anchor the TV as well. If your walls are brick or plaster, you should hire a person who knows how to securely attach the straps to those materials."
Finally, he adds to consider anchoring furniture in any home where your soon-to-be toddler will spend a lot of time — especially in the homes of older residents. "Grandparents should [anchor furniture], too. It's not only protecting their grandchildren, it's protecting them as well. According to the Consumer Product Safety Commission, more than 15,000 people are injured by falling furniture each year — many of them are grownups."
***
The sad truth is, every 30 minutes a child goes to the ER for furniture tipping injuries, dozens of which are fatal each year. So let's keep your kiddo safe and keep you from having a heart attack every time they crawl near the TV.
Best Furniture Anchors
Best Furniture Wall Anchors
This article was originally published on