These Shower Steamers Clear My Sinuses AND Help Me Relax — I'm Obsessed!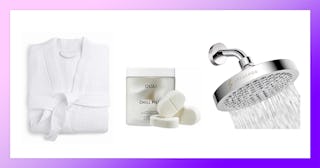 Parachute / Sephora / Amazon
In an ideal world, we'd all be able to go to the spa for some self-care whenever we wanted, but in reality, busy schedules (and budgets, not to mention k-i-d-s) don't always allow for it. But that doesn't mean you can't enjoy some quick moments and calming amenities with all the spa essentials to create a home spa right in your own bathroom. Plus, think about all the time you'll save when you just have to throw on your favorite robe and travel down the hallway.
RELATED: What's the Difference Between CBD and Hemp Oil?
Turning your bathroom into a relaxing space doesn't have to be overly complicated. I'm sure you already have a couple of spa night ideas in mind, but it's as simple as having the right spa products at home. Whether your idea of R&R includes a great shower head, scented bath bombs, hydrating beauty products, or a luxuriously soft towel (or all of it in one big spa kit), it only takes a few products to make the space feel more relaxing than it did before (towels on the floor and mis-matched bottles of product can live in the kids bathroom, thank you). Think of this as your own personalized spa that you can visit in your own time, in the comfort of home. Besides, where you choose to unplug and reset is less important than finding the time to do it, even if it's just a short — but uninterrupted — bath or shower.
RELATED: How To Make Ahhhh-Mazing Bath Bombs For Gifts… Or Your Own Spa Days!
Here are 15 of the best at home spa products that can help transform your bathroom into a spa-like escape… at least until your kids or spouse discover where you're hiding out.
Best Spa Bathroom Products
For more ways to spruce up your house, check out our Home & Kitchen picks.