10 Super Sweet Valentine's Day Gifts The Kids Can "Buy" For YOU (#AddsToCart)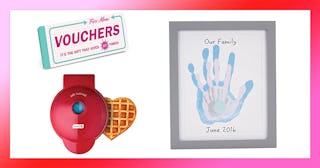 Amazon
Valentine's Day gifts from kids to parents are a sweet way to make the day extra special. Not only is it touching for Mom or Dad, it also gets the kids involved. Sure, you'll want a romantic gift from your partner, but there's something about gifts from the kiddos — especially homemade ones — that make the day feel extra warm and fuzzy. And while they show their appreciation on Mother's Day and Father's Day, V-Day is all about showing the love. Given the year we've just had, shouldn't we all give and share a little more love any chance we get?
RELATED: It's All About The Kids This Valentine's Day — 21 Gifts They'll L-O-V-E
So if you're looking for gift ideas that your kids can give to their mom or dad (with your help, of course), remember that you don't have to go overboard (especially following the financial hangover of Christmas). So we've gathered the best affordable trinkets, tokens, plus Valentine gifts to make for parents, because with this holiday, it's truly the thought that counts. Whether you're looking for presents for parents from preschoolers, from toddlers, or even from tweens and teens, we've found the cutest, sweetest presents and DIY gifts from the kids to Mom or Dad.
Valentine's Day Gifts From Kids To Mom
Valentine's Day Gifts From Kids To Dad
Valentine Gift Ideas For Kids To Make
DIY Valentine Gifts From Toddlers To Parents