These Tween Halloween Costumes Are Sure To Be A Hit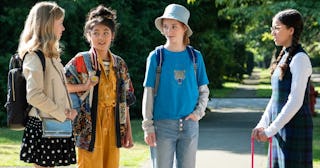 Kailey Schwerman/Netflix
Having a tween all too often means having to beg your kid to do, well, anything. But that's precisely why you should be counting down the days until October 31 — tweens love the campiness of Halloween! Yours might even be agreeable (could it be?!). There's just one hurdle you have to clear before you and your tween can enjoy the holiday of their dark little heart: what they'll wear.
Don't fret, though. There are some fantastic tween Halloween costume ideas to consider. And, bonus, a lot of them are easy-peasy DIY. So, basically, you don't have to spend a million dollars to make their tween Halloween dreams come true. You may even get through the entire holiday with minimal eye-rolls cast in your direction. The secret is to find a costume idea that is clever, smacking of pop-culture cred and, as the tweens say, snatched.
We may be biased since, you know, we put this list together. But still, we think it's packed with perfect tween Halloween costumes — whether you have a 9-year-old, 10-year-old, 11-year-old, or 12-year-old. At the very least, these costumes will command your tween's attention long enough for them to break their TikTok gaze. So, take a look at the following tween-friendly ensembles and prepare to earn a few cool mom points.
Easy Tween Halloween Costumes
1. TikTok Influencer
Is your tween always showing off her latest TikTok dance and rattling off about some Charli D'Amelio or something? (No big deal but with her nearly 124 million followers, Charli is quite literally the most followed TikToker in 2021.) Want to earn cool mom points? If the answer to both is yes then why not help your tween pull together the easiest costume ever and go as TikTok influencer Halloween costume this year? Whether your tween wants to go as D'Amelio, Khaby Lame, or Addison Rae, all they really need is an outfit in the style of their favorite influencer. If that's not the easiest and cheapest costume, we don't know what is.
2. Cher From Clueless Costume
Not sure if you noticed the blatant '90s fashion being rocked by influencers, celebs, and models these days, but everything old is new again. Including the popularity of the style featured in the iconic teen flick Clueless. No one rocked yellow plaid quite like Cher Horowitz (Alicia Silverstone), until your tween that is. You can order a Cher costume on Amazon or pick it up at Party City.
3. Lola Bunny
https://www.instagram.com/p/B6Tp4vrAOGH/
Now that the Space Jam remake is out (starring LeBron James, no less), the OG live-action/animated sports movie has worked its way back into the spotlight. And when it comes to Halloween costume ideas from the cult classic, there's no one tween girls will want to bring to life more than Lola Bunny.
4. VSCO Girl
https://www.tiktok.com/@aaubreymay/video/6743247910076550406?is_from_webapp=1&sender_device=pc&web_id7015579488039224837
You can't get much easier than this for tween girls since, let's be real, this is basically their everyday ensemb anyway. Not sure where to start with this costume? Ask your 10-year-old.
5. Ouija Board
Is your tween a little emo? They might be drawn to the occult-ish appeal of a DIY Ouija Board costume. If you don't leave yourself enough time to order a Ouija Board t-shirt, you can always stencil the board design across your kid's sternum like this.
6. Woodland Creature
Your tween will love transforming into a deer (or other woodland creature) because they get to play with makeup and feel whimsical. You'll love it because it still seems innocent and sweet.
7. A Bubblegum Machine
If you ask us, this costume is the ideal combination of precious and sassy. In other words, it's peak tween! You can buy plenty of variations online, but you can also easily DIY it. Bonus? It'll be comfortable, so your tween is far less likely to burn out after 20 minutes of trick-or-treating.
8. Cup of Noodles
https://www.instagram.com/p/B4TAdnDpz6d/
Got a graphic designer in the fam? Enlist their help in creating a printable label that'll turn your tween into a walking Cup of Noodles. Older tweens might think this is too silly, but your Ramen-slurping 9-year-old will probably think it's the coolest.
9. Fortune Teller
https://www.instagram.com/p/B4S_4Mwpo5u/
In full disclosure, we like this idea so much we might steal it for ourselves! Definitely don't do that if your tween claims it, though — if you show up on Halloween in the same costume, you won't need a crystal ball to predict a meltdown in your tween's near future.
10. Arthur
Didn't you hear that all things old are new again? Tweens have discovered this late-'90s PBS series, and they're fans. C'mon, though… you've got to admit this makes for one cute (and pleasantly easy) costume.
11. Kylie Jenner
No matter what you think of Kylie Jenner, your 12-year-old is probably obsessed with her. Hey, they could have worse role models! She is a boss female entrepreneur, after all. You'll want to scan Jenner's IG feed to find the most tween-friendly looks, then present that narrowed-down list to your tween.
12. A Pineapple
https://www.tiktok.com/@inspiration_333/video/6889751752824851717?is_from_webapp=1&sender_device=pc&web_id7015579488039224837
Pineapple costumes are always cute! We're suckers for the message a pineapple sends, too: Be tall, wear a crown, and be sweet on the inside.
13. Alexa and Katie
https://www.instagram.com/p/CDzVoH2lfMq/
Netflix's Alexa & Katie is a huge hit with the tween crowd, which makes it a great suggestion for sisters or besties who want to coordinate this year. And since there are countless outfits to choose from, there's sure to be something you and your tween can agree on.
14. M&Ms
https://www.instagram.com/p/Ba0MG33l3x5/
Got a group of tween BFFs who insist on coordinating their costumes? Make them happy without losing your mind by letting them go as M&Ms. A simple t-shirt, colored tutus, leggings — genius.
15. JoJo Siwa
https://www.instagram.com/p/Bv4vsJqjETq/
If your tween isn't already in a JoJo Siwa phase, give it time. TBH, we're not even mad about girls' obsession with Siwa. Have you seen interviews with her? She's so pure and sweet! So, if your tween wants to dress up as this budding entrepreneur, you can feel good about it. Besides, it's a pretty easy costume to pull together… especially if you already have a few JoJo bows.
16. Detective Pikachu
Detective Pikachu was, hands down, one of the best family movies of 2019 — thank you, Pokémon! And you can relive that fun when you work with your tween to do a playful spin on a costume of the title character. Time to break out the old magnifying glass collecting dust in your office!
17. Eep From The Croods
https://www.instagram.com/p/B1bbY0mHJc3/
We're not sure what we love more: The Croods, The Croods 2, or The Croods series! Although we aren't sure why, this DreamWorks cave-fam hasn't been a rampant costume in years past. So, with the sequel on the way, your tween can show off their originality and trendiness by channeling their best Eep.
https://www.instagram.com/p/B7HSU1wnbDh/
Have you let your tween watch Stranger Things yet? Those of you who did may have just saved yourself a huge Halloween headache — there are a ton of possible costumes at play here. We're particularly partial to anything from '80s-tastic Season 3.
19. A Starbucks Beverage
If your tween is anything like ours, their obsession with Starbucks has officially begun brewing (see what we did there?). You can find this costume at tons of online vendors for a quick order, or you can just as easily whip up a DIY version. And you must admit: It's a whole latte cuteness.
20. Hippies
https://www.instagram.com/p/B4ScwABhuCN/
What's not to love about this costume idea? You can probably create it just by pillaging your own closet. Plus, it'll put a smile on everyone's face and make for great snapshots.
21. Dora the Explorer
Thanks to 2019's live-action Dora and the Lost City of Gold, Dora the Explorer is once again a popular pick for Halloween. Fair warning: Your tween might have to tell your friends "swiper, no swiping" if they want to be the only person in their social circle as this intrepid adventurer.
22. The Notorious R.B.G.
https://www.tiktok.com/@dang.cosplay/video/6886673768991837446?is_from_webapp=1&sender_device=pc&web_id7015579488039224837
There's nothing we love more than a fierce young feminist, which makes this costume a no-brainer. That's the truth, and you can't spell truth without RUTH. Most of this look would be quick and easy to pull off, but you might have to do a bit of digging to find a gavel.
23. Elliott or Gertie from E.T.
When it comes to Halloween costumes, you can't get much more iconic than the beloved child characters from 1982's E.T. the Extra-Terrestrial. You also can't get much easier since you'll essentially only need a red sweatshirt or striped sweater and overalls, depending.
24. Sadness From Inside Out
https://www.instagram.com/p/CDcv36RjZSP/
Make some core memories of your own when you team up with your tween to turn them into Sadness from Disney's Inside Out. This would make a great family idea, too, because you've obviously can't have Sadness without Joy, Fear, Anger, Disgust, Bing Bong and, of course, Riley.
25. Mulan
https://www.instagram.com/p/BU4_xBVl-Pg/
With Disney's live-action Mulan dropping on Disney+ now a major hit, this fierce character deserves all the love! You'll definitely want to watch the new movie together before Halloween rolls around to show proper honor.
26. The Baby-Sitters Club's Claudia Kishi
https://www.instagram.com/p/CC6zKZlgRup/
The best part about Netflix's new adaptation of The Baby-Sitters Club is that it plays on both your nostalgia and your tween's love of trends. And let's be honest, the coolest BSC character is Claudia Kishi! You can recreate one of her effortlessly hip outfits with a bit of style ingenuity.
27. Moesha
https://www.instagram.com/p/CD2n1v0l6Bl/
One of the few highlights of 2020 was finding out Netflix acquired the streaming rights for the classic '90s sitcom Moesha. Help your tween bring out their best Moe by binge-watching the show together before Halloween.
28. Roblox Avatar
Yep, the Roblox trend is still going strong with tweens. What makes this costume so great is the fact that it's unique to your tween — they get to design their outfit based on their own avatar.
29. Lifeguard and Shark
Talk about a cute idea for tween BFFs! You could even expand it to include other friends in your tween's social circle by adding more lifeguards or shark, or by getting creative and adding things like surfers and stingrays.
30. Among Us Imposter
ICYMI, Among Us is one of the latest online gaming obsessions among tweens and teens. In other words, you'll get cool points for suggesting your kid go as an Among Us character imposter. Bonus: It's a super-easy ensemble.
This article was originally published on