Simple One-Syllable Girl Names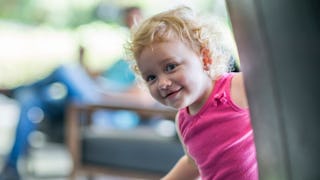 Westend61/Getty Images
Long names are gorgeous, but sometimes they're quite a mouthful — especially if they're paired with another long last name. Sometimes you need to find a nice, short name for a baby that will roll off the tongue as easily during sweet toddler cuddles as it does during horrific toddler tantrums. Because, and sing with me here, you can't have one without the other.
So if Alexandria and Evangeline are a little too long for your taste, why not streamline things with a simple one-syllable girl name? How about Liv, a short form of Olivia? Or Beth, a short form of Elizabeth. If you're a nature lover, give Lark a whirl. At least you can joke her newborn wails sound like birdsong. Maybe you're into nicknames as baby names, that's certainly on our list. Perhaps a classic single-syllable name floats your boat. In that case, Anne, Beth, and Sloan might pique your interest. Whatever it may be, you're not alone in your search on this one. According to the latest search data available, one-syllable girl names are searched for nearly 15,000 times per month. That might be because parents are searching for shorter names to go with longer surnames, or perhaps keeping it simple is trendy right now. Whatever it may be, you're not alone in your search for a snappy but lovely name.
These uncomplicated baby names are easy to pronounce and spell and work perfectly as middle names to counterbalance a longer first or last name. Whether you are looking to honor your heritage or just pick the most popular names in preschool right now, the origins of these lovely names are as diverse as the United Nations. Greek, Hebrew, African, Chinese, Indian, and Irish just to name a few. In short (see what we did there?), these one-syllable girl names are the perfect picks.
Quotes to Consider
If you're looking for even more inspiration to give your baby girl one of these monikers, check out wise words by a few famous figures with one-syllable names.
"In spite of everything, I still believe that people are really good at heart." — Anne Frank
"You must always have faith in people. And, most importantly, you must always have faith in yourself." — Elle Woods, Legally Blonde
"It's not what we say or think that defines us, but what we do." — Jane Austen, Sense and Sensibility
"You only live once, but if you do it right, once is enough." — Mae West
"We're all born feeling perfect until somebody tells us we're not. So there's nothing I can teach my daughter. She already has all of it. The only thing I can do is protect what she already feels." — Blake Lively
"Maybe you're not perfect, but you're willing to actually look at yourself and take some kind of accountability. That's a change. It might not mean that you can turn everything around, but I think there's something incredibly hopeful about that." — Brie Larson
"Don't waste a minute not being happy. If one window closes, run to the next window- or break down a door." — Brooke Shields
"You can't choose who you fall in love with, you know?" — Kate Winslet
Need more baby name ideas for your little tot? We've got comprehensive lists for middle names for boys, middle names for girls, last names as first names, and so much more!
Curious to know more about your family name and in the last names and meanings of other countries, check out our package on last names from around the world. See how many you recognize: French, Russian, Spanish, Mexican, Brazilian, Portuguese, Italian, and African last names, among others.
Naming a baby can be scary. We can help! Check out our baby name database here.
Anne
Ash
Bay
Bea
Beck
Belle
Bess
Beth
Blaine
Blair
Blaire
Blaise
Blake
Blanche
Bliss
Blue
Blythe
Bo
Brae
Brie
Britt
Brooke
Brynn
Cher
Chris
Claire
Dale
Dawn
Dell
Dew
Dove
Dream
Elle
Eve
Faith
Fawn
Faye
Fern
Fleur
Fox
Grace
Gray
Greer
Gwen
Hope
Jade
Jane
Jazz
Jem
Jess
Joan
Joules
Joy
Joyce
Jude
June
Kace
Kate
Kit
Kye
Lake
Lark
Layne
Leaf
Lee
Lex
Lil
Lin
Liv
Lou
Love
Lux
Luz
Lynx
Mae
Maeve
Marsh
Meg
Moss
Nan
Noon
Noor
North
Paige
Park
Peace
Pearl
Pip
Plum
Poe
Quill
Quinn-unisex
Rain
Reef
Reese
Reese-unisex
Ren
Rogue
Rome
Rose
Rue
Ruth
Sage-unisex
Saige
Sam
Scout
Shea
Shell
Shore
Sky
Skye
Sloane
Snow
Spring
Star
Tai
Tal
Teal
Trace
True
Will
Wren
This article was originally published on