A Giant List Of Charades Ideas To Get This Family-Friendly Game Going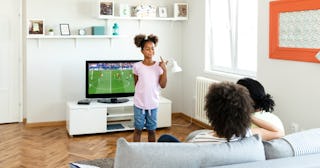 PixelsEffect/Getty Images
If you're looking for a cheap, versatile way to keep kids busy at home, look no further. We've got your fix! Charades is a game that appeals to all ages, so everyone from younger siblings to Grandma and Grandpa can join in all the fun. Plus, it's cost-effective. Sure, you can buy the board game in just about any store (and in several different versions, too). But you can also play at home for free using a handy-dandy list of charades ideas. All you need to do is print out (or write down) a list of ideas to choose from, cut them into strips, put them in a bowl, and let each person draw one when it's their turn. And, wouldn't ya know, we just so happen to have a list for you.
Charades is fantastic because it gets kids up and moving — and they've got more than enough energy to spare, amirite? — and the ideas to choose from are endless. Meaning, the game never gets old. You can always change it up by picking a new theme: Disney movies, sports, animals, and famous landmarks, to rattle off a few. Another reason charades should be on your radar? It makes an excellent socially-distant game to play with family and friends on Zoom.
Below, check out our giant list of charades ideas perfect for playing at home or online with loved ones.
Charades Ideas for Kids
Animals
When children are first studying animals, the sounds they make are key to the learning process. However, since charades is a silent game, it will be especially difficult to act out famously loud creatures, like elephants or frogs.
Frog
Cow
Cat
Fish
Dog
Tiger
Squirrel
Wolf
Lizard
Rabbit
Snake
Kangaroo
Alligator
Elephant
Giraffe
Bird
Monkey
Penguin
Pig
Chicken
Bear
Shark
Books
Not only is this a great way to get your kids to think about the books they've read, but this could inspire other children to pick up a book on the list and find out what it's about.
Chicka Chicka Boom Boom
Goodnight Moon
The Giving Tree
Where the Wild Things Are
Stone Soup
Alice's Adventures in Wonderland
Charlotte's Web
The Tale of Peter Rabbit
Little Women
Anne of Green Gables
Corduroy
The Secret Garden
The Snowy Day
Brown Bear, Brown Bear, What Do You See?
The Lion, the Witch, and the Wardrobe
The Jungle Book
Diary of a Wimpy Kid
The Little Engine That Could
Stuart Little
Matilda
The Very Hungry Caterpillar
Curious George
Judy Moody and the Not Bummer Summer
Fahrenheit 451
The Haunting of Hill House
Pet Cemetery
The Silent Patient
The Girl with the Dragon Tattoo
The Very Hungry Caterpillar
Where the Wild Things Are
Charlie and the Chocolate Factory
The Chronicles of Narnia: Prince Caspian
Alice's Adventures in Wonderland
The BFG
A Series of Unfortunate Events
The Tale of Peter Rabbit
Winnie the Pooh
Goodnight Moon
The Lord of the Rings
Harry Potter and the Half-Blood Prince
Food
Pizza
Jello
French fries
Popcorn
Banana
Spaghetti
Orange
Bubblegum
Hotdog
Taco
Milk and cookies
Cupcake
Movies
Frozen (1 and 2)
Harry Potter and the Sorcerer's Stone
Babe
Bambi
Home
Boss Baby
Planes (and Planes: Fire and Rescue)
Sing
The Lego Movie (and The Lego Movie 2: The Second Part)
The Princess Diaries (and The Princess Diaries 2: Royal Engagement)
Moana
Soul
The Spongebob Movie: Sponge on the Run
Onward
The Croods (and The Croods: A New Age)
Scoob
The Lion King (plus The Lion King 2: Simba's Pride and The Lion King 1 1/2 )
Zootopia
Zombies (and Zombies 2)
High School Musical (plus High School Musical 2, High School Musical 3: Senior Year)
Inside Out
Chicken Little
Monsters Inc. (and Monsters University)
Coco
Trolls (and Trolls World Tour)
Wreck-It Ralph (and Ralph Breaks the Internet)
Famous Landmarks
Eiffel Tower
Statue of Liberty
Leaning Tower of Pisa
Golden Gate Bridge
Stonehenge
Great Wall of China
Taj Mahal
Buckingham Palace
Big Ben
Empire State Building
Sports
Baseball
Football
Basketball
Dance
Gymnastics
Cheerleading
Volleyball
Hockey
Soccer
Lacrosse
Swimming
Tennis
Golf
Skiing
Snowboarding
Surfing
Musical Instruments
Guitar
Piano
Drums
Clarinet
Ukulele
Trombone
Maracas
Saxophone
Violin
Tamborine
Trumpet
French horn
Tuba
Bass
Cello
Jobs
Teacher
Police officer
Doctor
Pro wrestler
Beauty queen
Hairstylist
President
Firefighter
Waiter/server
Santa Claus
Diva
Music conductor
Activities
Brushing teeth
Building a sandcastle
Dancing
Driving a car
Opening a gift
Playing baseball
Shoveling snow
Swimming
Skateboarding
Tying a shoe
Walking a dog
Yoga
Ballet dancing
Tap dancing
Salsa dancing
Playing croquet
Playing horseshoes
Playing corn hole
Surfing
Water skiing
Snow skiing
Riding a motorcycle
Playing hacky sack
Playing pool
Bowling
Fishing
Shooting a bow and arrow
Songs
"Twinkle, Twinkle Little Star"
"The Wheels on the Bus"
"Baby Shark" (sorry, Moms)
"Who Took the Cookie?"
"The Ants Go Marching"
"Jingle Bells"
"Happy Birthday"
"Old MacDonald"
"If You're Happy"
"The Boo Boo Song"
"Head and Shoulders"
"The Itsy Bitsy Spider"
"Alice the Camel"
"After a While, Crocodile"
Keep in mind that this is an expansive list. Young kids won't necessarily recognize much of what we've got here — certain books, movies, famous landmarks, etc. And grandparents may not get the pop culture references. That's okay. Take what works for your family and leave the rest. Let this be your starting point. If you find book charades is a theme your kids enjoy, build on that. Same with movies, animals, etc. Also, consider reading ability. It's probably best to pair little ones with an older sibling, parent, or grandparent if they need a bit of extra help. And running out of ideas doesn't mean the fun has to stop. There are plenty of free charades idea generators online, like this one.
Charades is incredibly adaptable, and there are many ways to make it work for your family. Whatever way you choose to play — enjoy!
This article was originally published on