190+ Disney Character Names That'll Bring Back Those Magical Memories
by Team Scary Mommy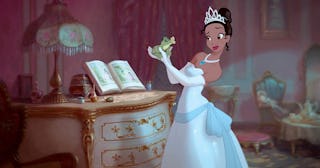 Disney
For a lot of people, Disney movies and TV shows were an integral part of their childhood. But for others, Disney movies and TV shows have continued to be a big part of their adult lives, too. How many times have you sat down with your little one to watch 101 Dalmatians? Again. For the third time in the same week, even? Watching Disney movies over and over just comes with the territory of being a mom. But remember, we were the same way as kids ourselves. And, as a parent, is there anything better than showing your child your favorite childhood Disney flick for the first time? (You know, other than, like, getting more than four hours of sleep in a night or using the bathroom without someone barging in. But anyway…) Just reading Disney character names on the back of DVD sleeves is enough motivation to make you plan a full-blown nostalgic movie marathon.
The point is, these magical moments are for both of you. Everyone's childhood is different. But if there is one thing kids growing up can depend on, it's for the enchanting world of Disney to whisk us all away to the bottom of the sea, the old streets of London, or a faraway kingdom. Now it's our turn to show our kids the animation and stories they will remember for the rest of their lives. But more importantly, it's our turn to watch these movies with them. Again and again and again.
And not only do we have favorite movies or cartoons — you probably have a favorite character (or eight), too. Whether you personally identified with a character (looking at you, Ariel, when you sing "Part of Your World"), had a crush on them (who among us hasn't had an intimate dream about that British fox from Robin Hood?), wished they were your friend (Belle seems adventurous and well-read, but we'd have to have a serious chat about Stockholm Syndrome), loved to hate them (Yzma is up to no good, but also hilarious), or empathize with them (Ursula, you were misunderstood and will always be our queen), at this point, these beloved characters feel like family. Here are over 190 Disney character names that'll bring those magic memories flooding back. Who knows, you might be inspired enough to add one of these to your baby name list.
Best Disney Character Names
Abby — Chicken Little
Abigail — The Aristocats
Abu — Aladdin
Achilles — The Hunchback of Notre Dame
Adelaide — The Aristocats
Adella — The Little Mermaid
Adorabeezle — Wreck-It Ralph
Ajax — Donald Duck and the Gorilla
Akela — The Jungle Book
Aladar — Dinosaur
Aladdin — Aladdin
Alameda — Home on the Range
Alana — The Little Mermaid
Alcmene — Hercules
Albus — Amphibia
Alfonso — Star vs. The Forces of Evil
Alice — Alice in Wonderland
Amelia — The Aristocats
Amity — The Owl House
Amos — The Fox and the Hound
Anastasia — Cinderella
Andrina — The Little Mermaid
Angus — The Adventures of Ichabod and Mr. Toad
Apollo — Hercules
Aquata — The Little Mermaid
Assistant Mayor Dawn Bellwether — Zootopia
Arlo — The Good Dinosaur
Atka — Brother Bear 2
Augustus — The Owl House
Aurora — Sleeping Beauty
Babette — Beauty and the Beast
Bagheera — The Jungle Book
Baloo — The Jungle Book
Bambi — Bambi
Banzai — The Lion King
Baylene — Dinosaur
Beaker — Muppet Babies
Beatrice — Cinderella
Beaver — Lady and the Tramp
Belle — Beauty and the Beast
Bert — Mary Poppins
Bolt — Bolt
Boone — Penn Zero: Part-Time Hero
Bruce — Finding Nemo
Buck — Home on the Range
Bullseye — Toy Story 2
Bruni — Frozen II
Bruno — Cinderella
Buster — Lady and the Tramp
Buzz — Toy Story
Captain Hook — Peter Pan
Charles — UP
Charlotte — The Princess and the Frog
Chernabog — Fantasia
Chief — The Fox and the Hound
Chien-Po — Mulan
Chip — Beauty and the Beast
Chuck — Amphibia
Cinderella — Cinderella
Clayton — Tarzan
Cleo — Pinocchio
Clio — Hercules
Clover — Sofia the First
Coco — Coco
Cody — The Rescuers Down Under
Colette — Lady and the Tramp II: Scamp's Adventure
Cookie — Atlantis: The Lost Empire
Copper — The Fox and the Hound
Count Frollo — The Hunchback of Notre Dame
Cruella — 101 Dalmatians
Daisy — Classic Disney cartoons
Dante — Coco
Darla — Finding Nemo
Dewey — Mickey Mouse Universe
Dinah — Alice in Wonderland
Dodger — Oliver & Company
Donald — Mickey Mouse Universe
Dopey — Snow White and the Seven Dwarfs
Dory — Finding Nemo
Drizella — Cinderella
Duchess — The Aristocats
Duey — DuckTales
Eeyore — Winnie the Pooh
Elsa — Frozen
Eric — The Little Mermaid
Enesto — Coco
Esmeralda — The Hunchback of Notre Dame
Evil Queen — Snow White and the Seven Dwarves
Fa Zhou — Mulan
Fairy Godmother — Cinderella
Figaro — Pinocchio
Flit — Pocahontas
Flora — Sleeping Beauty
Flounder — The Little Mermaid
Flynn — Tangled
Gaston — Beauty and the Beast
George Banks — Mary Poppins
Geppetto — Pinocchio
Gideon — Pinocchio
Goofy — Classic Disney cartoons
Hamm — Toy Story
Hector — Coco
Hei Hei — Moana
Hercules — Hercules
Hewey — DuckTales
Horace — 101 Dalmatians
Imelda — Coco
Jane — Tarzan
Jane Banks — Mary Poppins
Jaq — Cinderella
Jasmine — Aladdin
Jasper — 101 Dalmatians
Jessie — Toy Story 2
Jim Hawkins — Treasure Planet
Jimmy — Pinocchio
John Smith — Pocahantas
Kaa — The Jungle Book
Kessie — Winnie the Pooh
Kuzco — The Emperor's New Groove
Lady — Lady and the Tramp
Lady Kluck — Robin Hood
Li Shang — Mulan
Lilo — Lilo & Stitch
Ling — Mulan
Linguini — Ratatouille
Louie — DuckTales
Lucky — 101 Dalmatians
Mal — The Descendants
Mary Poppins — Mary Poppins
Mad Hatter — Alice in Wonderland
March Hare — Alice in Wonderland
Marlin — Finding Nemo
Maui — Moana
Max — The Little Mermaid
Meeko — Pocahontas
Merida — Brave
Merryweather — Sleeping Beauty
Mickey — Classic Disney cartoons
Michael Banks — Mary Poppins
Mim — The Sword in the Stone
Minnie — Classic Disney cartoons
Moana — Moana
Mowgli — The Jungle Book
Mrs. Potts — Beauty and the Beast
Mufasa — The Lion King
Mulan — Mulan
Mushu — Mulan
Nala — The Lion King
Nana — Peter Pan
Naveen — The Princess and the Frog
Nemo — Finding Nemo
Nora — Pete's Dragon
Pacha — The Emperor's New Groove
Patch — 101 Dalmatians
Pegasus — Hercules
Perdita — 101 Dalmatians
Phoebus — The Hunchback of Notre Dame
Pluto — Classic Disney cartoons
Pocahontas — Pocahontas
Pongo — 101 Dalmatians
Prudence — Cinderella
Pua — Moana
Pumbaa — The Lion King
Quasimodo — The Hunchback of Notre Dame
Queen of Hearts — Alice in Wonderland
Remy — Ratatouille
Rolly — 101 Dalmatians
Roo — Winnie the Pooh
Simba — The Lion King
Slink — Toy Story
Snow — Snow White and the Seven Dwarfs
Stella — The Princess and the Frog
Stitch — Lilo & Stitch
Tala — Moana
Tamatoa — Moana
Terk — Tarzan
Thumper— Bambi
Tiana — The Princess and the Frog
Tigger — Winnie the Pooh
Timon — The Lion King
Tinker Bell — Peter Pan
Tito — Oliver & Company
Toby — The Great Mouse Detective
Tod — The Fox and the Hound
Triton — The Little Mermaid
Tui — Moana
Ursula — The Little Mermaid
Vixey — The Fox and the Hound
Wally — 101 Dalmatians
Willow — Pocahontas
Winnie — Winnie the Pooh
Woody — Toy Story
This article was originally published on