Chrissy Teigen & John Legend Quietly Welcomed Baby No. 4
The baby's name is *so* special.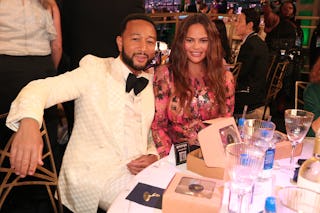 Christopher Polk/NBC/NBCUniversal/Getty Images
Congrats are in order for Chrissy Teigen and John Legend who just welcomed their fourth child into the world.
The Cravings cookbook author, 37, and The Voice star, 44, have welcomed a new baby boy via surrogate. Teigen confirmed the news on Instagram on Wednesday in a vulnerable and touching post.
The couple's son — Wren Alexander Stephens — was born on Monday, June 19.
"For as long as I can remember, I've always wanted four children. As a little girl, 2 glow worms and 2 cabbage patch dolls were perpetually in my arms, helping me stir in my pretend kitchen, watching Alf with me," she reminisced in a lengthy Instagram post.
"We'd sleep together nightly, each getting the same amount of kisses as to not make the others jealous. My mom always searched for the Pound Puppy with 4 pups in her pouch, having no qualms about opening and peeking inside before purchasing," she added.
Teigen went on to explain that after her losing her baby, Jack, she didn't think her body could take another pregnancy.
"I wouldn't go through that pain and loss again," she wrote.
So, in 2021, the couple reached out to a surrogate agency. Through IVF, Teigen and Legend welcomed their third child, Esti.
Teigen revealed that during the first trimester of her pregnancy with Esti, their potential surrogate also became pregnant on her second first attempt.
"Not wanting to rush the process, we took a breath and... were just patient. I laid around, enjoying the first trimester of my pregnancy, with of course a little bit of fear that isn't any different from any other expecting couple," Teigen wrote.
"As we crept toward the safe zone of my own pregnancy, we were overjoyed to learn Alexandra had become pregnant with a little boy. Our little boy."
Soon enough, Alexandra and Teigen were thick as thieves, enjoying being pregnant together.
"We ate hot pot to celebrate, watched Vanderpump Rules with our growing bellies, our families blending into one for the past year. Just minutes before midnight on June 19th, I got to witness the most beautiful woman, my friend, our surrogate, give birth amidst a bit of chaos, but with strength and pure joy and love," Teigen wrote.
"We want to say thank you for this incredible gift you have given us, Alexandra," she said, referencing their "most incredible, loving, compassionate surrogate."
"And we are so happy to tell the world he is here, with a name forever connected to you, Wren Alexander Stephens. Our hearts, and our home, are officially full. And to our Jack, we know both their angel kisses are from you."
The couple's new arrival comes just five months after the family welcomed baby Esti.
After Esti was born, Teigen had to clap back at internet trolls who accused the TV personality of hiding that Esti was born via surrogate. As we know now, Teigen doesn't really give a sh*t if you know she used a surrogate.
However, at the time, Teigen decided to upload a photo from her very real C-section procedure to her Instagram stories.
"Extremely realistic 'moon bump,'" Teigen sarcastically wrote over a very intimate shot taken of her C-section. She also told People that she "loved surgery" and thought it was "so cool" to have her organs out of her body for a moment.
"The incision is a lot and you never know how your stomach's going to come together," she recalled. "I think your organs are on the table for a second, but that to me is so cool. I was taking pictures above the seat. I have the craziest pictures of the cord and everything."
Regardless if Teigen and Legend used a surrogate or gave birth via C-section, beautiful happy babies are all that matters and now the dynamic couple has two of them! Congrats!