Hold Up! Is A FernGully Remake Really In The Works?
Rumors are running wild that another childhood favorite could be getting the reboot treatment.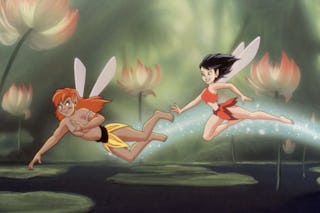 Disney
In a world where reboots and live-action remakes are a dime a dozen, it isn't hard to believe another could drop at any moment. But when rumors started circulating on social media this week about a potential FernGully remake, the news was met with a mixture of disbelief and nervous excitement. Could it be? Could this underrated classic actually be coming to the big screen — as soon as next year?!
Despite the hit-or-miss reputation of recent remakes, the thought of FernGully's return has many people downright giddy. Honestly, even though the chance is always there that bringing these stories back to life could eff up the iconic heroes and (not really the) villains, it's always thrilling to revisit the imaginary worlds of our childhood... yes, even if the movie sucks.
And fans seem especially hyped about the prospect of spending some time in the rainforest catching up with Crysta, Zak, Pips, and of course, the beloved Batty Koda. So, are the remake rumors true?
First, A Quick Refresher
By 1992, many of us already had a few Disney movies under our belts. Nothing prepared us for FernGully: The Last Rainforest, though. It stuck with us so firmly that it often shows up in '90s trivia or on lists of our favorite films.
But in case it's been a while since you watched it, the premise is simple (but dramatic). FernGully follows the fairy, Crysta, and a boy named Zak. While exploring the rainforest one day, Crysta stumbles upon a construction site and discovers a logging company is cutting down the trees in which she and millions of other creatures live.
While exploring the damage, she runs into a human boy and accidentally shrinks him down to fairy-size. While terrifying for both of them, Zak's shrinking turns out to be a blessing in disguise. They work together to stop the rainforest's destruction, as well as fight another evil villain who feeds on pollution, Hexxus.
And the older generation wonders why we're so concerned about the environment.
The Real Real on a Remake
Sadly, it seems as though this rumor (just like the one about a Practical Magic sequel) simply isn't true.
If you saw the various copy and pasted announcements or excited social media posts and fell for it, you're not alone. They usually say something to the effect of, "It will be the first non-original canon Disney film that is being remade by the studio after the acquisition of Fox in 2019." While many terms in there make it seem believable, there's no evidence that this exists.
A Dream Cast
Alas, the faux movie posters for the rumored remake claim quite the A-list of stars for the film. Social media posts listed Zendaya, Benedict Cumberbatch, Jim Carrey, Emma Thompson, and Luke Cage as leading the film. And, well, that certainly sounds lovely.
We could absolutely see Zendaya as Crysta, the fairy — probably because she's already been a fairy, Tink, in Peter Pan and Wendy. While we'd certainly enjoy seeing either Benedict Cumberbatch or Jim Carrey taking on Tim Curry's role as Hexxus, it just seems too good to be true.
About That Festive Release Date
According to the rumors, Ferngully would release on Christmas Day in 2024. That would have been an excellent Christmas excursion, right? Unfortunately, it's just not true. You could, however, watch the original FernGully on Disney+ once your family finishes opening presents.
The TL;DR on Falling for Remake Rumors
Whenever there are rumors of a new movie release, there are a few places you can check. First and foremost, you can start with IMDb (the Internet Movie Database). If verifiable rumors about a production exist, you'll find it there.
Similarly, if the rumor or announcement lists certain actors, you can check out their IMDb pages to see what they're currently working on, what they just wrapped, and what they're contracted to work on next. No matter how you search out the rumored details of the FernGully remake, nothing appears on IMDb.
Similarly, Disney is fairly open about their future slate of movies. A quick look at their current line-up of upcoming movies (Rotten Tomatoes has it) would confirm that FernGully isn't on the list, and there's not even a movie set to release around the rumored "Christmas 2024" premiere date for FernGully.
Finally, you can always search Snopes, which fact-checks everything from movie rumors to "facts" used in political debates, speeches, and ads. Snopes is saying this rumor is false, too.