Ashley Greene Reveals Which Twilight Costar Is Her Go-To For Parenting Advice, & More On Motherhood
The star reflects on Year One with daughter Kingsley Rainn.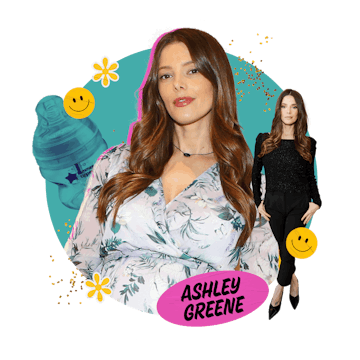 Ashley Greene had an idea of what new motherhood would look like: breastfeeding, dirty diapers, swaddles and blankets, sleepless nights. What she didn't expect was the isolation, the milk-stained everything, and the happy-and-sad tear-soaked pillowcases.
The first year of parenting for Twilight star Greene, 36, and her husband Paul Khoury, 34, has been a life-altering experience — and one that has permanently shaped the way she approaches the future.
"We always looked at it as, 'It's not going to change our whole lives that much. We'll just bring her everywhere!' [Pause] And, it changes your entire life. You're no longer the person you were before," Greene tells Scary Mommy over Zoom of welcoming their daughter, Kingsley Rainn, who will turn 1 on Sept. 16. "But we have stayed true to involving her in any way we possibly can. Paul's always like, 'She's my best friend. I just want her to be my best friend, and bring her everywhere and do everything with her and show everything to her.' So, yeah, it's been cool to see that happen."
"It's all new," she added, "but it also feels exactly how it should be. We felt completely ready for her to come into our life."
With nearly 12 months of experience under her belt, Greene, co-founder of menstrual well-being brand Hummingway, shared that she now has a greater appreciation for her own mother, Michele, after going through the highs and lows of caring for a newborn and soon-to-be toddler. She calls her mom frequently, and is calmed by her words of wisdom.
"There's such a new understanding of what it takes to raise a child and how selfless you have to be," Greene says. "My dad was working a lot, so she was alone with my brother [Joe] and me, and we're only 18 months apart. I'm like, 'I only have one. I don't know how you did it with two! That's just insane to me.' So I'm grateful and chat with her often about all of the trials and tribulations you go through — predominantly, the conversations are about the lack of sleep — and she's always the beacon of light, like, 'It'll pass. It's a phase. It's a drop in the bucket as far as what you're; you're gaining. And that's been really helpful."
Greene is currently partnering with baby brand Tommee Tippee, whose products — particularly the Made For Me wearable breast pump and Baby's Choice bottle set — saved her "mental health and happiness" during those difficult postpartum days.
Below, the actor shares what she's gleaned from the first year of motherhood, how she's navigating the work-life balance amid the SAG-AFRTA strike, and what she's looking forward to in Year Two and beyond.
On Birth Plans
Greene planned to have a home delivery in September 2022 due to the "anxiety of going to the hospital." But despite things going sort of as expected, birth always shifts plans.
"I'm a planner," she says. "So, I kind of had everything laid out as far as really trying to prepare myself mentally and physically as much as possible before going into, what I think, is a marathon event. It was kind of similar to how I do with my acting roles — I'm going to prepare and give myself as many tools as possible, and then when I get to the day or when I get to set, I'll be able to just throw it all away and let what happens happen. If you don't go in with that mindset, it can be very scary and very difficult because your body and your baby have minds of their own, and what's going to happen is what's going to happen. So plan, plan, plan, and then just kind of let it go."
On Breastfeeding
For something that is supposed to be "the most natural thing in the world," Greene, like many mothers, struggled with nursing Kingsley in the beginning. It was a game of trial and error, bottle and pump tests, before she trusted her intuition and found a groove.
"A lot of times you think so heavily about the birthing process that you forget about everything that comes after," she says, admitting she thought breastfeeding would be a simple task. "First, I had problems latching. Then, once when she was able to latch, my lifestyle is a little different, so I had to pump often and I was trying to get my breast milk production up, and I felt really isolated with that. Then I started wearing a portable breast pump which was very helpful for me because it took away some of that isolation, and I was able to actually do things for myself while I was providing for my child."
It was smooth sailing until Kingsley's feeding journey picked up and Greene's milk supply started to dip. "Now, sometimes we're giving her breasts; sometimes we're giving her bottles. The most important thing is that she's fed, right? But for me, it's super important to still have the breastfeeding component of it," Greene adds. "Until you're a mom, maybe it's hard to wrap your head around, but there is something really special about breastfeeding, for me, and I really didn't want to lose that. So, I'm super grateful that Tommee Tippee created them as close to the nipple as possible, skin-like bottles that allow us to go back and forth."
On Mom Shame
With shifting plans sometimes comes shame, especially as a postpartum mom who has an idea of how things are "supposed" to be. Greene also knows she deserves a break to regroup and recharge, and her husband and family members help her get that me time.
"There was this idea for a while that I had that you want to be the mom and you feel like you should be able to handle everything, and that's just unrealistic," she explains. "There's a reason why they say it takes a village to raise a baby. You should have help, and you should be able to step away and give yourself a much-needed break because, I find, once that happens, I come back and I'm reinvigorated. I can give 100% to my child again versus being touched out or burnt out and overstimulated — all the things that do happen when you have a young child."
"In the first year of life, at least I feel, babies are very mom-centric out of need and the fact that they were in our womb for nine months," she adds. "On the flip side, my husband wants nothing more than to have the strongest bond possible with our daughter, and so any chance he has to be able to put her to sleep or play with her, he jumps at it — and then don't get me started about the grandparents. Everyone wants to feed the baby!"
On Parental Bonding With Her "Twilight" Co-Stars
Greene is best known for playing lovable vampire Alice Cullen in the über successful film franchise The Twilight Saga. She says she and some of her co-stars have bonded in a new way since welcoming children into their coven. Nikki Reed even snapped some photos of the family!
"Nikki, in particular, I love to have conversations with because she's not a doctor, but she really enjoys reading and educating herself on that literature — and so she's always the place that I go whenever I have any kind of questions on that front," Greene says, adding that the former paparazzi-chased 20-somethings love getting together as much as possible.
"Obviously it's crazy, but recently all of us were able to get together because we have kids. Peter [Facinelli] has children, Kellan [Lutz] has young children, Jackson [Rathbone] has young children, and so does Nikki, and we really want them to know each other. And that's been really cool to be able to see us grow as human beings," she adds. "We're all completely different people than we were when we started out on this journey together. But now, it's just a different level."
On Balancing Her Career and Motherhood
Greene admits it was hard to transition back into work after giving birth, despite having a nice amount of time on maternity leave.
"Your brain is wired differently, and so trying to give attention to something that was very easy for me to just throw 110% of myself into was a very different experience because Kingsley is always on my mind," Greene says. "Whenever I have a free second, I'm gonna go back and sit down with my child versus before when I was doing the film, I was locked in 24/7 to that film. So, it was way more difficult than I expected it to be and took a lot more mental training — like, I had to really focus on meditation and breath work and being able to center and focus myself. There were some days when I called my husband, I was like, 'I don't know what is up from down. This is just such uncharted territory.'"
The Some Other Woman star believes the current actors' strike is "absolutely necessary" to secure a fair contract for industry talent. She also knows the effect it's having on fellow entertainers who might not be as fortunate as others.
"We have to look at things differently as a household," she says. "I expected to be back to work at this point, and I was able, thankfully, to do one film, but it's one of those things where there's just, in my mind, absolutely no other options ... The face of this industry has changed so drastically from when I became a part of it. Parts of it [women directors, actors-turned-producers] are really beautiful and fraying, and we've made a lot of progress. And then part of it [streaming platforms] has made us go backwards substantially, and it's making it really difficult for anyone to be able to thrive and succeed as an entertainer."
Greene hopes for a resolution and, for now, is focused on her priority at home.
"It's a historical event that we're going to be going through and making a massive change that needs to happen. But it certainly, it would be a little less scary if I didn't have a kid," Greene concludes. "I have to look at the strike as an opportunity to spend more time with [Kingsley]."
This interview has been edited and condensed for clarity.